Mere days before the July 19 launch of the $250 GeForce GTX 1060, Nvidia's setting the stage with the release of two new flagship pieces of software it's been teasing since the GTX 1080's reveal all the way back in May.
First up is Ansel, the supercharged screenshot tool for Dead End Thrills-wannabes like myself.
Ansel's a driver-based utility that lets you pause the game you're playing, freely roam the camera around the area to find a picture-perfect angle for the scene, then apply a large variety of filters and other editing options to create jaw-dropping screenshots. As an in-driver tool, Ansel supports custom resolutions far beyond the capability of the base games it's supported in—images with resolutions up to 61,000 pixels wide have been shown—and can create 360-degree picture "bubbles" that can be viewed inside a VR headset, or even Google Cardboard.
I played around with Ansel in The Witness at the GTX 1080 launch event and found it both remarkably easy and remarkably powerful. Now you can try it for yourself. This morning, Nvidia released a new driver that enabled Ansel support in the gorgeous Mirror's Edge Catalyst—just about the ideal game for the feature to launch with.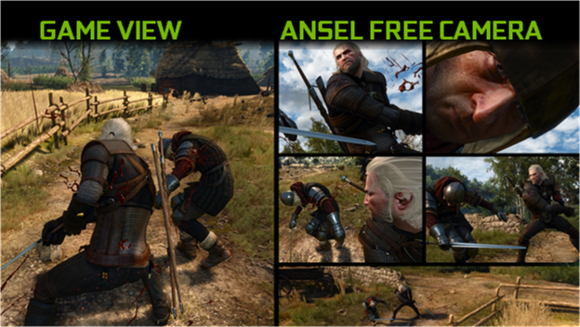 Both games and Nvidia's drivers need to be updated to support Ansel. The Witcher 3 is getting Ansel support later this month, with several others scheduled to embrace Nvidia's screenshot tool in the future, including Lawbreakers, Paragon, and The Division.
Even better: While Ansel's being touted alongside new GTX 10-series graphics cards, the technology actually works with a wide array of GeForce cards going all the way back to the GTX 600-series.
Nvidia Funhouse
But Ansel's not the only Nvidia software hitting the streets this morning. The company's VR Funhouse demo launched on Steam today, giving HTC Vive owners a chance to experience Nvidia GameWorks technology as a series of fun carnival games—hence the name.
And when I say it gives you a chance to experience Nvidia GameWorks technology, I mean a lot of it. Various aspects of VR Funhouse integrate Nvidia's PhysX, Hairworks, Flow, FleX and Destruction effects, while interacting with objects leans on PhysX-based haptics.
That means gamers with Radeon graphics cards may want to pass on VR Funhouse, but if you've got a Vive and a VR-ready GeForce cards, check it out. It's free, and it's actually a lot of fun. Pro tip: In the level with the water guns, shoot straight up in the air and try to catch the liquid on your face.