At a Glance
Expert's Rating
Pros
Very durable design
Chassis can be opened for upgrades or repairs
Very nice keyboard for the price
Very long battery life
Cons
Average chip limits it to mainstream applications
Our Verdict
What sets the Asus C202S apart from other low-cost models is the better build and better keyboard, all of which improve the user experience. This is one of the very few bargains I'd heartily recommend.
Best Prices Today: Asus Chromebook C202SA-YS02
The Asus C202S is a good budget Chromebook for the same reasons it's a good Chromebook for schools. Built to endure being shared among students, schlepped around classrooms, and shoved into backpacks, it's more than ready to handle incidental wear and tear in your home environment. Most Chromebooks in the $200 price range don't feel up to much challenge, honestly, but you'd actually have to work a bit to rattle the C202S. The durable design also makes it nicer to use than most bargain models.
Built to be bumped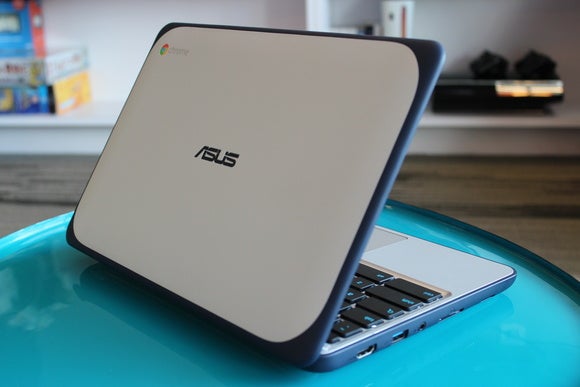 You can't miss how tough the C202S is, if only because you can't miss the wide, blue rubber bumper going all the way around the lid. Rubber also lines the lower half's margin. According to Asus, the C202S can handle a flat drop (onto its bottom panel) of up to 120 centimeters (a little over 47 inches), and a side drop of up to 80 centimeters (a little over 31 inches).
The bottom has a thick rubber foot that runs all the way across the back. While it provides solid balance and comfort, it's also intended to be used as a handle of sorts to make the C202S easier to tote without dropping it.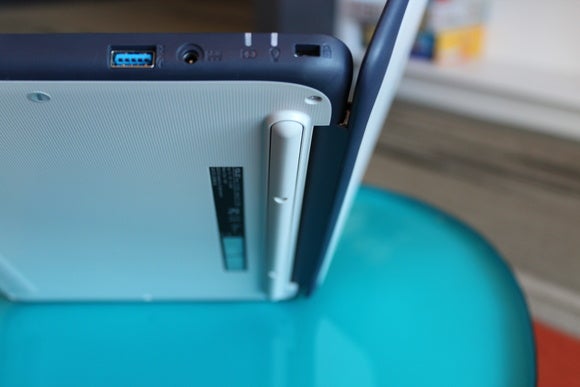 The C202S is water-resistant, too. Asus says it can handle a small spill of up to 2.23 ounces because the innards are protected by a solid, mylar-lined plate built underneath the keyboard. We didn't test the company's claim, but we poured water on a few similarly protected Chromebooks last year and they survived just fine. Most of them, however, cost more than the Asus C202S.
The C202S is also designed to be repaired fairly easily. I mean fairly, because 12 screws stand between you and removing the bottom, plus more screws await inside to remove the thermal module, the motherboard, and the battery in order to get to other components. Dismantling the C202S therefore isn't something you'd do just for kicks, but few laptops these days can be opened at all, so this is a distinctive feature.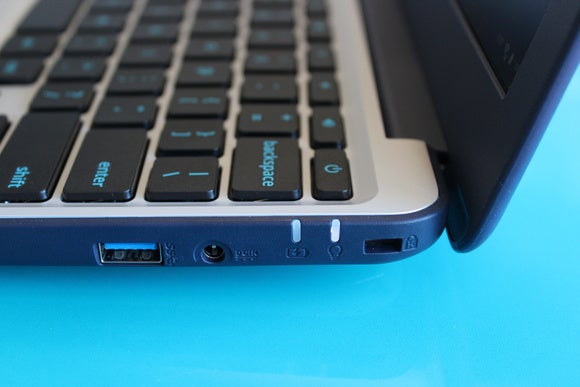 Connectivity includes two USB-A ports (one on each side), both USB 3.0 Super Speed, meaning you get a peppy data transfer rate of 5Gbps. The left side also offers an HDMI port, SD card slot, and audio jack, while the right side adds a lock port and the AC jack. The ports are reinforced to help them survive constant plugging and replugging, as well as the tripping and cord-yanking truth of classroom life. For wireless you get Intel's 7265 dual-band 802.11ac Wi-Fi adapter, plus Bluetooth 4.2 with WiDi support (for connecting and streaming wirelessly to compatible displays). Stereo speakers deliver tinny, but acceptable sound.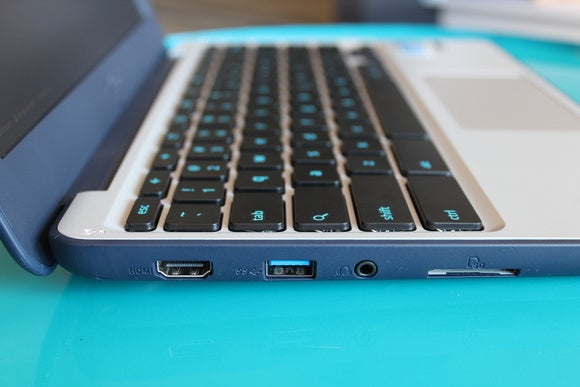 The thing that bugs me most about low-cost Chromebooks is the crummy keyboards you get on too many of them. The hard-plastic keys and harsh travels make me feel like I'm typing on rocks. To its immense credit, the C202S offers a keyboard with a surprisingly gentle, 2mm travel. The fonts on the keys are even a little bigger than usual so it's easier to see the letters. I pounded away happily on this keyboard, and that means a lot at this price point.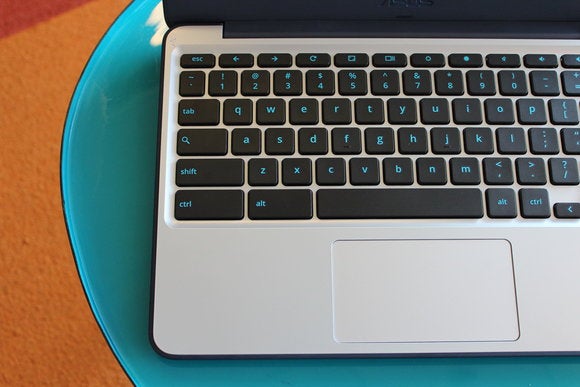 The 11.6-inch display has the usual 1366×768 resolution, which is appropriate for the size. The viewing angles are just average—you start to lose the image as you view more from the side—but Asus gave the display an anti-glare coating to help with visibility.
Performance: It keeps up with mainstream apps
The C202S uses Intel's Celeron N3060 chip, a dual-core SoC running at 1.6GHz, with 4GB of LPDDR3 RAM and integrated Intel HD Graphics 400. This setup will make it through mainstream web apps and a streamed movie—which is what most people with Chromebooks do—but this isn't the Chromebook for bleeding-edge users tinkering with web gaming or other graphics-intensive tasks.
We compared the C202S with other recent N3060-based models and the Acer Chromebook 14, whose N3160 chip is of the same Braswell generation, but with four cores instead of two. We also included the Dell Chromebook 13, which has a Celeron 3205U instead of an SoC, so you can see how a higher-end (and higher-priced) Chromebook compares.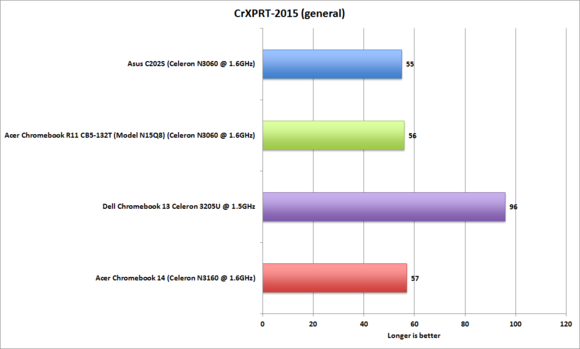 The C202S (blue bar in the above chart) started off well with the Cr-XPRT performance test, which measures Chromebook performance in basic productivity tasks as well as more demanding activities, such as watching movies or playing games. It's in the pack with the other two low-end Chromebooks. Not surprisingly, though, the Dell's more powerful chip smokes everyone.
Basemark Web 3.0 recently replaced Browsermark 2.1 as Basemark's comprehensive browser benchmark. The tests cover web-based technologies including WebGL 1.0.2 and WebGL 2.0 real-time graphics, as well as JavaScript. Again, the C202S (green bar above) ran neck-and-neck with the other three Chromebooks with an N3060 chip. (Note: We couldn't include the Dell in the Basemark chart, as it was tested with Basemark's predecessor, Browsermark.)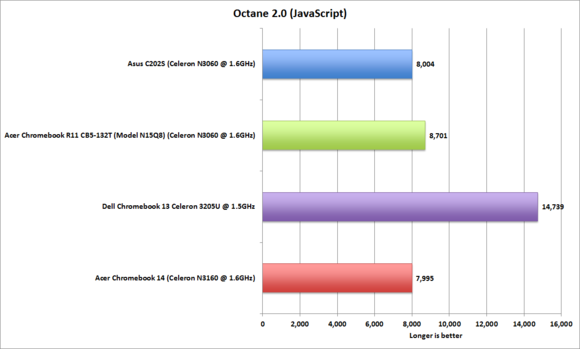 Google's Octane 2.0 JavaScript benchmark simulates advanced browser-based activities, including productivity applications, games, and interactive content. The C202S (blue bar in the chart above) kept up with its cohort, eating the Dell's dust.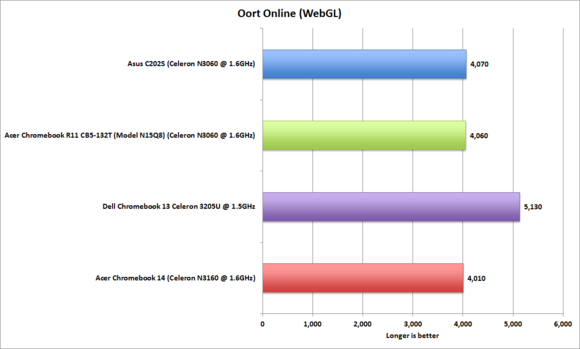 OortOnline is a pretty tough WebGL test that focuses on graphics-intensive applications and games. The Asus C202S stays in line with its similar competitors, and the margin closes noticeably between them and the Dell Chromebook 13.
The C202S also has great battery life. Asus says the 38Whr battery will last up to 10 hours, which is already very good. We use the Cr-XPRT-2015 test, which projects the total battery life based on running a simulated usage pattern. The C202S posted 11.53 hours of projected life in that test.
A bargain that's built to last
When you buy an inexpensive Chromebook, you shouldn't expect superfast performance or amazing components. What sets the Asus C202S apart from other like-priced models is that Asus invested in a better build and even a better keyboard, all of which improve the user experience. As a result, this is one of the very few low-cost Chromebooks I'm willing to recommend.