At a Glance
Expert's Rating
Pros
No compromises 1080p gaming performance
Extremely power efficient and cool
Can run virtual reality experiences
Cons
No SLI connector
More expensive than AMD's Radeon RX 480, but similar performance
Our Verdict
Nvidia's GeForce GTX 1060 offers no-compromises 1080p gaming and supreme power efficiency for an affordable price.
Nvidia isn't ceding the mainstream to AMD's revolutionary $200 Radeon RX 480 in the next-generation graphics war.
That alone is a bit of a shock. After Nvidia surprise-launched the monstrous $650 GeForce GTX 1080 and Titan X-beating $380 GeForce GTX 1070, many people expected the company to leave AMD to stomp around on its own in the mainstream price points for a while. The x60-series GeForce graphics cards typically launch months after the heavy hitters, after all. So Nvidia's announcement of the GeForce GTX 1060 ($250 MSRP, like this EVGA card on Newegg, or $300 for the limited Nvidia Founders Edition) a mere week after the Radeon RX 480's release, served as a wake-up call. Nvidia's ready to rumble, with the new card hitting the streets today, complete with an array of custom models from board partners like EVGA and Asus.
Nvidia promises that the GTX 1060 will outperform the GTX 980 while drawing a mere 120 watts of power. That's damned impressive, especially in the wake of the Radeon RX 480's power consumption controversy.
But this release marks a new front in the next-gen graphics war: The GTX 1060 is the first card from either AMD or Nvidia to go head-to-head with a next-gen graphics card from its rival, rather than last-gen leftovers. How does the GTX 1060 Founders Edition compare to the Radeon RX 480?
Let's dig in.
Meet the GeForce GTX 1060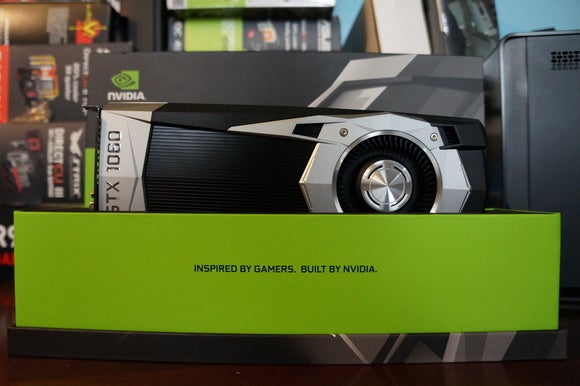 While the GeForce GTX 1070 and GTX 1080 graphics cards pack Nvidia's GP104 graphics processor, the GTX 1060 is powered by a new, less powerful GP106 GPU (which is still based on Nvidia's 16nm FinFET "Pascal" architecture).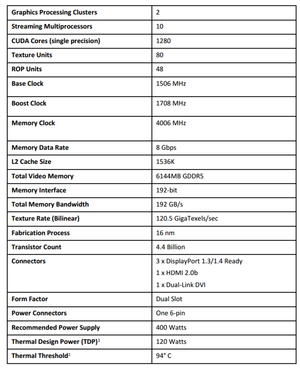 Cut GP104 in half and you're basically looking at the GP106 GPU's essential stats—the GTX 1060 has half as many CUDA cores, half as many Streaming Multiprocessors, and half as many texture units as the hulking GTX 1070. But that's not a universal truth; the GTX 1060 has only a third fewer ROPs than the GTX 1080, and Nvidia's $250 card still boasts insanely fast clock speeds, with 1,506MHz base and 1,708MHz boost clocks. While we won't dive into overclocking in this review, Nvidia says it's pushed the GTX 1060 Founders Edition past 2GHz.
The GTX 1060 also eschews the GTX 1080's cutting-edge GDDR5X memory in favor of tried, true, and cheap GDDR5 memory—as you'd expect in a mainstream graphics card. Equipped with 6GB of onboard RAM clocked at 8Gbps, Nvidia's card falls squarely between the Radeon RX 480's 4GB and 8GB options, with a 192-bit memory bus. That's not as big as the RX 480's 256-bit bus, but Nvidia's memory compression technology is top-notch, and the GTX 1060 benefits from the same delta color compression improvements as the GTX 1080. In practice, the GTX 1060's memory proves plenty capable of gaming at 1080p, 2560×1440-resolution, and virtual reality.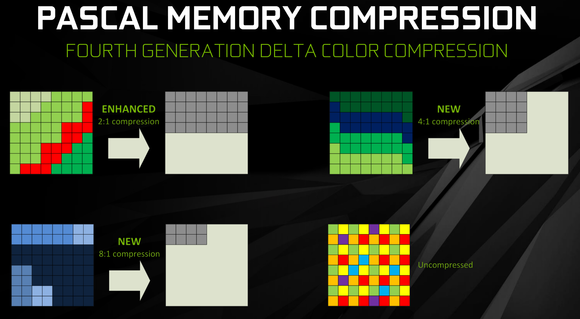 The last generation of graphics cards all launched with 2GB of RAM. My, how far we've come.
Visually, the GeForce GTX 1060 Founders Edition mirrors the angular aesthetic of previous Nvidia Founders Edition cards, but with the black-and-silver color scheme inverted on the shroud. The cooling system mimics the GTX 1070's with a blower-style fan that exhausts heat out through the rear of your system, paired with a copper pipe-infused heat sink that's 50 percent larger than the older GTX 960's.
PCWorld's GeForce GTX 1060 visual preview will show you every aspect of the card, both inside and out, but there are a couple of technical tidbits worth highlighting. First of all, the GTX 1060 still sports the same DVI-D port, HDMI 2.0b port, and trio of DisplayPort 1.4 connections as its brethren, giving it the capability to power VR headsets, HDR displays, and ultra-high resolutions alike. Of note for HTC Vive owners: A recent Nvidia driver fixed a bug where the GTX 10-series DisplayPorts refused to power that headset.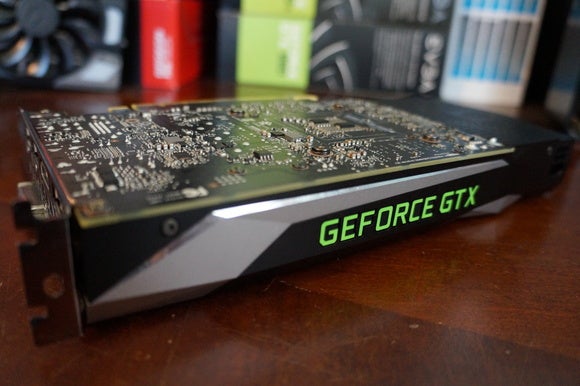 More importantly, you won't find any SLI connectors on the GTX 1060, which means you won't be able to use two or more of the cards in a single system for additional performance (at least in DirectX 11 games). When asked, Nvidia says that's because it focuses on high-end experiences for SLI—but the older GTX 960 supported SLI. Our guess at the real reason: A pair of GTX 1060s in SLI would outperform the $600 to $700-plus GTX 1080, but for just $500, and Nvidia doesn't want that happening.
Not that it would put a major strain on your system. The GeForce GTX 1060 pulls its paltry 120 watt TDP through a single six-pin power connector. That's even more impressive when you take the card's performance level into account—which we'll get into in a bit.
As a Pascal GPU-based graphics card, the GeForce GTX 1060 enjoys all the same new features and software benefits as the other GTX 10-series cards, including key additions like simultaneous multi-projection and async compute improvements, as well as handy extras like Ansel screenshots, Fast Sync, GPU Boost 3.0, and more. In fact, Nvidia rolled out Ansel support and its VR Funhouse experience mere days before the card's launch. Hit those links for details on all the goodies.
And that's all you need to know about the GeForce GTX 1060… except for how it actually runs. Let's go.
Next page: System configuration
Our test system
As ever, we tested the RX 480 on PCWorld's dedicated graphics card benchmark system, which is loaded with high-end components to avoid potential bottlenecks in other parts of the machine and show unfettered graphics performance. Key highlights of the build:
Comparing the $250 GeForce GTX 1060 against AMD's new Radeon RX 480 is a no-brainer (we're testing the $240 8GB version of AMD's card). Beyond that, we're going to compare Nvidia's new card to the exact same lineup we used when reviewing AMD's card: EVGA's GTX 960 SSC, VisionTek's Radeon R9 380, and Sapphire's Radeon R9 380X represent the current crop of $200-ish graphics cards, which you'll find severely outmatched by these new offerings. You'll also find results for more potent options that the GTX 1060 more directly compares to: the Sapphire Nitro R9 390, EVGA GTX 970 FTW, MSI Radeon 390X Gaming 8GB, and the reference Nvidia GTX 980.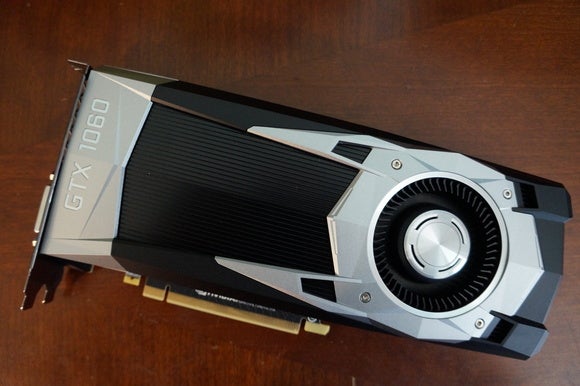 Note that our sampling contains a mix of reference designs and custom models with overclocks and amped-up coolers. Both the GTX 1060 and the Radeon RX 480 are reference versions, though, so that's a 100 percent apples-to-apples comparison. The GTX 980 that Nvidia's keen to compare the GTX 1060 against also packs a reference cooler.
We test each game with the default graphics settings unless otherwise noted. But we disable all vendor-specific special features—such as Nvidia's GameWorks effects, AMD's TressFX, and FreeSync/G-Sync—to keep things on an even playing field. We tested at 1080p and 1440p resolutions, as these cards can't really power a satisfying 4K experience. There's also a fresh piece of software making its debut in this review: Time Spy, 3DMark's new DirectX 12 benchmark.
Got it? Good. Let's go.
IMPORTANT NOTE: The gaming performance chart legends state that "lower = better" for average frame rates. That's an error and clearly not true; higher frame rates are superior.
The Division
Ubisoft's The Division, a third-person shooter/RPG that mixes elements of Destiny and Gears of War, kicks things off. The game uses Ubisoft's new Snowdrop engine and is set in a gritty post-apocalyptic New York City.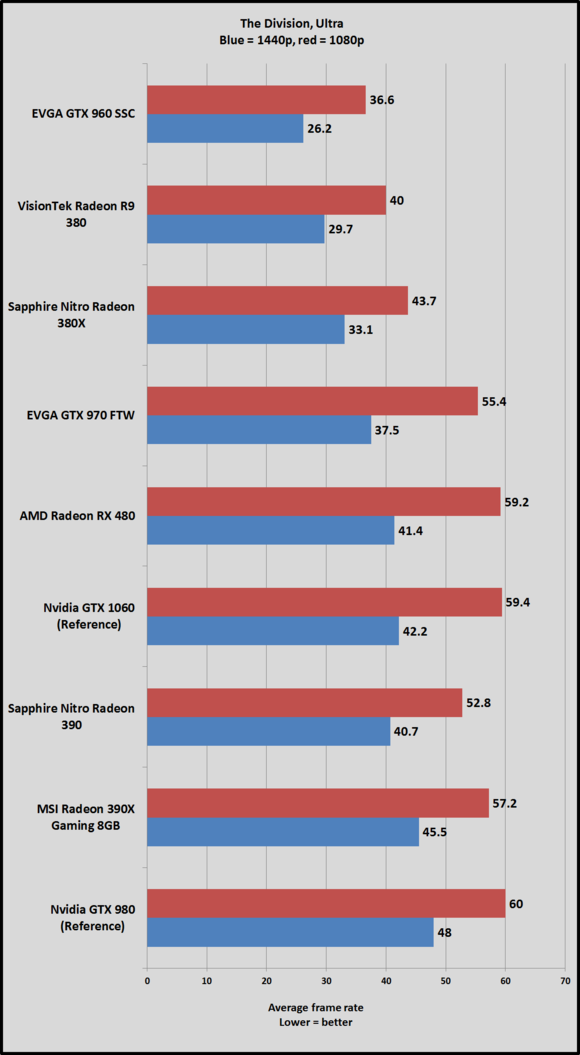 Interestingly, the GTX 1060 doesn't come close to matching the GTX 980's performance here, at least at 1440p resolution. It's solidly ahead of the massively overclocked EVGA 970 FTW, though, and pretty much dead even with AMD's 8GB RX 480. Round one goes to AMD's lower-priced option—and runs counter to Nvidia's "better than the GTX 980" claims for its new card.
That said, it's pretty impressive for $200 to $250 graphics cards to hit 60fps with everything cranked in one of the most demanding games around right now. Both the GTX 1060 and Radeon RX 480 utterly demolish the last-gen $200 cards. It's a damned fine time to be a gamer.
Next page: Hitman
Hitman
The Radeon RX 480 walks into Hitman with a default advantage, because IO Interactive's Glacier engine heavily favors AMD hardware. It's no surprise; Hitman's a flagship AMD Gaming Evolved title, complete with a DirectX 12 mode that was patched in after the game's launch.
There's one important thing to pay attention to while you view these results. Hitman automatically caps the game's Texture Quality, Shadow Maps, and Shadow Resolution at medium on cards with 2GB of onboard memory. The EVGA GTX 970 FTW and VisionTek R9 380 were thus tested with those lower graphical settings. I've still included them in the graphs below for two reasons: 1) because they're the $200 cards the GTX 1060 and RX 480 are directly replacing, and 2) so you can see the comparative DX11 vs. DX12 performance on those cards.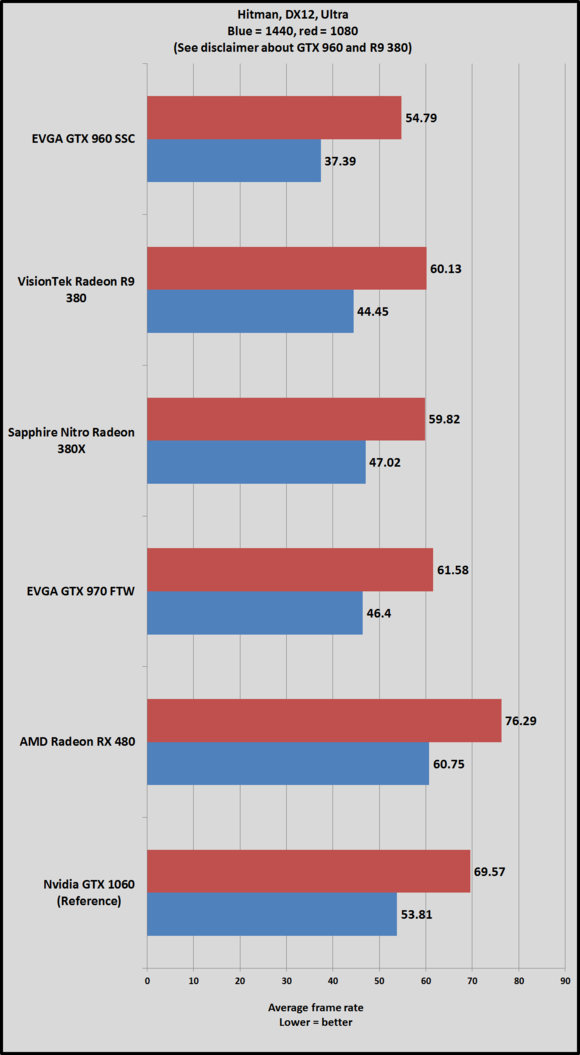 The RX 480 wins again here, though once again, that's no surprise considering Hitman's extreme AMD bias. Those victories widen when you enable DirectX 12, which provides a huge boost on Radeon graphics cards. But the DirectX 11 results should prove heartening for Nvidia fans: The new Pascal GPU performs much, much better than older 900-series Maxwell GPU-based cards, greatly closing the gap between Team Green and Team Red. The GTX 1060 indeed outperforms the GTX 980 here.
Next page: Rise of the Tomb Raider
Rise of the Tomb Raider
Let's take a look a Green-leaning game now. Rise of the Tomb Raider favors GeForce cards, and favors them heavily. It's also the single most drop-dead gorgeous PC game I've ever laid my eyes on.
We didn't test the game's DirectX 12 mode, which can produce some bizarre results. The integration's starting to shape up nicely, though, and we're likely to add RoTR's DX12 performance to our suite soon.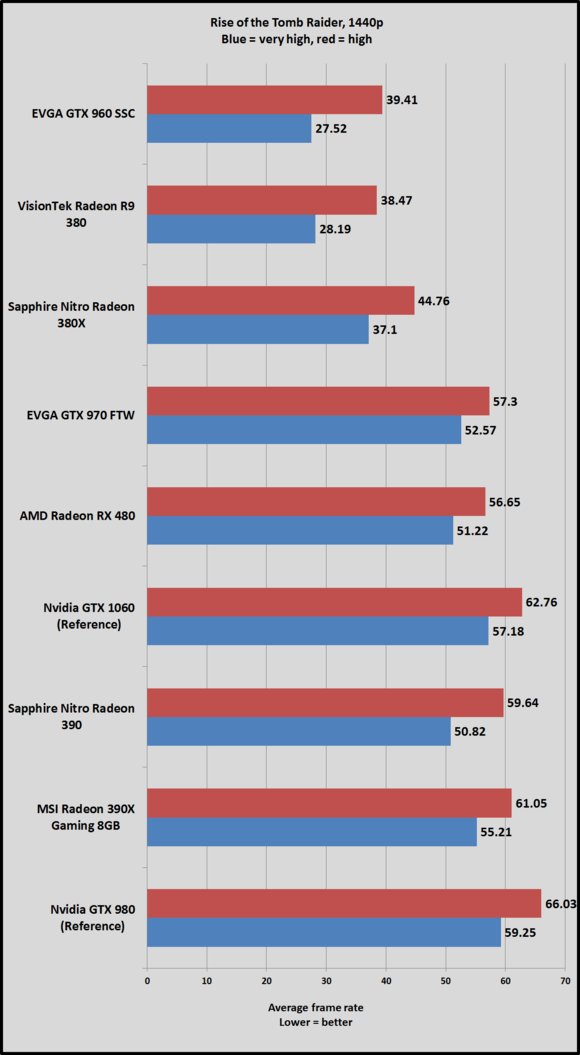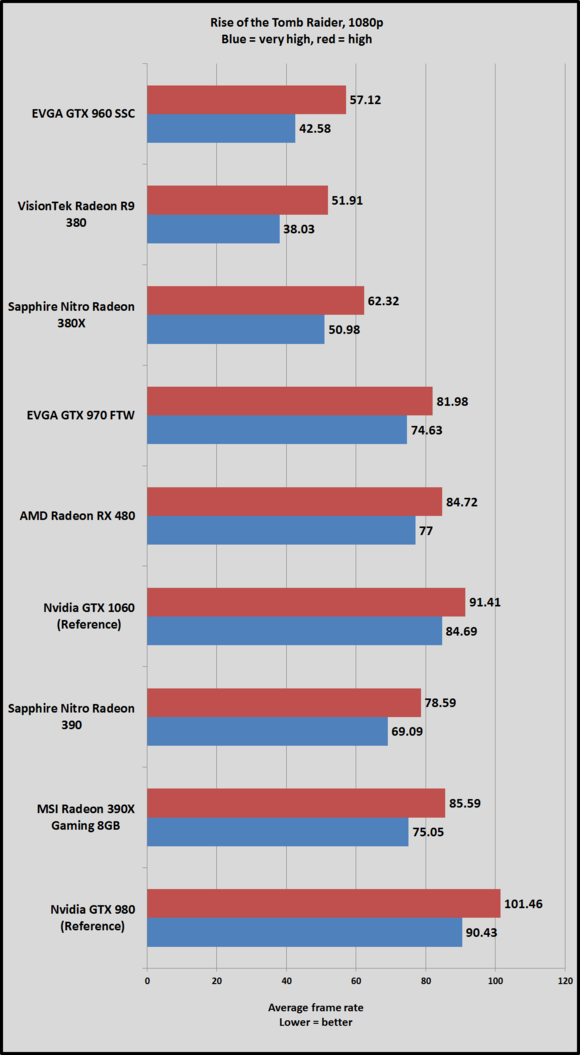 No surprise: The GTX 1060 comes in firmly ahead of the RX 480 and trounces the older $200 cards by a massive amount. The GTX 980 claims a clear victory over both, though.
Next page: Far Cry Primal
Far Cry Primal
Far Cry Primal is another Ubisoft game, but it runs on a different engine than The Division—the latest version of the long-running and well-respected Dunia engine. We test the game with the free 4K HD Texture Pack installed.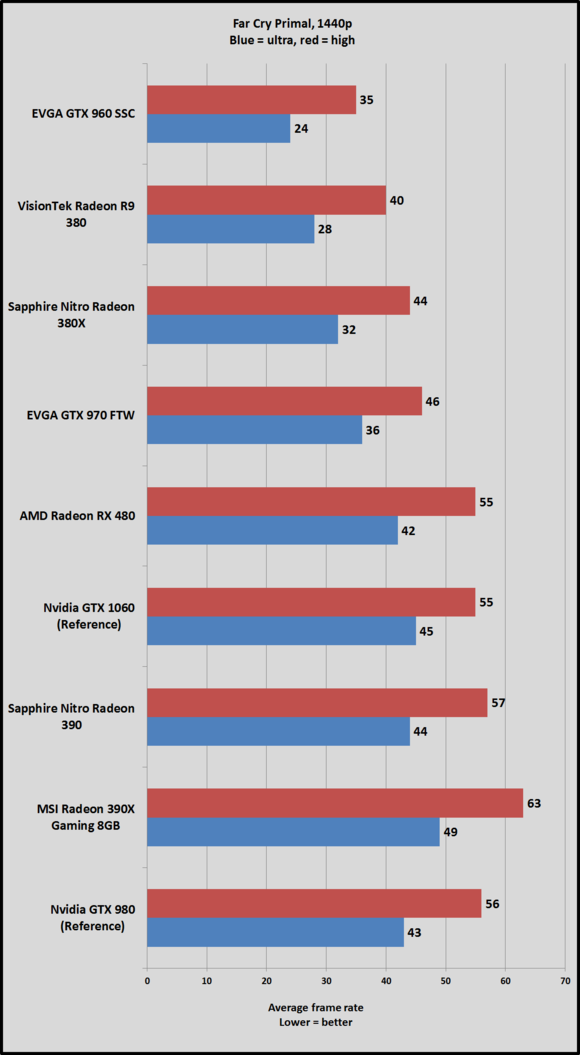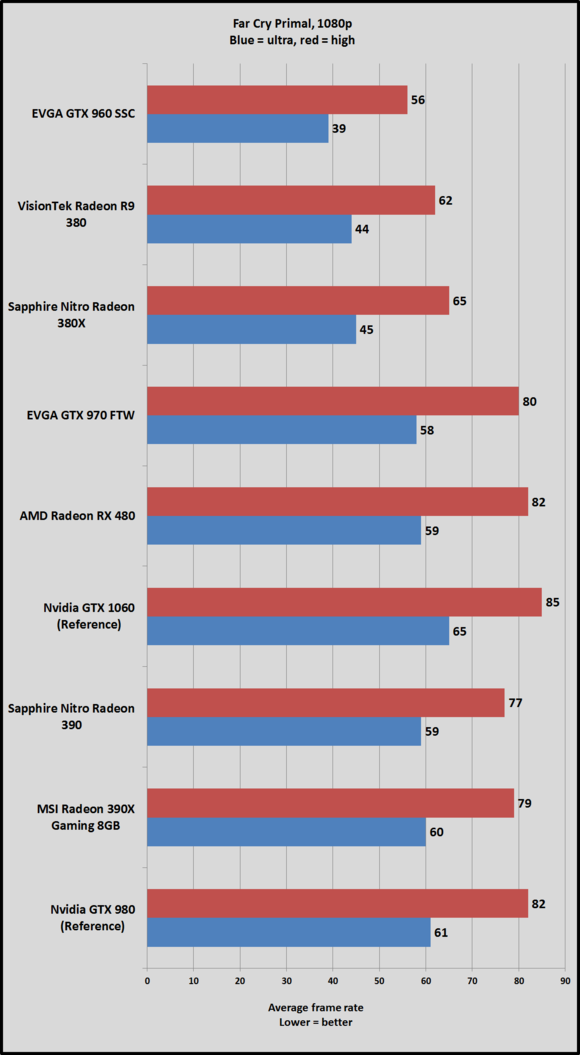 The GTX 1060 beats out the RX 480 and the GTX 980, but just barely. The lead is more pronounced at 1080p resolution. The older $200 cards? Barely playable.
Next page: Ashes of the Singularity
Ashes of the Singularity
Ashes of the Singularity, running on Oxide's custom Nitrous engine, was an early standard-bearer for DirectX 12, and it's still the premier next-gen game. (It's fun, too!) The performance gains it offers with DX12 over DX11 are eye-opening—at least when running on Radeon cards.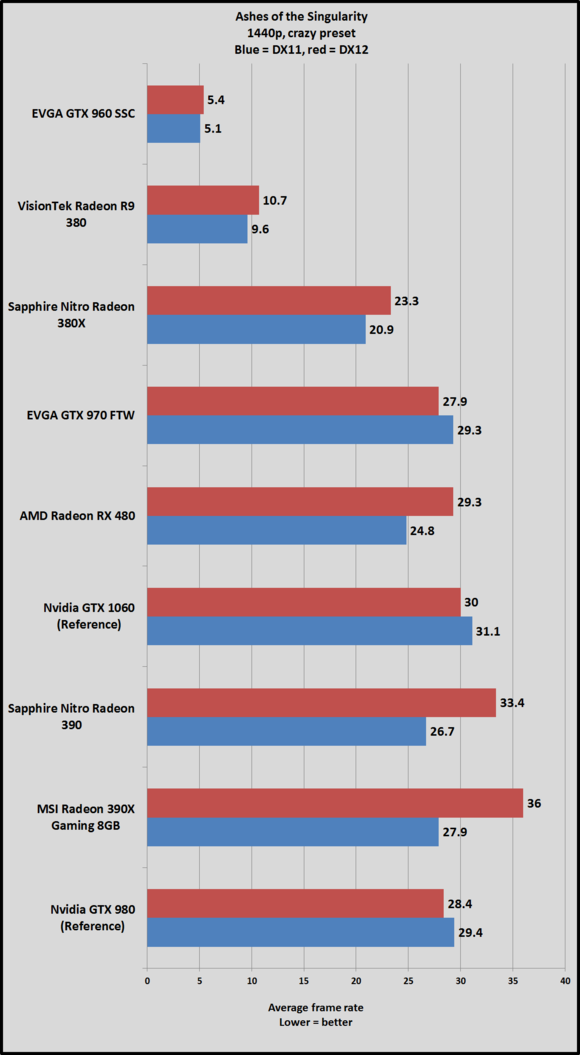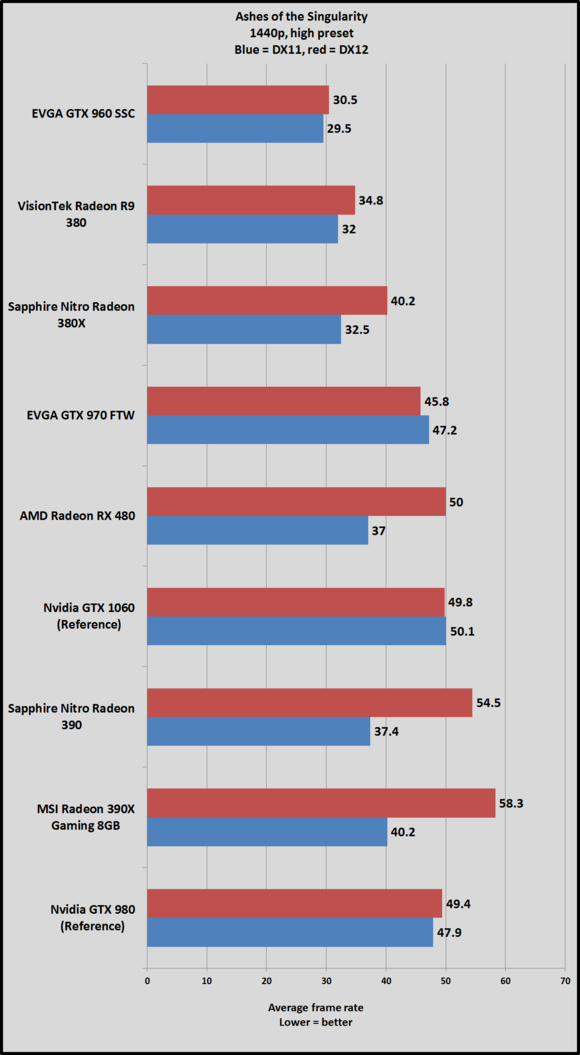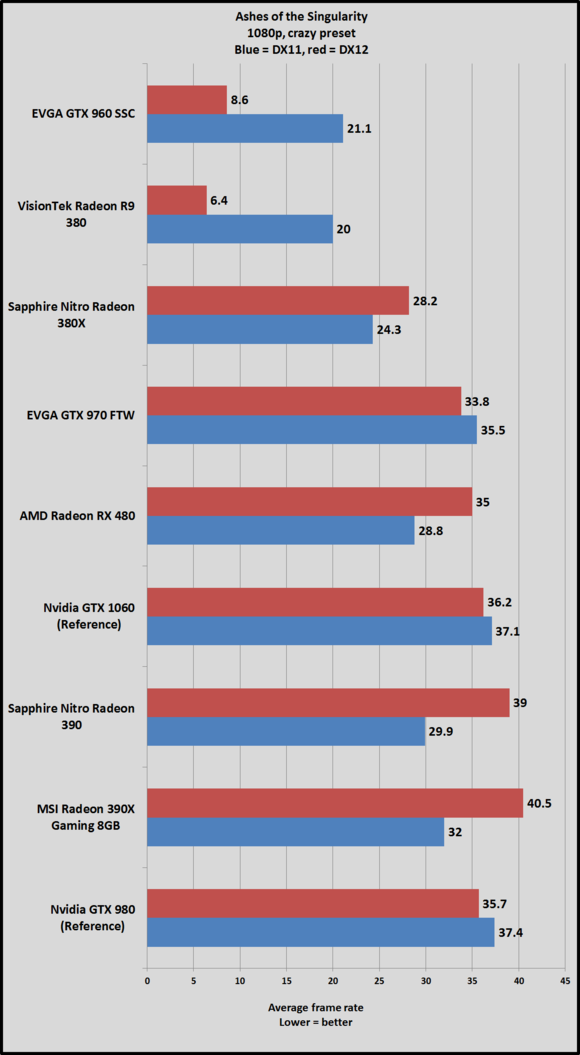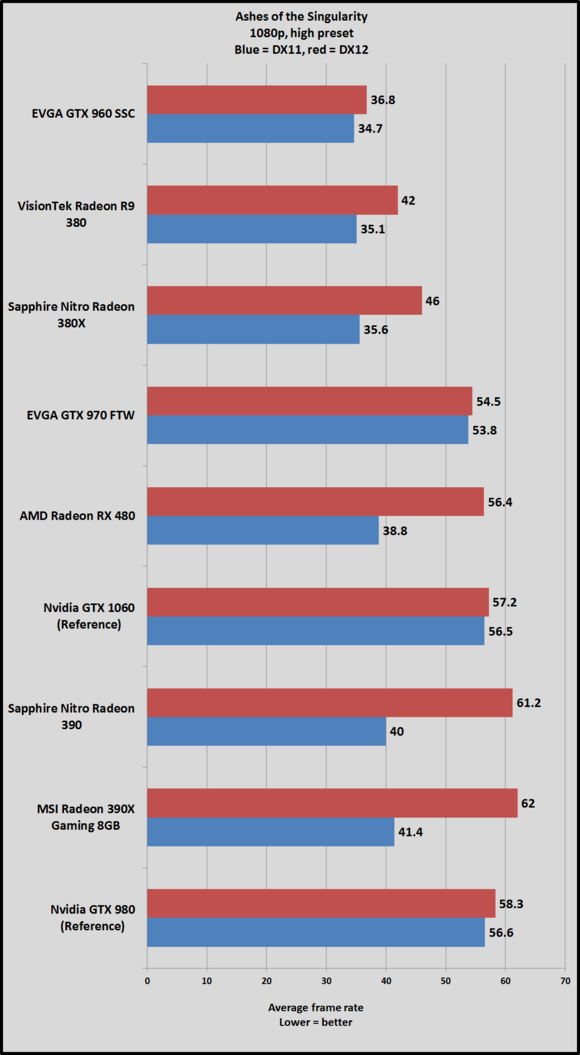 It's important to keep things in perspective here though. Yes, the Radeon RX 480 sees a big jump in performance switching from DX11 to DX12, while the GTX 1060's performance remains mostly static. But that big DX12 bump for Radeon cards only serves to raise the RX 480 to just shy of the GTX 1060's DX11 performance levels. When it comes to performance you'll see while you play the game, the GTX 1060 actually runs slightly, imperceptibly better than AMD's $240 card.
Considering how thoroughly Radeon cards whup on GTX 900-series hardware in Ashes, that's a big win for Nvidia. And yes, the GTX 1060 outperforms the GTX 980 here.
Also note that the last-gen $200 graphics cards can barely run Ashes, especially at "Crazy"-level graphics settings. Again: These new cards represent a major leap forward in sheer performance.
Next page: SteamVR performance and synthetic benchmarks
SteamVR and 3DMark
Time for some synthetic benchmarks! And in most of them, the GTX 980 overshadows the newer GTX 1060.
First up: The SteamVR performance test, which serves as the only major virtual reality standard until more benchmarking tools hit the streets and testing becomes more mature. This tool's better as a pass/fail test for determining whether your rig can handle VR, and its relative performance, than it is for making head-to-head GPU comparisons. The GeForce GTX 1060 falls firmly in the capable range, and firmly between the RX 480 and GTX 980.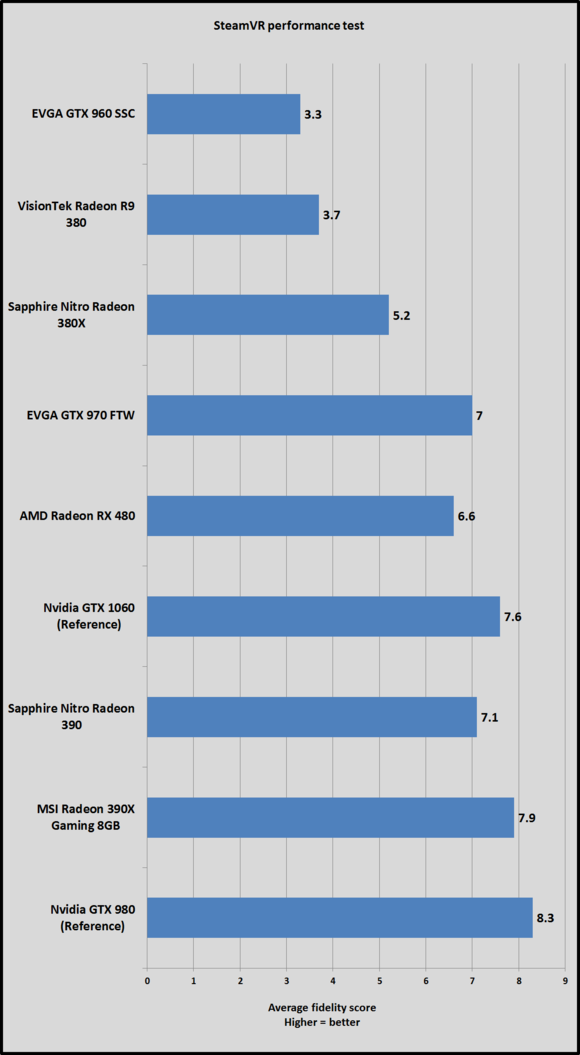 3DMark Fire Strike and Time Spy
We also tested the GTX 1060 and its rivals using 3DMark's highly respected DX11 Fire Strike synthetic benchmark, which runs at 1080p, as well as its brand-new Time Spy benchmark, which tests DirectX 12 performance at 2560×1440 resolution.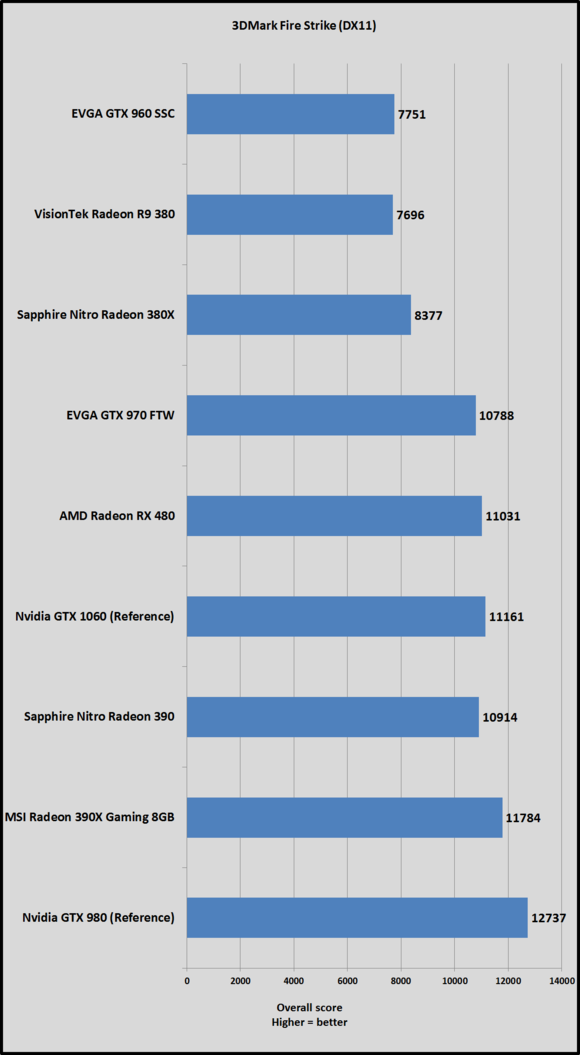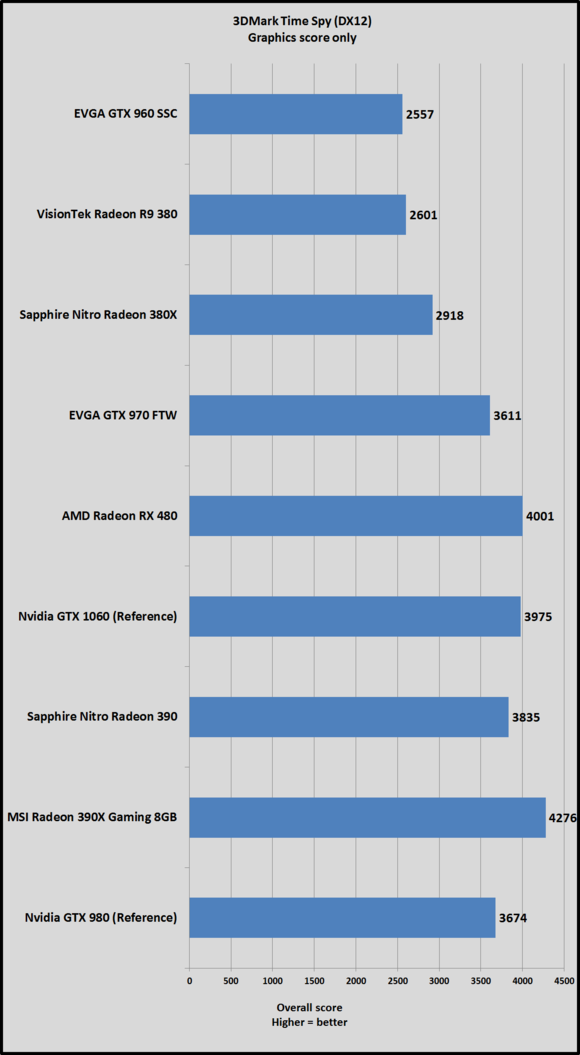 The GTX 1060 once again spanks the previous-gen $200 cards, but falls shy of the standard set by the GTX 980. Of particular note, it's essentially in a dead heat with the RX 480, which is especially interesting in the Time Spy test. Time Spy leverages DirectX 12 features like extensive multi-threading and asynchronous compute. AMD's been beating its chest about performance gains from async compute in DirectX 12, but this test shows that the async compute improvements that Nvidia baked into its Pascal GPUs appear to be paying off at least to some extent.
PCWorld's extensive Time Spy preview delves further into DirectX 12 performance results from a slew of Nvidia and AMD graphics cards. The benchmark lets you turn on and off async compute—which reveals some interesting results. We strongly recommend you read it for a better understanding of how Radeon and GeForce cards both old and new perform, though the GTX 1060 specifically isn't included in the roundup.
Next page: Power and heat
Power and heat
Nvidia's Maxwell architecture was famed for its power efficiency, and the Pascal GPU inside the GTX 1060 sips even less power while pumping out more performance. Nvidia's new graphics card consumes less power than any other we've ever tested under full load. GeForce remains superior to Radeon in sheer power efficiency, though the RX 480 runs far leaner than prior AMD cards.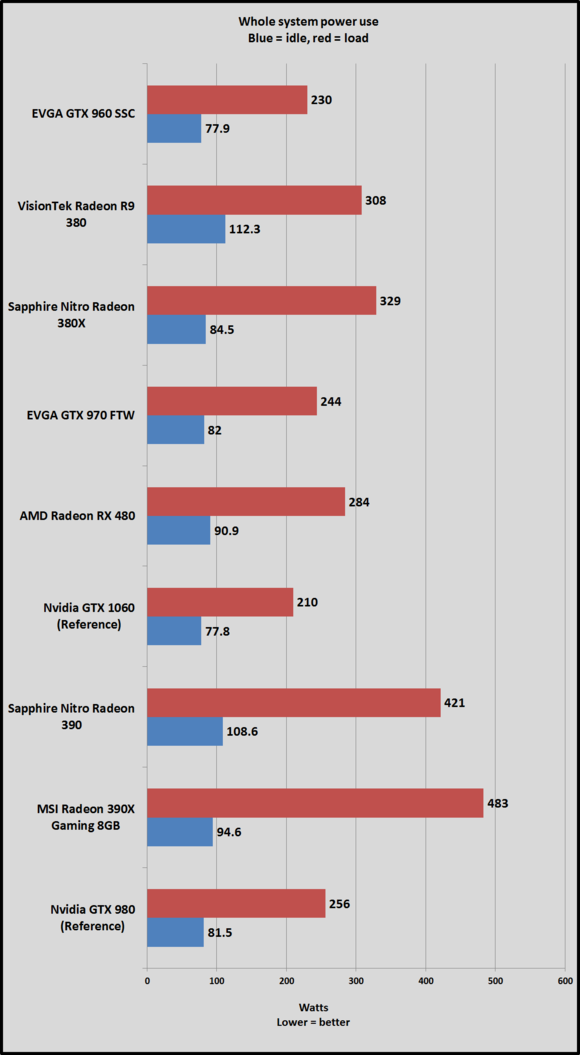 We've changed how we test power consumption. We used to run Furmark, a popular benchmark that exists solely to crank graphics cards to 11, and record the results. But Furmark crashes when you try to load it with the review drivers Nvidia provides. Coincidence? Perhaps not. Nvidia hates Furmark, specifically saying not to use it in reviewer guides. But at the same time, we discovered that AMD's RX 480 doesn't enter its highest power state while running Furmark, meaning it appears to draw less power while running that application than it does while running full-blown games.
To rectify the situation, we've begun testing power usage by running SpeedFan while the intensive Division benchmark runs, then noting the peak power draw afterward. We retested all the graphics cards using this method; only the RX 480 showed a substantially different result.
Heat
Less power means less heat. The GeForce GTX 1060 stays under 80 degrees Celsius despite rocking a reference cooler.
Remember: Only the GeForce GTX 1060, Radeon RX 480, and GeForce GTX 980 pack reference designs; all the other cards sport custom coolers of various efficiency. That makes this somewhat of an apples-to-oranges affair. That said, the RX 480 and GTX 980 are the cards Nvidia's directly pitting the GTX 1060 against, so it's helpful that those cards all pack stock cooling designs.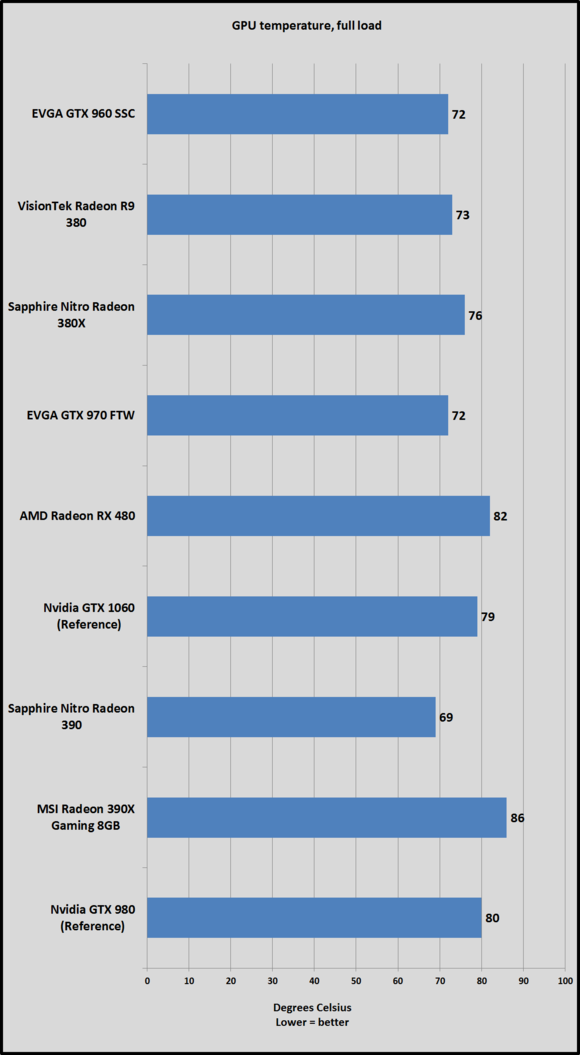 There's nothing to complain about when it comes to the GTX 1060's power and thermals. This is about as good as reference cards get. It'll be really interesting to see just how cool the card becomes in the hands of third-party partners. Zotac's already announced a diminutive mini-ITX version of the card measuring a mere 6.85-inches long.
Next page: Bottom line
Final verdict
If I had to boil this 3,000 word review down to two words, they'd be "It depends."
Does the GeForce GTX 1060 outperform the GTX 980? It depends—but mostly. When Nvidia said the GTX 1070 beat the Titan X, it truly did so across the board. The picture's more muddled with the GTX 1060. It's more accurate to say it delivers performance roughly on par with the GTX 980, sometimes beating the latter.
Does the GeForce GTX 1060 outperform AMD's Radeon RX 480? It depends. After a recent performance-boosting update, the RX 480 also delivers performance roughly on par with the GTX 980, sometimes beating the latter.
The GTX 1060 manages to shrink the performance gap between AMD and Nvidia cards in Radeon-leaning games, and delivers a scant few more frames per second than the RX 480 in the other games we tested. The only game Nvidia's card delivered a solid lead in is Rise of the Tomb Raider—but AMD matched that lead in Hitman. Really, performance is pretty much identical between the two cards and AMD's RX 480 starts at $200, or $50 less than the GTX 1060.
Which brings us to another point: Does the RX 480 or GTX 1060 deliver better bang for your buck? Today, in the real world, it depends.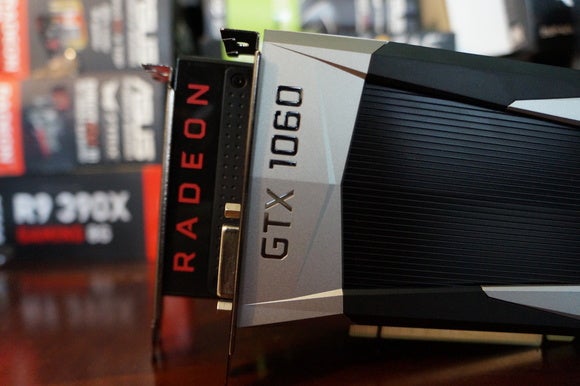 That's because RX 480 stocks are depleted and the cards are selling for significantly more than their $200 (4GB) and $240 (8GB) MSRP. But Nvidia's GTX 1070 and GTX 1080 are still suffering from low stocks and inflated prices of their own, more than a month after their respective launches. While the GTX 1060 uses a different GPU than those cards, this launch feels like a rushed response to the RX 480's release, and it remains to be seen how availability—and thus pricing—shakes out.
Another factor is the introduction of Nvidia's premium Founders Edition cards, which have helped push up prices across the board for GTX 10-series cards. The GTX 1080, 1070, and 1060 all sport higher MSRPs than their predecessors, and third-party partners have tended to budget their cards closer to the even-higher sticker prices of the Founders Editions. Third-party RX 480s haven't even appeared yet.
So real-world pricing is a major open question.
The graphics processors will flow in mass quantities eventually, though. When that happens, prices will cool off too. And once these cards inch down to MSRP, many gamers may opt for AMD's Radeon RX 480 over the GTX 1060 due to its lower price and competitive performance.
But only do so if you're running Windows 10. You need it to activate key DirectX 12 performance boosts with AMD's cards. If you're standing firm with Windows 7 or 8, which don't support DX12, you'll want the GTX 1060, as Nvidia cards traditionally offer superior DirectX 11 performance.
Bottom line
The GTX 1060 is a damned fine graphics card no matter what OS powers your PC. It's affordable, it's efficient, and it kicks a lot of ass.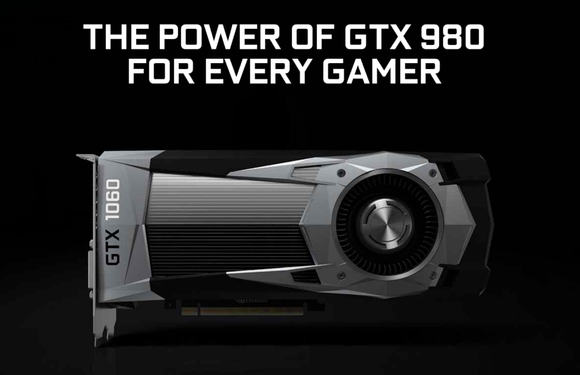 Nvidia's new card runs cool, sips power, and stays fairly quiet—making it an ideal option in a space-constrained build. I'm still flabbergasted that AMD and Nvidia were able to offer this much performance for prices so low. Nvidia's software is second-to-none; Ansel and Fast Sync look amazing. And if you're buying for a VR-capable PC, the GTX 1060's higher SteamVR rating combined with the exciting promise of simultaneous multi-projection may sway you towards Nvidia's offering.
Most gamers don't build home theater PCs or dabble in VR, though. The vast majority of gamers play at 1080p or lower resolution, according to the Steam hardware survey. Both the Radeon RX 480 and the GeForce GTX 1060 deliver uncompromising 1080p/60fps gaming performance, and damned fine 1440p action if you tone the graphics settings down to "High" rather than "Ultra." Yes, the GTX 1060 is a wee bit faster, but this is a fierce, close battle between two stellar options.
With pure performance being so similar across the board, we lean towards saving you cash over more extreme efficiency (again, if you're running Windows 10) since the RX 480's still fairly stingy on the power front. The $200 4GB version of the Radeon RX 480 should be just fine for 1080p gaming; if you're considering 1440p or VR, you'll want more memory, but even the $240 8GB variant of the RX 480 comes in at a lower price than Nvidia's new 6GB card. And AMD FreeSync monitors—which eliminate tearing, smooth out stuttering, and make life better all around—don't carry the extra price premium that just-as-stellar Nvidia G-Sync monitors demand.
The Radeon RX 480 also supports multi-card CrossFire setups, if that's a concern for you. The GeForce GTX 1060 is limited to single-card setups due to its missing SLI connector.
What about custom variants of the cards? It depends. Nvidia's Pascal architecture has proven much more overclockable than AMD's new Polaris GPU. But for now, AMD's Radeon RX 480 comes out the slight victor in the first direct head-to-head battle of this astonishing new generation of graphics cards, just eking past the GeForce GTX 1060—if only because of price. Nvidia's superb software and top-notch power efficiency may be worth the extra premium for some people, especially if you're choosing between a $240 8GB RX 480 or $250 6GB GTX 1060, but that's purely a personal judgement call.
Really, though, you won't be disappointed by either of these cards. I'd even say you'll be downright amazed by them. Both the GTX 1060 and the RX 480 utterly blow away what $200 to $300 graphics cards have been capable of achieving up until now. No compromises 1080p gaming and solid 1440p gaming at an affordable price point? Yes, please.