We haven't been covering Hitman's Elusive Targets on a week-by-week basis. I figure if you're playing Hitman you already know the deal: Every week or so, Square tasks you with tracking down and killing a random NPC on a random map. You have one chance to succeed, and if you screw it up then the mission disappears.
The schedule's been somewhat unpredictable, so other outlets have taken to writing "The next Elusive Target is live!" stories. That's not our thing. But what is our thing is "Really Stupid Gimmick Ideas," so it is with some small amount of pleasure I write this story about how the next Elusive Target is Gary Busey.
Yes. Gary Busey, the actor. Now known as "The Wildcard."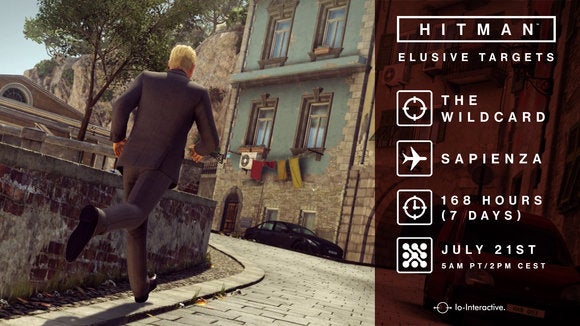 Fans were polled on whether they wanted Gary Busey or Gary Cole, and really, it's an obvious choice. You'll have one week to take him out on the sunny streets of Sapienza, starting this Thursday at 5 a.m. Pacific.
More of this please, Hitman. Not every Elusive Target needs to be a gimmick character, but it's a hell of a lot of fun. Vin Diesel? The Rock? Arnold Schwarzenegger in full Predator camo? Tim Curry in his Rocky Horror Picture Show garb? Or how about we kill the actor who played Agent 47 in that terrible Hitman: Agent 47 movie Square greenlit? Endless possibilities.