Tinder users beware. The popular dating app generally doesn't verify most user accounts, but that hasn't stopped spammers from pretending to offer the service.
In recent weeks, automated bots masquerading as Tinder profiles have been telling real users to get "verified," as part of a clever scam to sell them porn, security firm Symantec said on Thursday.
The spam bots first send off flirty messages, like "Wanna eat cookie dough together some time?" only to then ask whether Tinder has verified the user.
It's a free service, the spam bot will claim, and done "to verify the person you wanna meet isn't a serial killer lol."
The spam bot will then send a link to a site called "Tinder Safe Dating." But in reality, the service aims to trick users into giving up their payment data, Symantec said.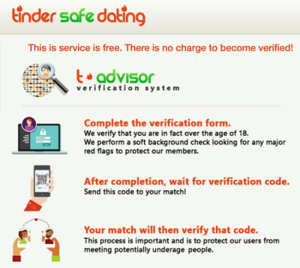 It does this by asking for credit card information, claiming this will verify the user's age.
"If the user isn't careful, they might miss important details in the fine print," Symantec added. The service actually subscribes the user to free trials of online porn.
Unless the free trials are canceled, the user will be later charged US$118.76 per month.
The scammers are probably taking a commission for each referral made, Symantec said. The security firm has found 13 "Tinder Safe Dating" websites and reported them to the domain name registrar.
Tinder does offer verified badges, but only to some public figures, celebrities, and brands. Users wanting to confirm their authenticity should link their Tinder account to Instagram, the app's developers have said.
Spam bots, however, have been a problem on the app for years. Past scams have tried to redirect users to mobile games and adult webcam sites.
Tinder warns users to avoid messages that contain links to third-party websites or ask for money or an address.