Microsoft's new inking technology within Windows 10's Anniversary Update, Windows Ink, has just begun to recognize what you write. Its next chapter? Equations.
Shortly before reviews of Windows 10's Anniversary Update hit on Monday, Microsoft showed off a rather sophisticated update to OneNote: Microsoft's note-taking app was able to interpret mathematical equations entered using Windows Ink and also solve them—and show its work. Microsoft will begin providing this technology to consumers in the coming months, the company said.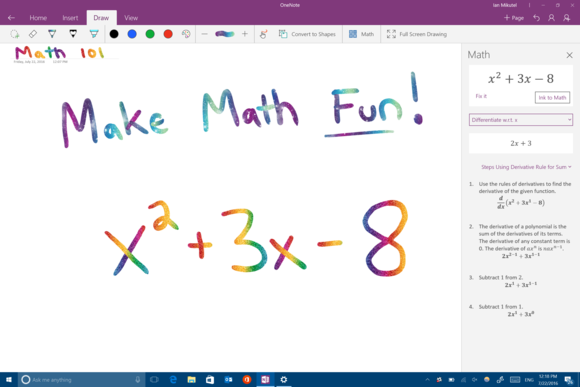 Why this matters: With Windows Ink and OneNote, Microsoft appears to be aiming for what one might call "quick experiences," dropping into an application and accomplishing a task quickly. This approach originated with the Surface Pro 3, when the tablet debuted with the ability to quickly launch OneNote by clicking the "eraser" button on the Surface Pro 3's stylus. That same ability to launch apps with a simple button press is also found within the Anniversary Update's Windows Ink Workspace, the small collection of Microsoft-authored apps—Sketchpad, Screen Sketch, and Sticky Notes—that users can access via a pen icon on the taskbar.

From quick notes to quadratic equations
With Sticky Notes, users can write down a flight number, website URL, or phone number and Bing will interpret it as actionable data. In OneNote, you can ink a circle, select it with a lasso tool, and OneNote will turn it into a perfect circle—note the Convert to Shapes button, and also the new Math button in the screenshot above.
(Unfortunately, another feature that Microsoft pitched for the Anniversary Update—drawing a route inside the Maps app—was also delayed, but it too will appear over time, executives said.)
The web is already populated with sites and services that will provide mathematics assistance; the most well known is probably Wolfram Alpha, designed by Stephen Wolfram, the original author of seminal mathematics program Mathematica. Wolfram Alpha also provides numerous possible solutions to the equation inked above, though step-by-step solutions for a number of them require a Pro subscription, currently $5.49 per user per month.
Microsoft, though, doesn't seem to be charging anything for its solution—well, beyond possibly making the feature contingent on an existing subscription to Office 365. (To be clear, though: Microsoft hasn't commented on this.) And there's one more feature: If solving equations isn't interesting enough by itself, Microsoft said it also plans to add rainbow- as well as a "galaxy"-themed pen inks—for when your astrophysics notes need a bit more flare, apparently.