At a Glance
Expert's Rating
Pros
Can greatly extend laptop battery life
Charges quickly
Cons
Doesn't have enough power to charge powerful laptops under heavy use
Extra bulk and weight to carry around
Best Prices Today: Power Companion PW7015L
We're all conditioned to carry a spare battery charger when we're hunting Pokemon, but when your Dell XPS needs more juice on the go, what do you do?
Enter Dell's Power Companion (found on Amazon for about $95), essentially a big-ass battery that connects to a laptop for a quick recharge. While at first glance you might confuse the Power Companion with your run-of-the-mill giant smartphone charger, there are a few key differences.
Not your generic battery pack
The first difference is that those battery packs can only charge phones and low-power tablets with their 5-volt output over USB. Full-power laptops need a lot more juice than that, so the Dell Power Companion puts out 19.5 volts.
Those generic battery packs are also themselves charged via low-voltage USB. The Dell Power Companion charges using the laptop's own power brick, by way of the barrel connector. So no, you can't charge the Power Companion using your phone or tablet's USB charger but there's a huge advantage in charging speed.
The typical generic large battery pack might take a half a day (some even a full day) to charge from zero. But by feeding off the 19.5 volts of the laptop's power brick, the Dell Power Companion can recharge in less than a couple of hours.
And, of course, you can't run your Dell laptop off a generic power brick. The Dell Power Companion I reviewed is the larger (15.4 ounces) 18,000 mAh model. Dell also makes a 12,000 mAh model for its USB-C laptops. Although Dell doesn't seem to bless it, I was able to swap the USB-C cable from the smaller unit onto the larger one and charge both the Dell XPS 13 and the 2015 MacBook from it without problem.
On top of that you get a pair of USB Type A ports for charging other devices; both are rated for 2 amps, which I confirmed using a USB power meter. Again, the brick does not charge using the standard micro-USB port of generic bricks, so it features two plugs that are compatible with the majority of Dell power bricks sold today.
There's another proprietary plug that connects the Dell Power Companion to your laptop using an included pigtail. This Dell Power Companion model includes both the thick barrel plug and the thin barrel plug.
There's also a small power button and five LEDs that serve as a fuel gauge. When the laptop is powered up, it'll automatically trigger the charging circuit, but when the laptop is off, you'll need to press the power button to begin charging.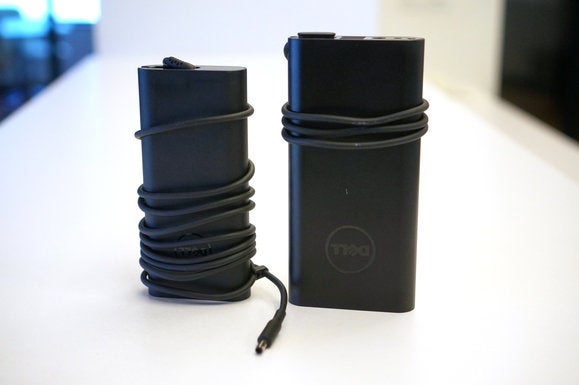 You can use the Dell Power Companion inline by plugging your laptop's charger into the Power Companion, which then plugs into the laptop. One thing you should know about the Dell Power Companion is that it can't match high-output power bricks. On the Dell XPS 15, for example, the stock brick is 130 watts. The Dell Power Companion, even the larger 18,000 mAh unit, is just 65 watts. When used inline through the laptop's brick, you can get 90 watts from it though.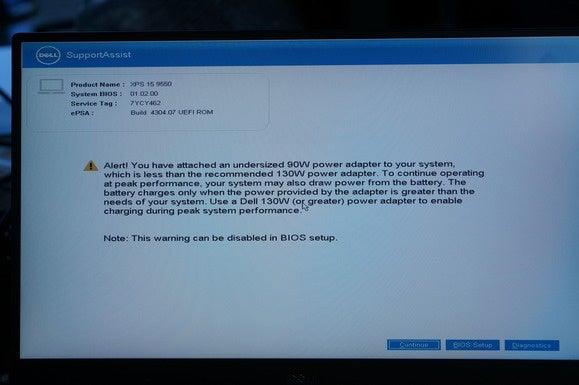 That can lead to problems in heavy-use scenarios. Because the Power Companion maxes out at 65 watts, a more powerful laptop, such as the XPS 15, will not charge when the GPU or CPU is under heavy loads. To test this, I used the FurMark benchmark to tap the power hungry GeForce GTX 960M, and the laptop stopped charging.
This would obviously be a problem if you were encoding a video in the field and suddenly realized your battery was just about dead. In this case, the Dell Power Companion would be unable to charge the laptop and keep encoding at the same time.
There is some good news though. Even though you can't charge the laptop under heavy loads, it appears that the laptop drains from the the power bank first and only slowly drains from the internal battery.
For example, with 11 percent left on our XPS 15, I again ran FurMark with the screen at 100 percent brightness and it took 20 minutes for it go from 11 percent to 10 percent. Unplugging the Dell Power Companion and running on just the internal battery, FurMark took the battery from 10 percent to 6 percent in about five minutes.
The upshot is that the Dell Power Companion can greatly extend battery life even if you don't plug it in until you'e at 20 percent. And if you plug in the Dell Power Companion when both are 100 percent, it gets drained first before moving to the laptop.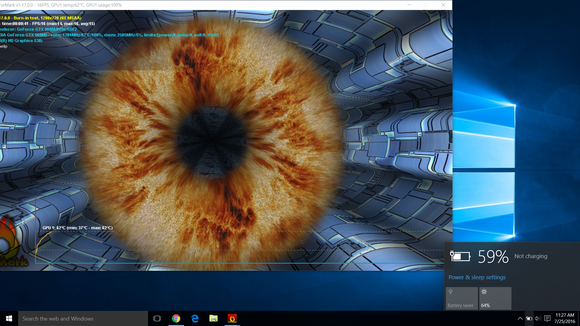 And I should note that far less intensive CPU or GPU actions didn't discharge the Dell Power Companion. And, of course, you can still just charge the laptop when it's off or not being used. Smaller, lower-powered laptops shouldn't have any problem at all.
If you decide to buy a Dell Power Companion, you'll want to make sure your laptop is running the latest BIOS to avoid problems in the laptop's power circuits.
The battery-life difference
How much actual practical battery life do you get? To find out I used our standard battery rundown test, playing an Ultra HD 4K video file at 250 nits to 260 nits. The XPS 15 I used here is a model with the smaller 56 WHr battery—Dell sells the same laptop with a much larger 84 WHr unit, but you can only get it on the pricier $1,700 configuration and up.
Battery life on the XPS 15 with the small 56 WHr battery is just average, even though our $1,400 unit doesn't have a power-eating touchscreen or high-res 4K screen. I charged the battery and laptop to 100 percent and then measured the playback time.
The results are pretty stunning. The stock XPS 15 with the 56 WHr gas tank eeks out 312 minutes—with the 18,000 mAh Dell Power Companion I saw an incredible 1,364 minutes. That's almost a full day of video run time compared to the stock five hours.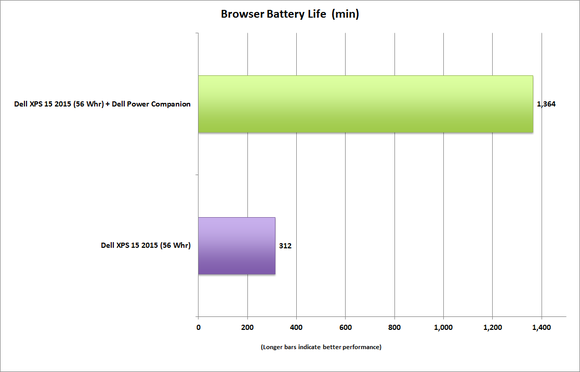 Why such a huge increase in playback times? Honestly, I don't know—it exceeds what I expected. The playback time was measured using external hardware and verified by Windows' power log. So yes, amazing battery life for video playback.
Conclusion
In the end, there are a handful of things to consider before purchasing a Dell Power Companion: its limitations for charging when the laptop is under load; the fact that it doesn't work with all Dell laptops—the company claims compatibility with about 30 models including many XPS, Vostra, Precision, Latitude, and Inspiron models; and finally, its weight, about 15.4 additional ounces in your bag.
But when you're in the middle of nowhere and desperate to get something done on your laptop, the extended battery life is well worth it.
Best Prices Today: Power Companion PW7015L