You can never have enough memory on a professional graphics card, AMD officials said before announcing the company's next big thing at the SIGGRAPH conference on Monday night. Using what AMD dubbed SSG Technology, or Solid State Graphics Technology, the company will graft high-speed NAND memory to its upcoming line of professional GPUs.
In doing so, company officials said, it will be possible to connect a magnitude more memory to a GPU than is currently available. The GPU with the most memory presently is AMD's Radeon FirePro W9100 with 32GB of RAM.
With SSG Technology, NAND is directly connected to the GPU core, residing within the graphics card itself.
Why this matters: "This will allow us to connect terabytes of memory to the GPU," said David Wattters, AMD's head of Industry Alliances. The ramifications aren't entirely known, but Watters said SSG is already making a difference in ultra-high-resolution 8K video. And no, 8K video isn't just double that of 4K, either. An Ultra HD 4K video is about 8.3 megapixels. An 8K video is 7680×4320, or about 33 megapixels. According to Watters, current GPUs can play raw 8K video at around 17fps; one with SSG can play the same video at 90+ fps.
AMD demonstrated such a scenario in real time at SIGGRAPH with one system struggling to play raw 8K video at 17 fps. A second system outfitted with a GPU with SSG could not only play the same 8K video at more than 90 fps but officials showed it "scrubbing" or quickly moving through the video as effortlessly as someone would edit 1080P video today.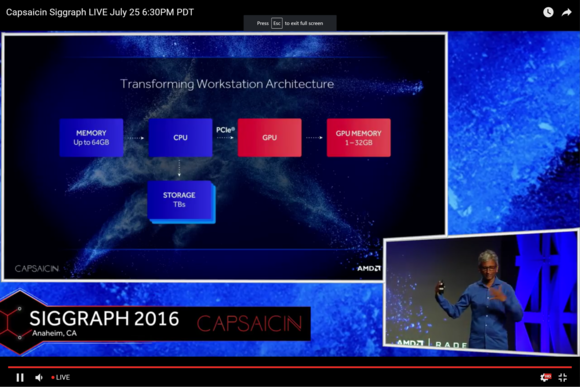 How it works
AMD said that given the relatively small amount of memory in a graphics card today, the GPU must slice and dice workloads and then manage the merging of those disparate parts. When the GPU wants more work, it has to signal the CPU, which then fetches data from the larger pool of local system RAM or primary storage. This incurs latency.
With SSG, the CPU is bypassed entirely, which greatly reduces latency, AMD said. The company didn't disclose too many details, but SSG appears to be based on a standard M.2 interface using PCIe.
SSG would not replace graphics RAM itself, such as GDDR5+ or HBM or HBM2, as it would be too slow. The company's new Polaris-based Radeon RX 480, for example, has about 256GBps of memory bandwidth on tap. The best you can get out of a single M.2 interface today is 1.5GBps to 2GBps.
AMD officials said the large pool of SSG memory will aid real-time visualization tasks and also change how professionals work because that memory is also pervasive. A typical high-end CAD worker might start the morning by booting up their machine and loading a model, which could take an hour. SSG would eliminate that wait.
Similarly, the GPU can help stream 4K videos to multiple screens simultaneously, and it will allow graphics for VR headsets to be delivered faster. It could alleviate some challenges with delivering smooth graphics to VR headsets like Oculus Rift and HTC Vive.
The SSG memory would be treated as part of a huge pool of RAM. If the GPU can't find its data in the local GDDR5+ or HBM RAM, it would then search the SSG. Only after that would it have to ask the CPU for what it wants.