If you want the best Pokémon Go map, why not use the game's servers to tell you where to find Pokémon? That's the aim of Pokévision, which claims to use the the game's own API to discover the Pokémon in your midst.
And if that sounds too good to be true, it just might be: Pokévision appears to be down after a few weeks of providing a Pokémon Go cheat sheet, and the developers don't sound too hopeful it's coming back. Right now, we're in limbo.
Pokévision's premise is simple: It taps the game's API to provide a real-time "cheat sheet" pointing to the locations of the nearest Pokémon in Pokémon Go. Each Pokémon location comes with a timer; when that timer expires, the Pokémon de-spawns and disappears.
"Find all Pokémon near you (or a selected target location) in real time for Pokémon Go. Pokémon nearby will be marked along with their appearance timer on the map," the Pokévision site claims. "These are real-time Pokemon locations, meaning they are currently live and can be found exactly at the marked spots."
The map won't find Pokémon lured to you by incense or a lure, as those are only shown to you or the players around you, and not the world at large.
Why this matters: Pokévision may be the best Pokémon Go map precisely because it's the ultimate cheat: Instead of asking classmates for the answers, Pokévision lifts the answers from the teacher. It begs the question: Doesn't this violate the spirit of Pokémon Go, which is discovery? Possibly. However, the map doesn't collect the Pokémon for you; it simply shows you where they are. If anything, this adds an urgency to the gameplay, as the rare Pokémon you want to collect may be a few miles away. The first chapter of Pokémon Go might have been a walking adventure; Pokévision could turn it into a road rally.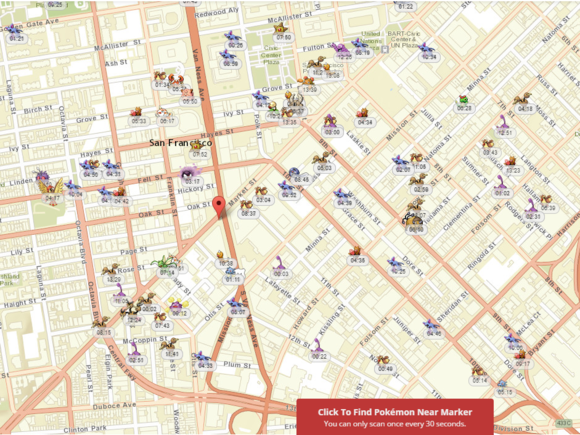 Is Niantic blocking Pokévision?
Players have grown upset that the local tracking (the "three footsteps" bug) has made Pokémon Go unplayable, and they had turned to sites like Pokévision to help. A recent update just eliminates the steps entirely, meaning that players are given less information than before. But with the trackers down, and problems with the app itself, who knows what direction Niantic will take Pokémon Go.
Hey guys. We wish we had some news for you At this moment, we are respecting Niantic and Nintendo's wishes. Will keep you guys posted <3

— Pokevision (@PokeVisionGo) July 31, 2016
How to use Pokévision to find Pokémon
Even without the tracker shutdown, the problem was that Pokévision is quickly becoming one of the web's most popular Pokémon maps, and the site's servers are getting swamped. At first, you might get the impression that while Pokévision is great at showing where to find Pokémon in some major cities—London, downtown San Francisco, the Santa Monica, Calif. pier—it offers nothing outside of those areas. But don't give up.
The Pokévision site might be a little obtuse, but it does seem to work. To find Pokemon near a given location, you need to drop a location peg by clicking on the map. (Asking the map to find your location seems a little wonky, so we suggest you manually scroll to where you want to search.)
Once you've established a location, click the big red button at the bottom of the site to search for Pokémon nearby. Note that the button restricts searches to every 30 seconds, and there's a faint scroll bar that shows when you can check again. When I first used it, the site didn't find any Pokémon near me. But when I clicked again, Pokévision found three—in other words, it might take a couple tries.
The site's Twitter feed indicates that the site is going up and down, depending on the number of people accessing the game and the website. It's also not clear whether the site's operators are going to restrict usage to a few countries, or try to broaden its coverage to all of the numerous countries that now play Pokémon Go.
We recently updated our list of the best Pokémon Go maps soon to add Pokévision at the top of the list — but we have to note that it's useless at the moment, too. If developer Niantic doesn't block the use of the Pokémon API to find Pokémon, finding Pokémon within Pokémon Go just go a lot easier. But if it does block sites like Pokévision, well, it will be back to the way the game was originally intended: as a voyage of discovery.
Updated at 12:27 PM on July 31 with additional details.