At a Glance
Expert's Rating
Pros
Outstanding performance
Gorgeous design
Beautiful 3200×1800-pixel QHD+ display
Cons
Disappointingly drab bezel around the display
Battery life falls far short of HP's spec in our tests
Our Verdict
HP's Chromebook 13 aims at the corporate user, with beauty and power to spare. It's the first Chromebook with a 3200×1800 QHD+ display and a Core m processor. All other Chromebooks should be worried, including the flagship Chromebook Pixel.
Best Prices Today: Chromebook 13 G1
The HP Chromebook 13 I'm reviewing just got a big compliment: "If HP doesn't want that back when you're done, let me know." That came from one of my coworkers, who uses a MacBook Pro. He admitted he was lured by the Chromebook 13's slender profile and brushed-aluminum sheen.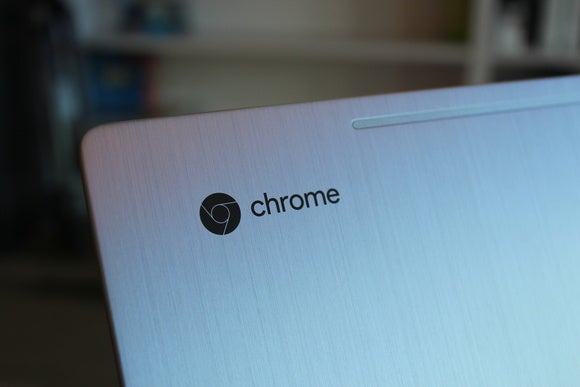 No doubt about it, HP made a beautiful-looking laptop that no one will mind showing off. The Chromebook 13 also very powerful, however, and that helps it outshine the similarly priced Dell Chromebook 13 in speed as well as looks. The Acer Chromebook 14 looks similar and costs a lot less, but it can't match the HP Chromebook 13's performance.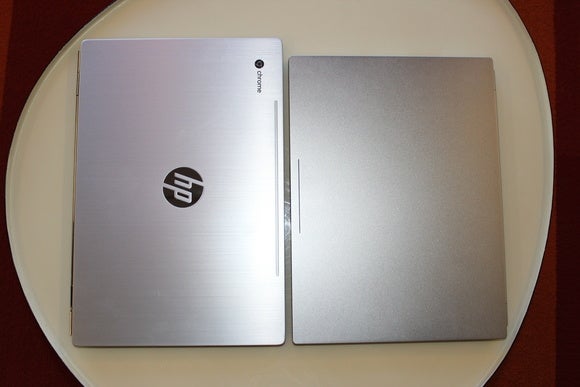 As for Google's Chromebook Pixel flagship (specifically, the second-generation, 2015 model), the HP Chromebook 13 is its first serious competition. Our review unit, the third-highest of four SKUs, priced at $819, performed on par with the $999 Chromebook Pixel in our tests, plus it has a higher-resolution display.
The only thing about the Chromebook 13 that might be less than outstanding is the battery life, which fell well below HP's spec in our tests, though it's still pretty good. If you didn't know before that device battery mileage may vary, here's yet another example.
Let's dive deeper into this new machine, which should have all other Chromebooks worried.
High-end design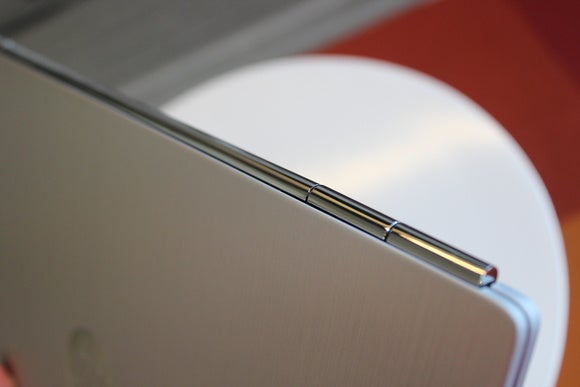 HP says the Chromebook 13 is the slimmest in its class at just 0.51 inch thick, and it's light at just 2.65 pounds (not counting the 0.55-pound AC adapter).
It has an aluminum-magnesium chassis with a brushed finish, and a swanky chrome-plated piano hinge that means your lid's edge stays well above your work surface.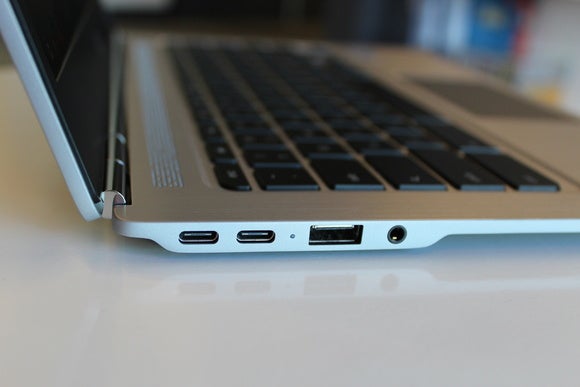 Because the Chromebook 13 is so thin, HP had to build a little "chin" into the left side to accommodate a few ports: two USB-C and one USB-A (with the lower throughput of just 5Gbps instead of 10Gbps, alas), plus the audio jack. On the other side is a microSD card slot (I'm sensing that good ol' SD card slots are on their way out).
The keyboard tray has a great-feeling, island-style keyboard and a good-sized trackpad with a diamond-chiseled rim. A Bang & Olufsen speaker stretches over most of the top, just underneath the piano hinge, and delivers pretty good sound (albeit a little tinny).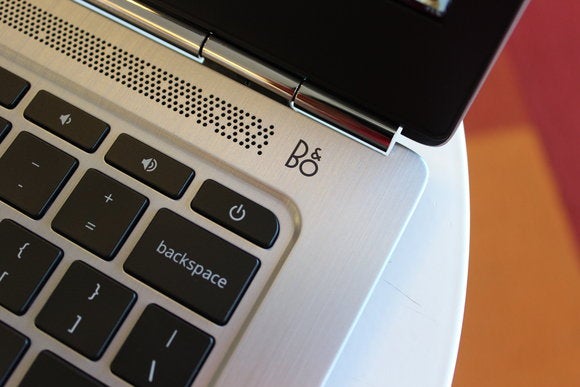 The 13.3-inch IPS display offers a first for Chromebooks: QHD+ resolution (3200×1800 pixels), which is higher than the Google Chromebook Pixel's 2560×1700 resolution on its 12.85-inch display.
Almost needless to say, the image quality was as dazzling as the Pixel's. Note, however, that actually doing any work at this resolution could be frustrating, because icons and dialog boxes shrink to unreadable sizes. (Can you see them in the photo below, even if you click the photo to enlarge? Therein lies the problem.)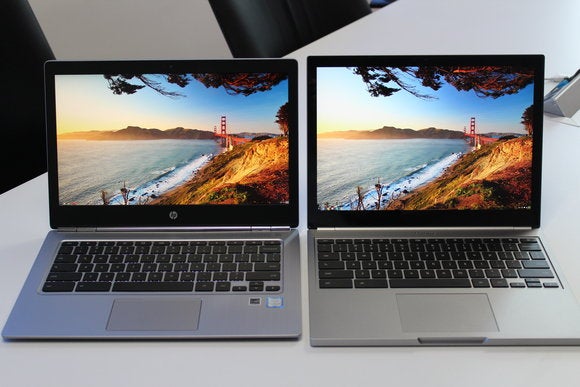 Better to stick with what HP calls the "Best" resolution in the display settings, a much more readable 1600×900. That's also the resolution we used for all performance testing.
I have a couple of remaining questions about this display. First, why no touchscreen? HP says a touchscreen version will be available later this year (no doubt for more money and a little more weight). More immediately, what's with the jarringly plain, black-plastic bezel around this beauty? The Pixel stretches the glass all the way to the edge for a seamless look. If that wasn't in the budget for the Chromebook 13, I'm surprised HP didn't at least spring for an aluminum-look plastic.
High-end performance
Before we talk about the HP Chromebook 13's performance, it's important to note that this is the first Chromebook product line to use Intel's 6th-generation Skylake processors—specifically, the Core m mobile chips. The lowest-end model, which starts at $499, has the Pentium, while the other three models have core m3 ($599), core m5 ($819), and core m7 ($1,029), respectively. Our core m5 SKU also comes with 8GB of LPDDR3 RAM and 32GB of eMMC storage.
These chips also allow the Chromebook 13 to be serenely fanless. In the course of testing I noticed some warmth under the upper-left area of the keyboard, but not to an alarming degree.
For comparison I updated and retested the Chromebook Pixel, which has a 5th-generation (Broadwell) Core i5 5200U and has been our star performer. A look at these charts (HP's Chromebook 13 is the topmost in each) will show you why even the lofty Pixel needs to up its game.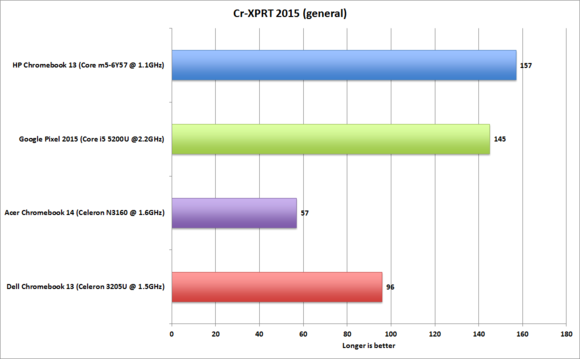 The Cr-XPRT performance test measures Chromebook performance in basic productivity tasks as well as more demanding activities, such as watching movies or playing games. HP's Chromebook 13 finished in the lead—by a small margin—compared to the Chromebook Pixel. To be fair, both the Acer Chromebook 14 and Dell Chromebook 13 offer good performance for everyday tasks, even though they can't touch the HP Chromebook 13 or Google Chromebook Pixel.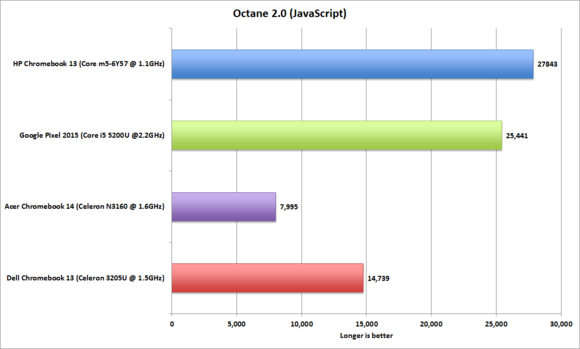 Google's Octane 2.0 JavaScript benchmark simulates advanced browser-based activities, including productivity applications, games, and interactive content. The HP Chromebook 13 came out ahead yet again.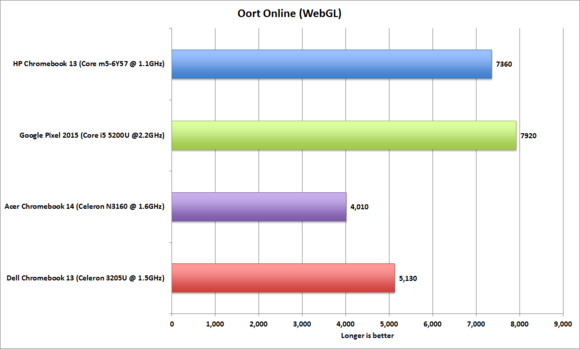 The tables shift slightly in OortOnline, a WebGL test that focuses on graphics-intensive applications and games. Here, the HP Chromebook 13 falls slightly behind Google's Chromebook Pixel. While the difference is small, I ran some WebGL experimental animations on both the HP Chromebook 13 and the Google Chromebook Pixel. I noticed that the HP could sometimes get a little stuttery in its renderings. The Chromebook 13 managed the more typical task of streaming movies just fine, though.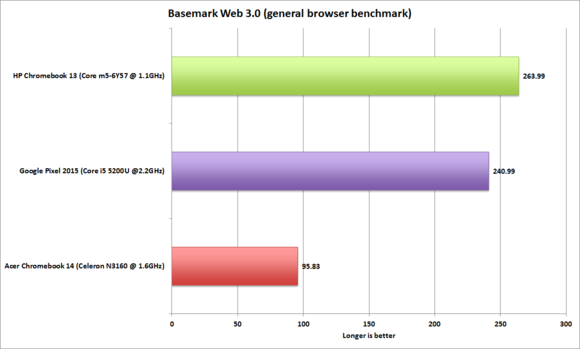 Basemark Web 3.0 recently replaced Browsermark 2.1 as Basemark's comprehensive browser benchmark. The tests cover web-based technologies including WebGL 1.0.2 and WebGL 2.0 real-time graphics, as well as JavaScript. The Chromebook 13 finished a nose ahead of the Chromebook Pixel and far ahead of Acer's Chromebook 14. (Note: We couldn't add the Dell to the Basemark chart, as it was tested with Basemark's predecessor, Browsermark.)
Battery mileage may vary…a lot
Battery life is the one question mark on an otherwise outstanding laptop. HP says the Chromebook 13's battery life will range from 8.75 to 11.5 hours with the QHD+ display on our unit. You know as well as we do that laptop mileage will vary. Still, assuming you're not cranking up the display brightness all the way or pushing the computer relentlessly, your battery life should be within the ballpark of what the vendor specifies. In our tests, using Cr-XPRT-2015's projected-life benchmark, we usually get pretty close.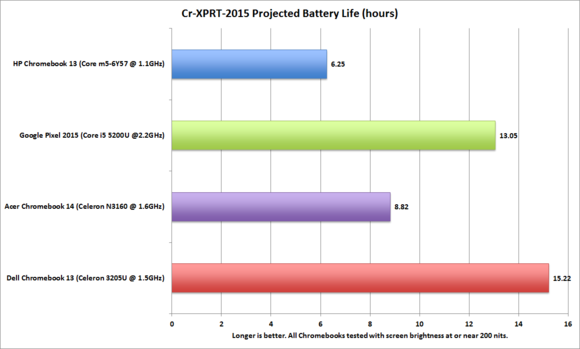 In the case of HP's Chromebook 13, however, our results fell noticeably short in four out of five passes. The laptop has a 3-cell, 45Wh Li-ion battery. We set the laptop at or close to 200 nits' brightness and obviously start the test with a full battery. In one pass, it delivered a projected life of 8.13 hours. In all other passes, it ranged from 6 to 6.38 hours of projected life. On the same test, Google's Chromebook Pixel hit 13.05 hours, and Dell's Chromebook 13 was projected to last 15.22 hours. Six hours is pretty good, just not close to what HP promised. We've discussed our results with HP and will let you know if we learn more.
Even with this issue, HP's Chromebook 13 earns a very high rating. It's light, fast, and beautiful, and it costs a little less money than Google's Chromebook Pixel. It far outstrips corporate competition from Dell's Chromebook 13 and Acer's Chromebook 14. This is the new Chromebook to beat.
Best Prices Today: Chromebook 13 G1