Dota 2 is adding a major VR injection for fans who want to immerse themselves in The International, a.k.a. the world's largest e-sports tournament.
Valve recently released the International Compendium Update for Dota 2, and it includes a new feature called the Dota VR Hub. The International is an annual world championship to determine the best Dota 2 team of the year. This year's action begins with the wildcard playoff on August 2. The Main even kicks off on August 8 with the largest winnings purse to date since the first tournament in 2011—the crowdfunded prize pot has already surpassed last year's record-breaking $18 million total.
The new VR Hub allows fans to watch The International with a virtual reality headset in three different modes. The default is the Dota VR Theater, which allows you to watch the gaming action on a virtual big screen surrounded by other fans.
If that's too boring, you can call up a mini-map to get either a bird's eye view of the match, or zoom right down to ground level to watch the VR-enabled spectacle at scale. With viewers being right in the thick of things, hopefully this year's tournament won't face any DDoS woes.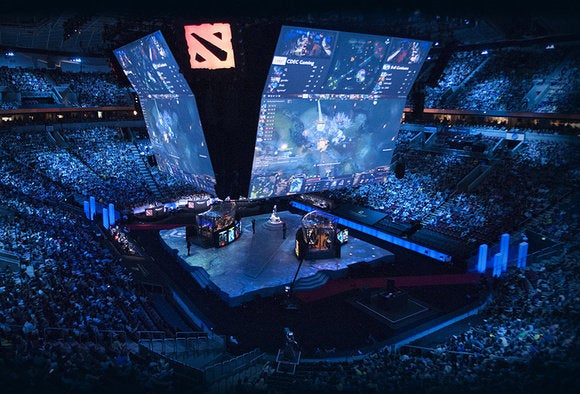 Valve says it will continue updating the VR Hub leading up to the tournament. In addition to VR, the International Compendium includes 15 new player card packs, and a bracket prediction for the main event.
If you want to wrap your head around the Dota VR Hub, but lack a VR headset, Ars Technica has a great hands-on look at the new feature.
The impact on you at home: The biggest e-sports event of the year is a perfect occasion to show the benefits of VR for all kinds of spectator activities. Today, we're watching the results of masterful gaming on a virtual battlefield. Tomorrow, who knows? Before long we might be standing in the pocket to get a first-person view of a Tom Brady Superbowl touchdown pass. We might even wind up close enough to see just how much air is in the ball, too.