Hey, have you heard about this little game called Minecraft? Apparently people like it, and those people might be interested to know the game is receiving official Oculus Rift support "in the coming weeks." Well, the Windows 10 version of it, anyway, which celebrated its first birthday today.
If you're confused and thinking "Wait, I thought they already released that," you're sort-of right—you can play Minecraft on Samsung's Oculus-powered Gear VR right now. But this latest update will bring the game to desktop VR, which should presumably run a bit better and look a fair amount prettier.
Now, based on my time with the Gear VR version I don't think Minecraft will be the Rift's best title, mostly because the Rift is currently limited to traditional gamepad support. You want to talk about games that drastically benefit from the HTC Vive's room-scale VR and motion controls? Minecraft is near the top of that list. Heck, you can mod Vive support into Minecraft and try for yourself, if you're lucky enough to have one.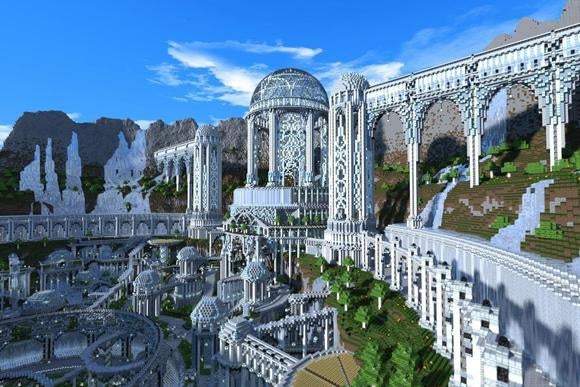 Microsoft and Oculus are all buddy-buddy though, so it's coming to the Rift. Expect seated-with-an-Xbox-gamepad controls whenever this goes live, though Microsoft has tweaked movement to play better in VR. (Read: To hopefully prevent you from throwing up.)
Judging by the website, Oculus Touch support is planned for the future—meaning the Rift version will get pseudo-room scale at least, plus motion controls. But the Touch controllers are still months away, at best, so for now you'll have to make do with a controller.
Don't get me wrong! It's still a great novelty. As I've said in the past, one of VR's strengths is giving you a sense of scale—something that's doubly important when you're building the Enterprise or whatever crazy-ambitious projects people are working on these days in Minecraft. We'll keep you updated when we hear an official date.