As expected, Microsoft said Tuesday that its Windows 10 Anniversary Update is beginning to roll out. Surprisingly, perhaps, Windows phones aren't on the approved list.
We found the Windows 10 Anniversary Update to be a positive step forward for users, with substantial updates to features you use the most. Since the AU is a standard update, you really don't have to do anything to receive it: It will be downloaded and installed automatically.
This time, however, Microsoft's offering a bit more clarity about who's getting the Anniversary Update first. Traditionally, Microsoft has simply said that updates will be rolled out in phases. Today, however, Microsoft said in a blog post that the "Windows 10 Anniversary Update is being rolled out to Windows 10 PCs across the world in phases starting with the newer machines first."
Why this matters: It's no surprise that the Anniversary Update is rolling out today; Microsoft's been saying that for weeks. What is disappointing, though, is that Windows phones are lagging behind. We all know that they're on life support, but this only adds to the general ennui surrounding Windows 10 Mobile.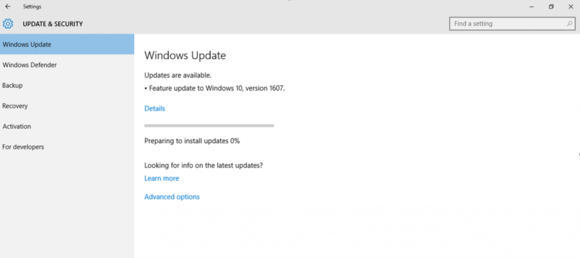 How to get the Anniversary Update
If you don't want to wait for the update—say, for instance, you have an older PC—AU is still easy to obtain. Just go to your Settings > Update & Security > Windows Update menu and click Check for Updates. The Anniversary Update will appear as "Feature update to Windows 10, version 1607." Remember to check back and install it after it downloads, or else it will typically install sometime in the evening, when you're not using your PC.
(If you're not planning on downloading it immediately, remember that the AU download could really happen at almost any time. When you're done for the night, save your work, and make sure you're not in the middle of filling out any web forms, where data won't be saved in the event of an unexpected reboot.)
Even better, if you click on the Learn More link just below the update button, you'll be taken to a support page where you can download the ISO file. That's handy if you want to perform a clean install from a USB stick onto multiple PCs.
Windows 10 Mobile phones will have to wait
Unfortunately, if you're a Windows 10 Mobile phone owner, you're going to have to wait. (Windows 10 Mobile owners are undoubtedly used to this by now.) Microsoft said that the AU will begin rolling out to phones "in the coming weeks." Unfortunately, Microsoft hasn't shared how long that will be, or the reason for the delay.
"We don't have anything to share on Mobile other than it will start rolling out in the coming weeks," a Microsoft representative said in response to an emailed question.
So to recap: Right now, the Windows 10 Anniversary Update is rolling out to PCs. The Summer Update, aka the August Update, aka the Anniversary Update, is being deployed to the Xbox One and soon the Xbox One S. As for Windows 10 Mobile? Well, it'll happen eventually. Sigh.