A few caveats, as we open this one up. First, as ever: This is merely my impressions after playing the first chapter of Batman: The Telltale Series ($25 on Steam for the entire series). The season will take however many months to spool out, and we don't typically judge a game (a.k.a. assign a score) until all its pieces are released.
Second, and maybe more important, is the fact that a lot of Steam users are reporting bugs in this game. I myself ran into two.
There's no support for Xbox One controllers. Xbox 360 controllers work fine, and indeed that's what I used since I think mouse/keyboard is usually awkward for these games. Still, no Xbox One support? What?
There's a bug you can encounter early in the episode where you click on the "Codex" in the Batcave and then the game becomes unplayable due to a frozen UI element. The only way to fix it is to reset to the checkpoint and then not click on the Codex.
But these are minor issues compared to some that people are experiencing. I've seen reports of the game running at 10 frames per second, reports of freezing and crashing, desynced audio, and people not being able to set the correct resolution. Problems abound, particularly on laptops where it looks like the game doesn't select dedicated graphics cards by default and instead tries to run on integrated. I didn't have any of these more serious issues on my desktop, but be warned.
As of writing, the top Steam review is "I run better than this game and I'm fat."
Enough caveats
Okay, I've acknowledged the game is semi-broken at launch (or completely broken for some people) and that it's only the first episode. That being said, we're not assigning a score anyway so it shouldn't matter too much. These aren't our final thoughts, and we'll revisit the game later.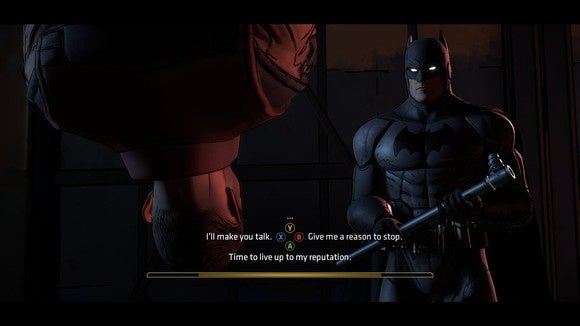 Chapter One's decent, bordering on good. Batman: The Telltale Series is actually two stories—that of Bruce Wayne and his alter ego, Batman. And ironically, it's the parts where you're not Batman that prove most interesting.
I had an inkling of this during our E3 preview, but spending a full 90 minutes with Bruce and the Bat solidified it. By and large, Bruce's sections are excellent while Batman's are tedious.
This shouldn't be surprising to anyone who's played at least one of Telltale's games. Their strength is in dialogue, not action. And you know who does a lot of talking? Bruce Wayne. The most Batman can string together is a bunch of nonsense about punching dudes in the face or maybe a cliché one-liner about good standing strong against evil.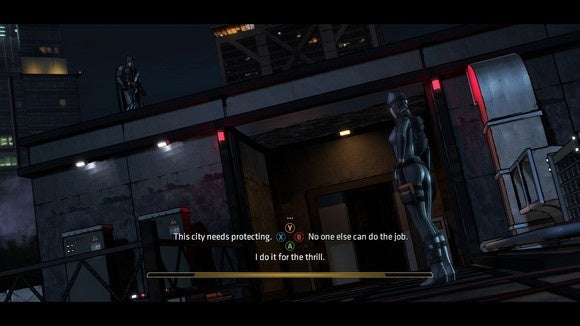 The game gets much more interesting as Bruce Wayne. Here, you're trying to get Harvey Dent elected mayor (same old, same old) and are roped in to smooth-talking Gotham's elite into voting for him. Your efforts are only semi-successful, and the first episode focuses mainly on the role of money and the media in politics, on public image and the pitfalls of celebrity.
These are themes that have some weight to them, though Episode One's brisk run-time means they're only touched upon briefly before Wayne dons the mask and gets back to hitting faces. Still, there's a lot of potential here—not least because of a certain dramatic irony that comes from comic books telling and retelling the same stories again and again. Like Wolf Among Us and its cast of fairy tale characters, Batman benefits from being able to show us brief hints of characters we know and then playing on our expectations for the future.
Less successful is the whole Batman side of the equation, which takes up about an equal portion of the episode. Not much has changed since my E3 demo—by which I mean Batman's sections still consist of lengthy chains of button-matching sequences. Press Left to see Batman move left! Press A to make him punch!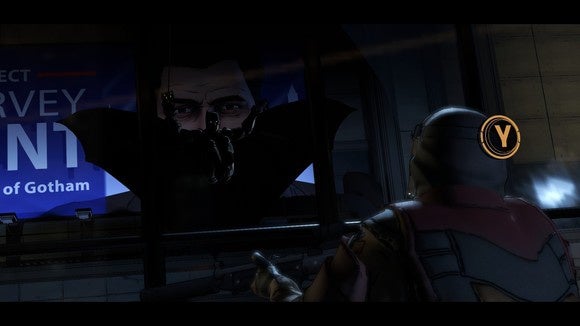 It's all rather blasé, and even more tedious once you realize the game doesn't seem to care whether you succeed or not. Sometimes I'd accidentally hit the wrong button or fudge a combination and I'd be damned if Batman didn't do the same thing regardless. That takes some of the tension out of it, if you're hitting buttons as a placebo.
But it's the only way for Telltale to justify the fact some of these action sequences are truly Kojima-esque. The opening scene alone is a full fifteen minutes or so of Batman punching, kicking, and occasionally grappling, broken up only occasionally by jump cuts to Bruce Wayne having a conversation later on in the evening. The sequences take too long for you to just sit there quietly, so…press these buttons, I guess.
I don't know how you make a Batman game while minimizing the Batman parts, but it feels like that's what Telltale's in need of here. His role is just not very interesting. Bruce Wayne sets things in motion. Batman just punches them until they reach their foregone conclusion.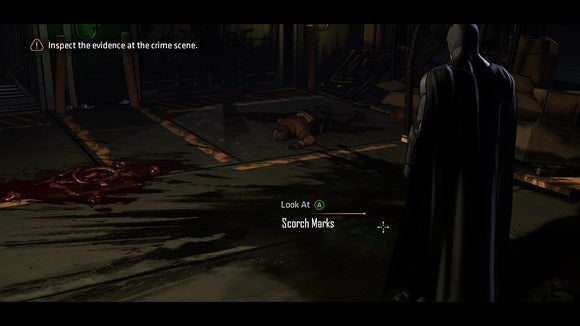 There is one praiseworthy sequence though. Batman slips into his role as the World's Greatest Detective, arriving at a crime scene and piecing together the clues—a bullet hole in a metal canister, scorch marks from an explosion, a dead police officer. It falls to you to connect the dots and recreate the events.
It's not a very hard puzzle, but it plays to Telltale's strengths. It's slow, it's deliberate, and it involves something a modicum more interesting than pressing the right button at the right time and watching a movie unfold. I'd love to see more of Batman, The Detective in later episodes.
Bottom line
For now? It's a good start. I'm not hooked like the first season of The Walking Dead or Wolf Among Us, but it's looking like more of a slow burn with a lot of potential. Telltale sets up a lot of plot threads in this first episode, and it's actually pretty impressive how many bit players they've introduced in just an hour and a half.
We'll revisit Batman: The Telltale Series when it's fully released. Hopefully the final result will be a much more stable version of the game, and one with full controller support.