Microsoft added a new tool to Windows 10 to make it easier to get up and running after a major update. If you recently installed the Anniversary Update then you've already experienced the problem this tool tries to solve. You log in after the update, excited to get going with your refreshed PC, but the update isn't finished. Instead, you have to wait through a bunch of single-color screens that tell you things like, "We're just getting things ready" and "Your files are right where you left them."
Windows 10's new feature does away with all that by allowing your PC to sign in and automatically complete the update. That way, after a major update you don't have to log in and wait for the final stages to complete.

How it works, according to Microsoft, is that Windows creates a special token based on your sign-in info. This token can then be used to "automatically sign in after a restart, finish setting up your PC, and then lock your PC to help keep your account and personal info safe."
Microsoft also recommends that anyone using this feature enable BitLocker. We asked Microsoft why it suggests that people should enable Windows' built-in encryption when using the auto-login feature, and the company responded, "We have nothing to share." Thanks, Microsoft.
Absent any answers from the company, I'd have to guess that BitLocker encryption helps keep that login token secure and less likely to fall into the hands of malicious actors. Because the last thing you want is hackers getting their hands on something that will let them sign in to your PC.
Even though Microsoft recommends using BitLocker in concert with post-upgrade automatic logins, the feature is still available on the BitLocker-less Windows 10 Home.
Here's how to enable the post-update auto-login feature. First, you'll need to be updated to version 1607, also known as the Anniversary Update.
TIP: If you're using a PC for work, keep in mind that Microsoft says the auto-login feature will not work "if your PC is joined to a domain or if work or email policies are applied to your PC."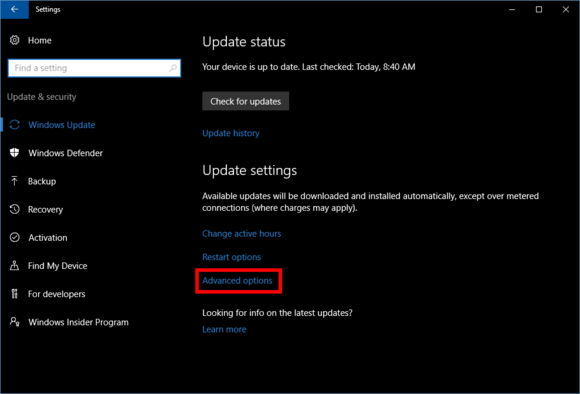 Once you've upgraded to the Anniversary Update, open the Settings menu by going to Start > Settings > Update & Security > Windows Update. In the main screen of that page, under the subheading Update settings, click Advanced options.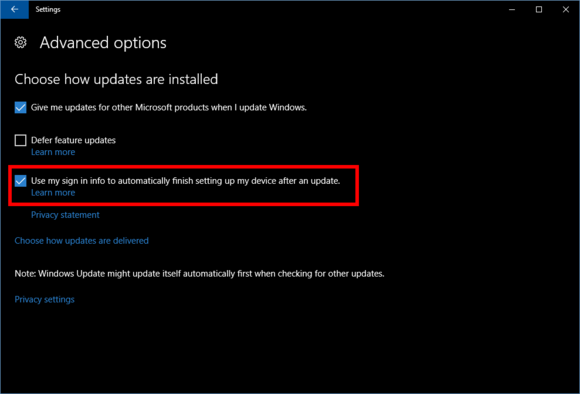 Now, check the box labeled Use my sign in info to automatically finish setting up my device after an update.
That's all there is to it. Your next major update should be able to finish without any assistance from you.