Believe it or not, Windows 10's dark theme was one of the most anticipated features for the Anniversary Update rollout. Forget about Cortana's beefed-up capabilities, Windows Ink, or phone-PC notification integration—for many users, it's all about getting that sleek, sleek theme.
Now that the Windows 10 Anniversary Update is available you can upgrade your visual life with the new theme. But how do you enable it and how extensive are its effects? That's what this article is all about.
Further reading: The Windows 10 Anniversary Update's best new features
Enabling the dark theme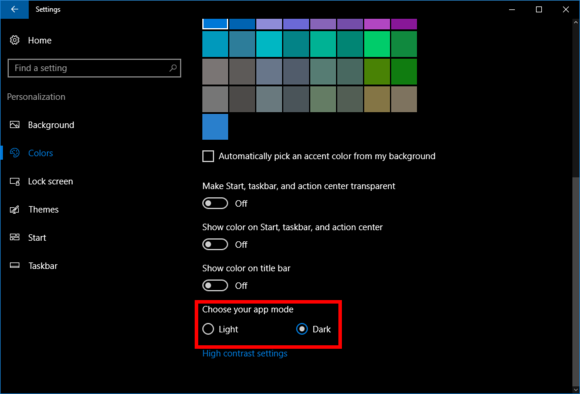 It all starts with the Settings app. Go to Start > Settings > Personalization > Colors. In the main part of the Settings screen, scroll down to the bottom and under "Choose your app mode" select the Dark radio button.
That will now force apps that support the feature to display a black background, but you may have to go a little further if you want your dark theme as unified as possible. On the same settings screen, make sure Show color on Start, taskbar, and action center and Show color on title bar are set to Off.
Now the dark theme affects not only app backgrounds but the taskbar, window title bars, and the Action Center.
Finally, under "Accent color," choose one color that you feel best complements the dark theme. This accent color won't show up in many places but it will appear in critical spots, such as the quick actions areas in the Action Center, the Start menu, and the Settings app. If you'd rather not choose an accent color you can just click the check box labeled "Automatically pick an accent color from my background."
Now that you've got the dark theme enabled and customized, how often will you see it? Well, as you can probably see by now it can show up on the taskbar, the Action Center, and the Start menu.
The dark theme will also affect Windows Store apps that support it. That typically means some (but not all) of Microsoft's built-in apps and a smattering of third-party ones. The dark theme won't have any affect on traditional desktop apps, however.
That's about all there is to the dark theme. Give it a try and enjoy walking on the (limited) dark side.