At a Glance
Expert's Rating
Our Verdict
XFX's gorgeous, thoughtful customizations are great, and the Radeon RX 470's performance devastates its predecessors, but it's priced too close to the RX 480.
With the launch of the Radeon RX 480 ($200 for the 4GB model, $240 for the 8GB model) firmly in the rear view mirror, AMD's bringing its cutting-edge 14nm Polaris GPU to even more of the masses.
While the revolutionary RX 480 delivered uncompromising 1080p gaming performance, damned fine 1440p gaming performance, and basic VR capabilities at an incredible price, the new Radeon RX 470 ($180 and up on Newegg) ostensibly aims to kick ass in 1080p gaming at an even lower price. But the Radeon RX 470's spec sheet reveals that the graphics processor beating inside of it is just barely nerfed compared to the full-blown RX 480, for a barely lower price. Can this iterative step-down card carve out a niche of its own—or maybe even steal a bit of the thunder from AMD's mainstream flagship?
Buckle up. It's going to be an interesting ride.
Meet AMD's Radeon RX 470
Glance at the RX 470's stats and you're sure to raise an eyebrow.
The RX 470's clock speeds top out at 1,206MHz, with 4GB of onboard GDDR5 memory traveling over a 256-bit bus. That's pretty darn close to the RX 480's 1,266MHz max clock speed, and the same amount of base RAM. Under the hood, the RX 470 has only four fewer compute units than the RX 480; 256 fewer stream processors; 16 fewer texture units; and the same amount of ROPs.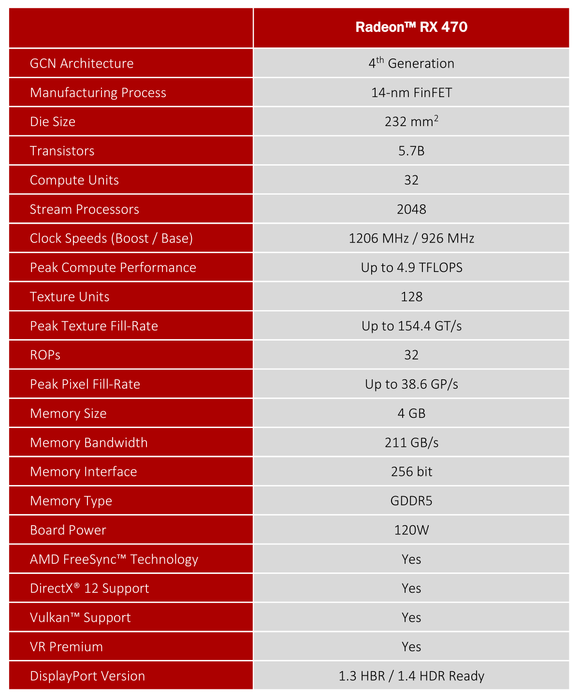 That said, there are definitely some key additional tweaks. The RX 470's base clock speed of 926MHz is far below the RX 480's 1,120MHz; its memory is slightly slower at 6.6Gbps effective versus 7.0Gbps on the RX 480; and the RX 470 has a 120 watt TDP, 30W less than the RX 480's. There's also surprisingly no reference 8GB memory option for the Radeon RX 470, though AMD says it "encourages [hardware partners] to differentiate" if they see a market for 8GB versions. But for the most part, AMD's new card sticks pretty close to the RX 480's central design. Maybe that's why the card's priced just $20 lower than a 4GB RX 480.
One key difference between the RX 480 and RX 470: While we're still mostly waiting for custom Radeon RX 480 cards to hit the streets—Sapphire's Nitro+ model ($220 for 4GB on Amazon) being a notable exception—there will be no reference models of the RX 470 available at launch. All of the RX 470s on release will be custom models from AMD hardware partners. It's the mirror opposite of the RX 480 situation—and it adds a whiff of "apples-to-oranges" in comparisons between the two cards. The clock speeds and cooling solutions in custom models can vary wildly.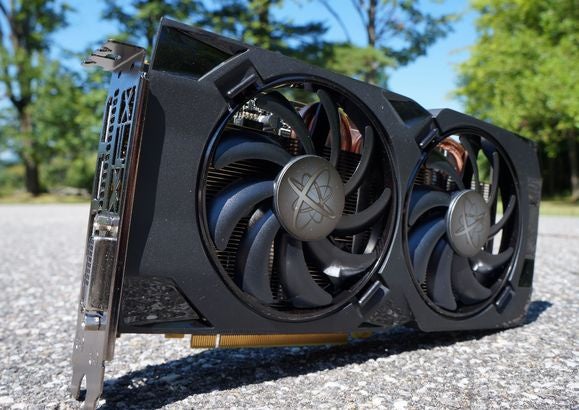 AMD sent us an XFX Radeon RX 470 RS Black Edition True OC ($220 on Newegg) for evaluation. Yes, that makes this card more expensive than a reference 4GB RX 480—posing an, er, interesting value proposition out of the gate.
The extra cash gets you some attractive niceties though. XFX's card adds a 50MHz overclock to the RX 470 boost speed, topping out at 1,256MHz. (XFX says another model with a slower overclock will retail for $210.) It's a true on-the-card overclock, too, with no need to download additional software to enable it. The company's also lifted the card's memory speeds up to 7.0Gbps effective, bringing it in line with the RX 480.
The card features XFX's popular Double Dissipation cooling system. That includes "Ghost Thermal 4.0"—a heatsink with composite copper heat pipes snaking throughout, as well as a refreshed "UniBody VRM" design, which helps transfer heat from the card's VRMs directly to the heatsink and heat pipes. All told, XFX says, you can expect 40 percent more cooling efficiency than in prior models.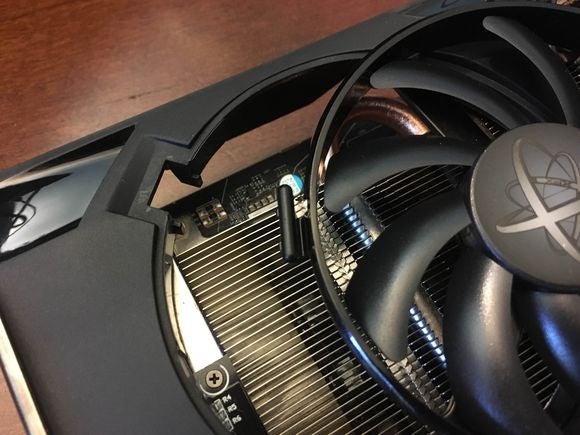 The heatsink is only part of Double Dissipation's design, though. The load-sensing fans pick up speed for heavier loads, and scale all the way down to idle when you're not gaming or otherwise pushing the GPU. Idle fans are silent fans! Continuing a theme XFX toyed with earlier this year, the XFX Radeon RX 470 includes two large, swappable fans that are held in by snap brackets for easy-peasy tool-less replacement. That makes returns a much simpler affair. XFX also plans on rolling out custom fans with various colored LED lights "in the future" so you can make the card your own. I dig it.
The 9.45 x 4.76 x 1.57-inch card rocks a sleek metal XFX-branded backplate, along with a 6-pin power connector and DVI-D, HDMI 2.0b, and a trio of DisplayPort 1.4 connections. AMD's Polaris GPU supports all sorts of cutting-edge display technologies through those ports, including high-dynamic range video, 60Hz-plus frame rates at 4K resolution over HDMI, 120Hz frame rates at 4K resolution over DisplayPort, and AMD FreeSync monitors.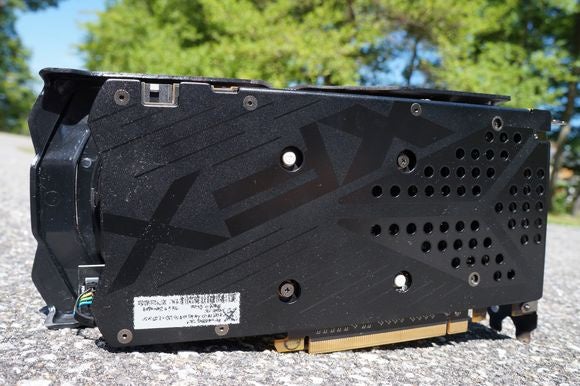 As a Polaris-based card, you'll also get features like Frame Rate Target Control, H.265 encoding and decoding, the in-driver Radeon WattMan overclocking tool, CrossFire support, and dedicated asynchronous shader hardware that can improve performance in next-gen, "close to the metal" DirectX 12 and Vulkan gaming APIs.
Overall, it's a slickly designed piece of kit that'd look good in any gamer's case. You don't find graphics cards with backplates very often in the $200-ish price range. As a cherry on top, XFX is extending the RX 470's warranty an extra year compared to previous-gen cards, out to three years. (XFX used to be famous for its lifetime warranties, but had to fall back from that during the bitcoin mining craze, when digital prospectors were buying—and burning out—AMD graphics cards by the bucketload.)
Got it? Good. On to the fun stuff.
Next page: Performance tests begin.
Our test system
The XFX Radeon RX 470 fit right into PCWorld's dedicated graphics card benchmark system, which is loaded with high-end components to avoid potential bottlenecks in other parts of the machine and show unfettered graphics performance. Key highlights of the build:
To see how well the Radeon RX 470 performs, we're comparing it against a slew of other graphics cards. First up, there's the EVGA GTX 950 SSC—a previous-gen $150 graphics card. We also tested the EVGA GTX 960 SSC, VisionTek Radeon R9 380, and Sapphire R9 380X to flesh out how the card compares against last-gen graphics cards.
We never tested the older R7 370 due to AMD's… unorthodox rollout for the Radeon 300-series GPUs. Meanwhile, the 2GB HIS R7 270 we have on hand was plagued by compatibility issues with our test suite, prompting large pop-up warnings when we launched Ashes of the Singularity and a refusal to scale beyond 1650×1050 resolution in Far Cry Primal. That leaves us without a direct comparison between the RX 470 and its predecessors, but for what it's worth, the GTX 950's performance was decently ahead of the R7 370's when it hit the streets.
The Radeon RX 480 ($240 for 8GB on Newegg), Nvidia GeForce GTX 1060 Founders Edition (which costs $300, but uses the same underlying hardware as reference GTX 1060s that sell for $250), and Sapphire Nitro+ RX 480 ($220 for 4GB on Amazon) represent the RX 470's current-gen competition. Ideally, we'd include results from the $200 4GB Radeon RX 480, too, but hey, we only have an 8GB model on hand. Performance between the two models is nearly identical except in fringe cases, anyway. On the plus side, the $220 Sapphire Nitro+ RX 480 is the exact same price as the XFX Radeon RX 470, for an apples-to-apples comparison of overclocked versions of these sister cards.
We benchmark every game using the default graphics settings unless otherwise noted, with all vendor-specific special features—such as Nvidia's GameWorks effects, AMD's TressFX, and FreeSync/G-Sync—disabled. AMD's positioning the RX 470 as a great 1080p gaming card, so that's where the bulk of our focus lies, but we also tested each game at 1440p resolution with all the current-gen cards. The last-gen cards simply shouldn't be used for that resolution. They're easily outmatched by every current-gen offering.
Hey, Tom Clancy! Want to kick things off?
Test 1: The Division
The Division, a third-person shooter/RPG that mixes elements of Destiny and Gears of War, kicks things off with Ubisoft's new Snowdrop engine.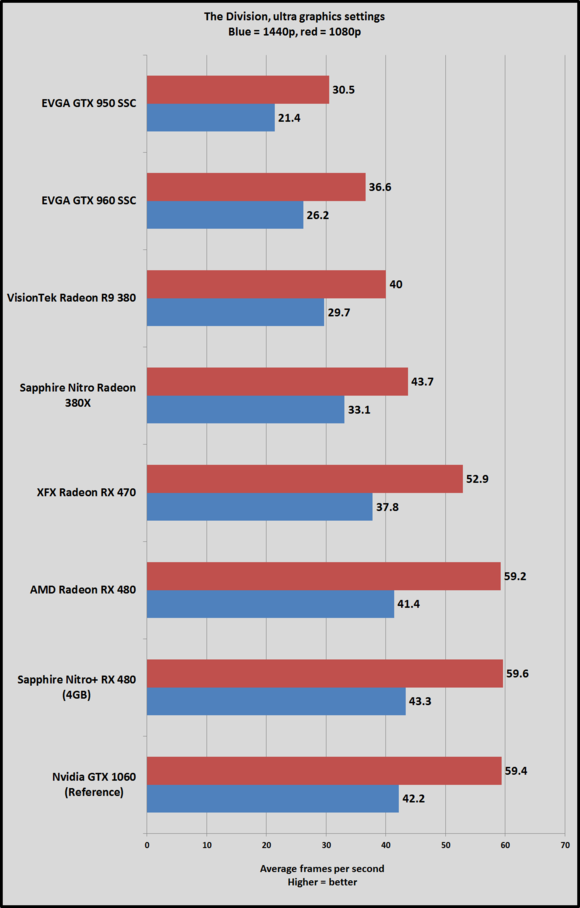 As expected, the XFX Radeon RX 470 blows away the last-gen GTX 950 and 960, and runs ahead of AMD's own R9 380 and 380X by a fair margin. But there's a sizeable 12 percent performance difference between the RX 470 and RX 480 at 1080p resolution, meaning the card won't quite deliver the same uncompromising 1080p experience as the RX 480. That 52fps at Ultra graphics settings is nothing to sneeze at though, and if slipping below 60fps bother you, either using a FreeSync monitor or dropping the graphics down to High settings will push you back over that golden standard.
Next page: Hitman
Test 2: Hitman
Hitman's Glacier engine heavily favors AMD hardware. It's no surprise; Hitman's a flagship AMD Gaming Evolved title, complete with a DirectX 12 mode that was patched in after the game's launch.
Important note: Hitman automatically caps the game's Texture Quality, Shadow Maps, and Shadow Resolution at medium on cards with 2GB of onboard memory, meaning the EVGA GTX 950 and 960 as well as the VisionTek R9 380 were tested at lower graphical settings. I've still included them in the graphs below for two reasons: 1) Because they're the sort of cards the Radeon RX 470 is directly replacing, and 2) so you can see the comparative DX11 vs. DX12 performance on those cards.
The cards are not an apples-to-apples comparison with the rest of the pack, however.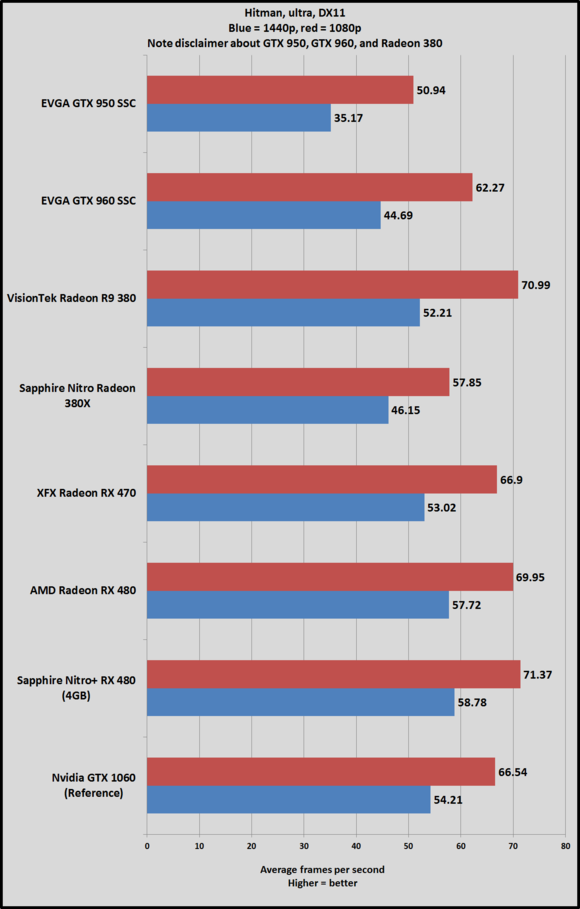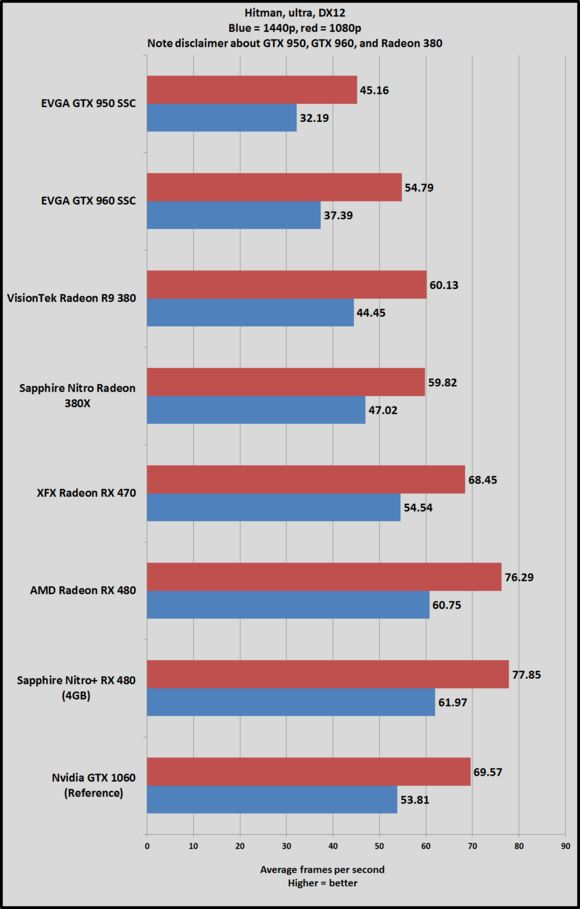 The overclocked XFX Radeon RX 470 clears 60fps easily in Hitman, and comes damn close at 1440p, essentially tying the results of Nvidia's $250 GTX 1060. The Radeon RX 480 pulls ahead by 7 to 10 percent—not a huge difference, but a considerable one, and the gap is large enough to allow the pricier card to hit 60fps average at 1440p. Once again, the RX 480's little extra oomph helps it hit new tiers of experience that aren't quite possible with the XFX Radeon RX 470. That matters—though the RX 470 comes damned close.
Last-gen's $150 to $250 cards don't. They can't even run the game at its highest graphical settings. All cards with 2GB of memory suffer from severe performance dips the second DirectX 12 is activated. As I said, the RX 470 and RX 480 are a huge leap over what came before.
Next page: Rise of the Tomb Raider
Test 3: Rise of the Tomb Raider
Whereas Hitman adores Radeon GPUs, Rise of the Tomb Raider performs much better on GeForce cards. It's also the single most drop-dead gorgeous PC game I've ever laid my eyes on.
We only tested the game's DirectX 11 mode, as we haven't had a chance to reevaluate the game's DirectX 12 enhancements now that several patches have been released to fix its once-wonky implementation.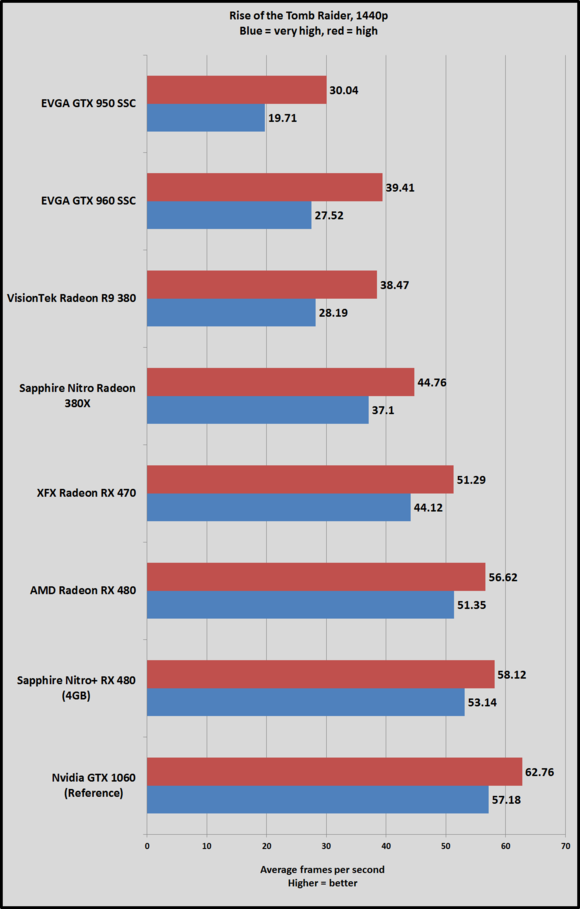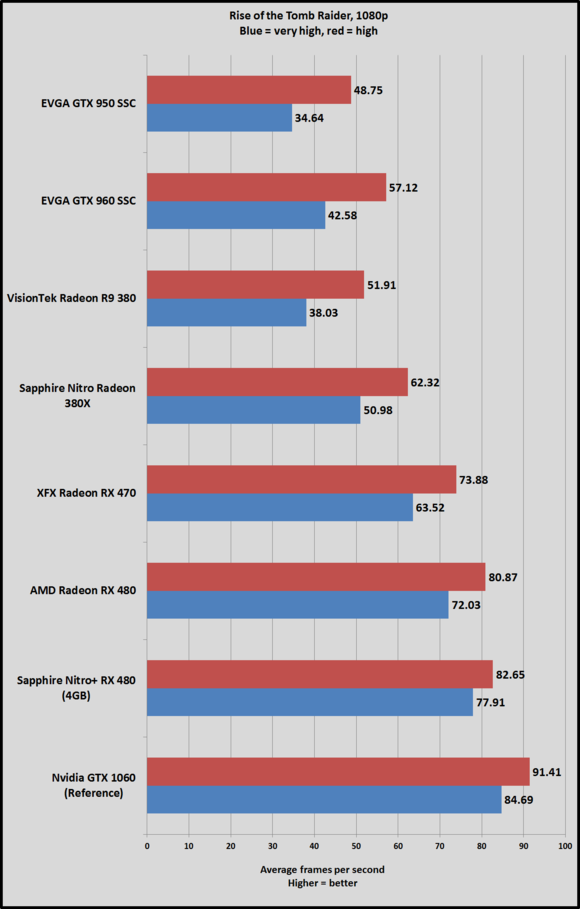 The RX 470 easily clears 60fps at 1080p, though it still lags by a significant 11 percent behind the stock RX 480. The performance gap makes a bigger difference at 1440p, where slipping to 44fps with Ultra settings enabled can affect gameplay smoothness. The gulf is even wider between the Sapphire Nitro+ RX 480 and the XFX Radeon RX 470, which carry the exact same MSRP.
The $250 GTX 1060 blows away all comparable Radeon cards in this GeForce-leaning game, though.
Next page: Far Cry Primal
Test 4: Far Cry Primal
Far Cry Primal is yet another Ubisoft game, but it's powered by a different engine than The Division—the latest version of the long-running and well-respected Dunia engine. We benchmark the game with the free 4K HD Texture Pack installed—not that it matters at the resolutions being tested here.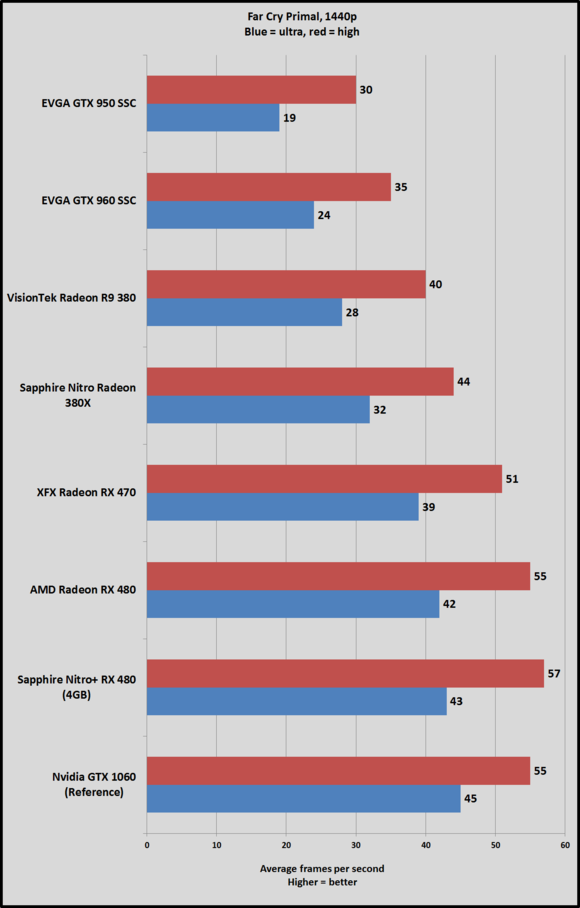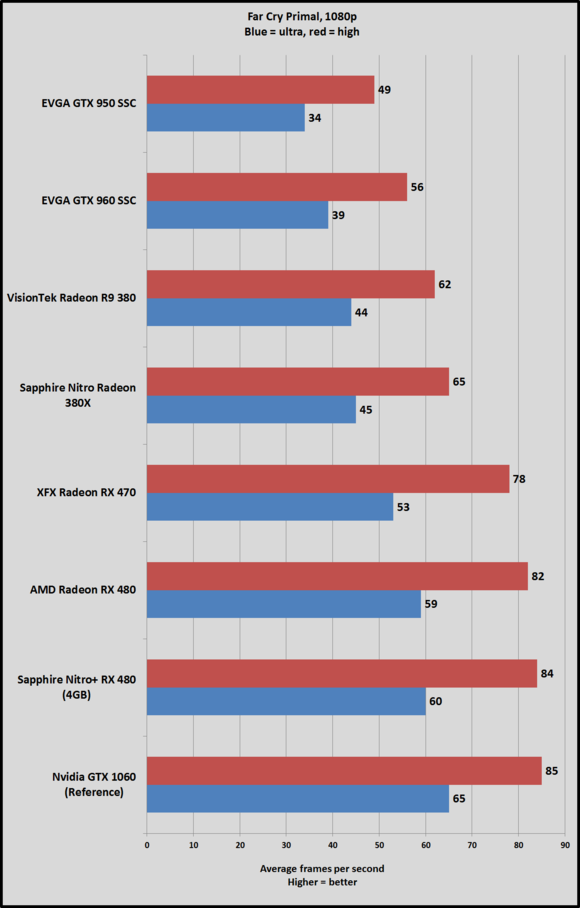 Once again, the XFX Radeon RX 470 offers tremendous performance. Once again, a roughly 10 percent performance difference draws the RX 470 further away from the uncompromising 1080p performance that the RX 480 offers. Once again, the Sapphire Nitro+ 480 widens the gap that much further despite costing the same price as the XFX Radeon RX 470.
Next page: Ashes of the Singularity
Test 4: Ashes of the Singularity
Ashes of the Singularity, running on Oxide's custom Nitrous engine, was an early standard-bearer for DirectX 12, and many months later it's still the premier game for seeing what next-gen graphics technologies have to offer. (It's a fun real-time strategy game, too!) The performance gains it offers with DX12 over DX11 are eye-opening—especially when running on Radeon cards.
We omitted the EVGA GTX 950 and 960 from the 1440p results because they run below 30 frames per second across the board at that resolution.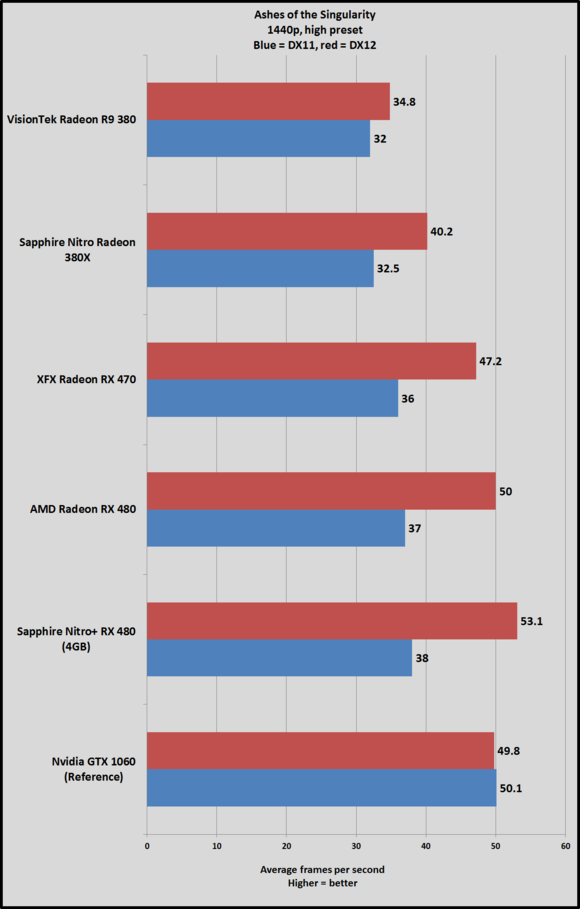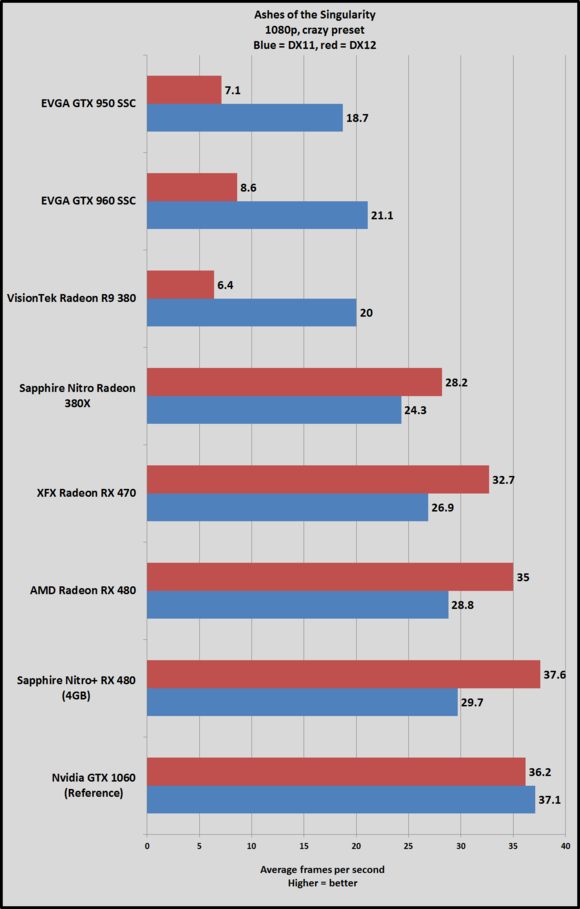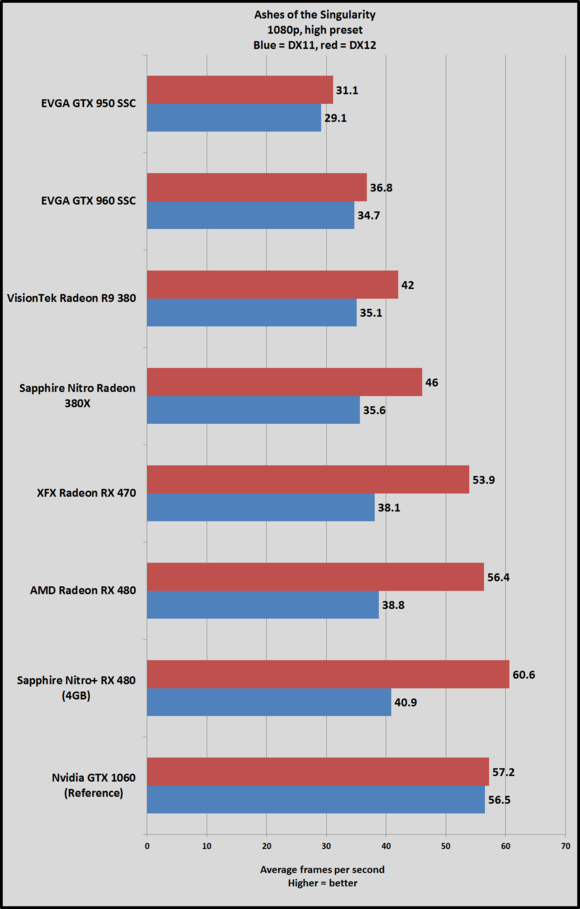 As ever with AMD cards, the Radeon RX 470 sees a nice frame rate boost by flipping the DX12 switch, especially at High settings. That won't matter if you're running Windows 7 or 8, but it's a tremendous benefit for Radeon owners on Windows 10, allowing AMD's cards to pull even with the GTX 1060's superb DX11 performance.
Next page: Steam VR and synthetic benchmarks
Test 5: SteamVR
Time for some synthetic benchmarks! First up: the SteamVR performance test, which serves as the only major virtual reality standard until more benchmarking tools hit the streets. The SteamVR performance test is better thought of as a gauge for your graphics card's relative virtual reality performance—and as a pass/fail test for determining whether your rig can handle VR whatsoever—than it is for making head-to-head GPU comparisons.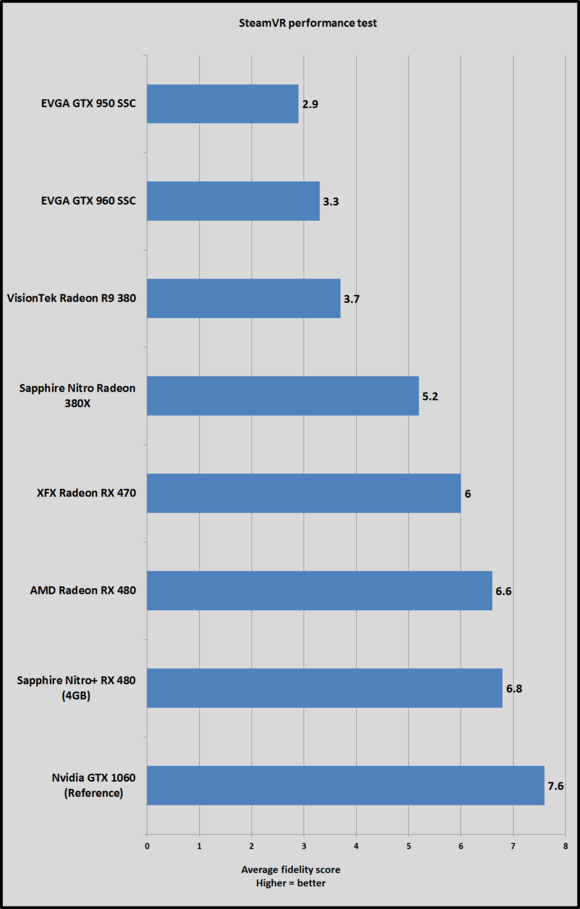 What black magic is this?! The XFX Radeon RX 470 actually just squeaks into the SteamVR performance test's "VR capable" range with a 6.0 average fidelity score. XFX's overclocks are enough to get the card over the hump. We still wouldn't recommend using an RX 470 for virtual reality, but it's nice to know you can in a pinch.
Test 6: 3DMark
We also tested the RX 470 and its rivals using 3DMark's highly respected DX11 Fire Strike synthetic benchmark, which runs at 1080p, as well as its brand-new Time Spy benchmark, which tests DirectX 12 performance at 2560×1440 resolution.
Yeah, the 470 falls exactly where you'd expect it to based on the prior results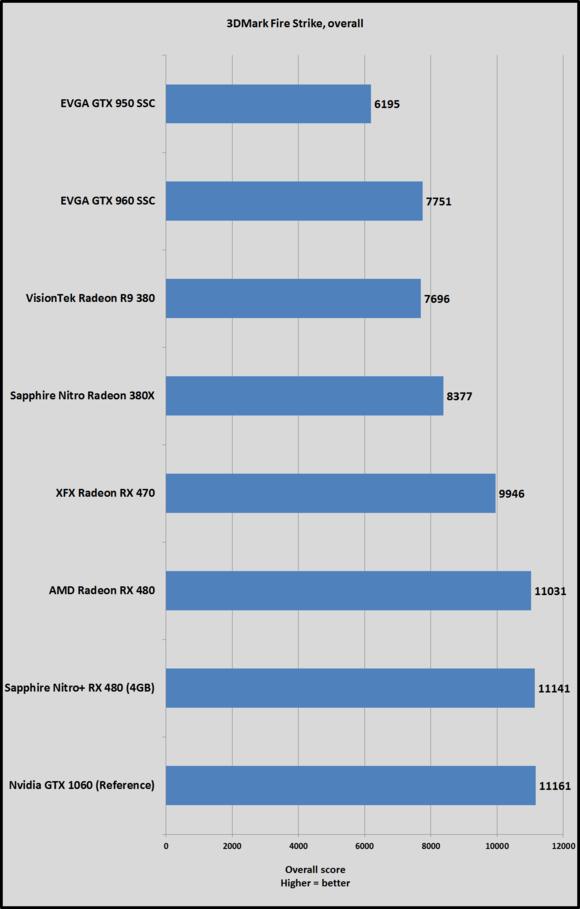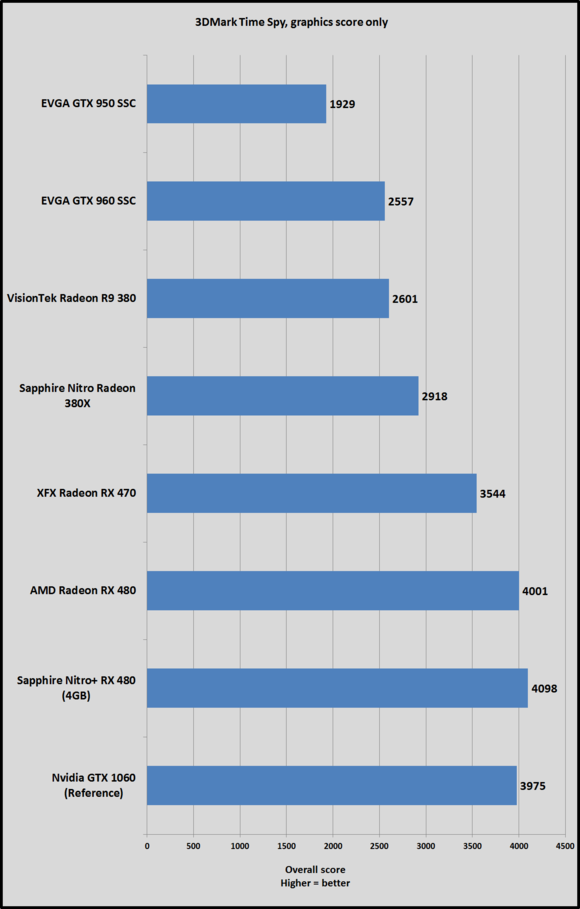 Next page: Power and heat
Test 7: Power use
We test power under load by plugging the entire system into a Watts Up meter, running the intensive Division benchmark at 4K resolution, and noting the peak power draw. Idle power is measured after sitting on the Windows desktop for three minutes with no extra programs or processes running.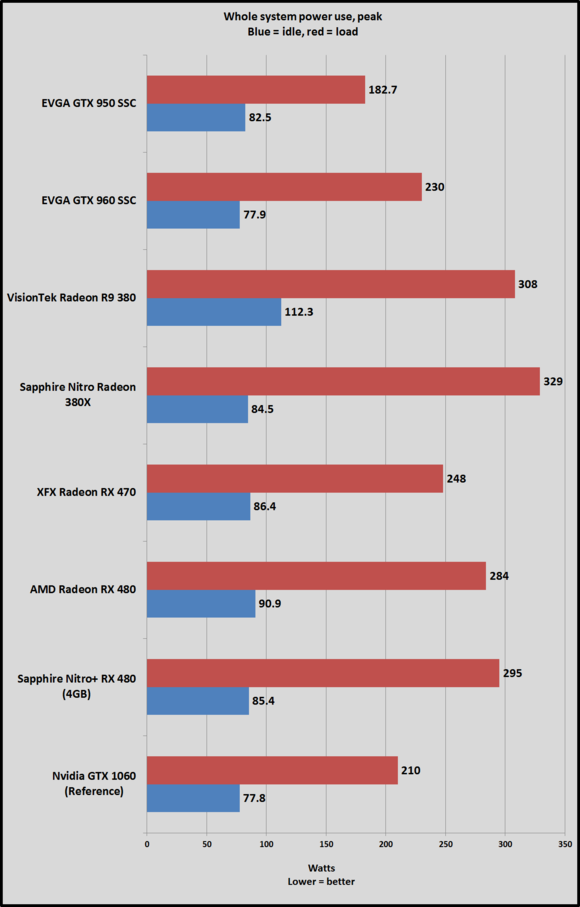 The Radeon RX 470's lower clock speeds and TDP pay off here. Polaris becomes much more power hungry the more you push it. While the RX 470 tends to offer just 7 to 11 percent less performance than the RX 480, it uses nearly 40 watts less power overall at peak draw—a 14.5 percent reduction.
It's still not as efficient as the Pascal GPU inside Nvidia's GTX 1060, but it's a major leap forward for Radeon cards. With the Radeon R300-series, we could only hit this level of performance with cards that pushed our system power usage in excess of 400W.
Test 8: Heat
We test heat during the same intensive Division benchmark, by running SpeedFan in the background and noting the maximum GPU temperature once the run is over.
The tested cards represent a mix of reference and custom coolers, making this somewhat of an apple-to-oranges comparison. Nevertheless, it's nice to see how the custom-cooled XFX Radeon RX 470 and Sapphire Nitro+ RX 480 stand up to the reference RX 480 and GTX 1060.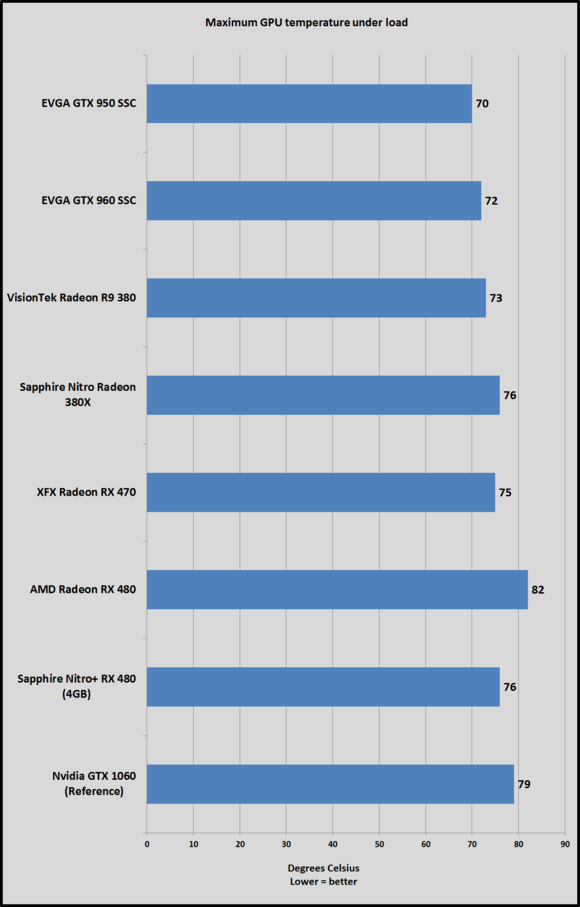 The XFX Radeon RX 470 tops out at 75 degrees Celsius, staying relatively quiet all the while. That's a big improvement over the RX 480's reference blower, and comparable to cooling solutions slapped onto other graphics cards in this price range.
Next page: Bottom line
Bottom line
There are no bad graphics cards, only graphics cards with bad pricing. And, well, the Radeon RX 470—especially XFX's model—sits in a bad place. Rather than carving out a compelling new market segment, the Radeon RX 470 just plain feels irrelevant at $180 and up.
There's no question the Radeon 470 is a great graphics card—at least in a vacuum. While it doesn't quite hit a locked 60fps average at 1080p with all the bells and whistles cranked to 11, it comes damned close, and dropping the settings to High easily allows you to clear that gold-standard frame rate. Likewise, the RX 470 can generally hit 40-plus frames per second at 1440p at High or Ultra settings, making it a decent 1440p gaming option (especially if you have a FreeSync monitor to smooth out framerate hitches). It's only a few frames behind a GTX 970 in most games. Heck, it even squeaks into the VR-capable category, albeit only by the thinnest of margins, thanks to the solid-for-Polaris out-of-the-box overclocks of this XFX model. That utterly blows away what the last-gen crop of $150 to $200 graphics cards were capable of!
But the world doesn't exist in a vacuum. And in the real world, the 4GB RX 480 is a major spoiler for the RX 470 given the price of both cards and just how damned good the RX 480 truly is.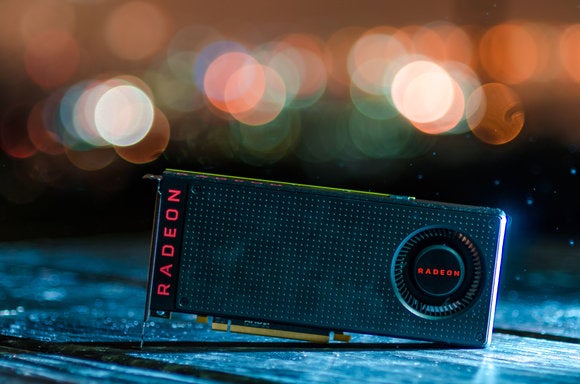 The 8GB Radeon RX 480, which again offers performance darn near identical to the $200 4GB version except in specific circumstances, offers 8 to 12 percent more performance than the RX 470. That doesn't sound like much, but it's good for at least an extra 5 frames per second in most scenarios, and occasionally far more. It's enough to push you right up or past the 60fps gold standard in today's games at Ultra settings—something that the RX 470 can't consistently do. It's a crucial "smoothness of experience" threshold.
The gap widens when you take results from the overclocked Sapphire Nitro+ RX 480 (4GB) into account—and that's the real killer for this card. The XFX Radeon RX 470 is the exact same price as the overclocked, custom cooled Nitro+. Both the $200 reference Radeon RX 480 and the customized Sapphire card offer superior performance to this tricked-out Radeon RX 470 for the same price or even less!
Why would you spend the same amount of money on an inferior-performing card that can't quite deliver the same uncompromising 1080p experience? And a reference-clocked version of the RX 470 wouldn't even hit the same heights as this amped-up XFX card.
The XFX Radeon RX 470's quiet, removable fans and backplate make for a slick overall design, but I can't help feeling that shaving off some of those extras to drive down the card's price would make it more appealing in this price-sensitive segment. That's not really XFX's fault, though—this is a superbly designed graphics card. It's downright perplexing that AMD's second Polaris salvo would be priced so close to the Radeon RX 480. The Radeon RX 470 would make much more sense in the marketplace as a $150 card, even if it meant reducing performance a wee bit more.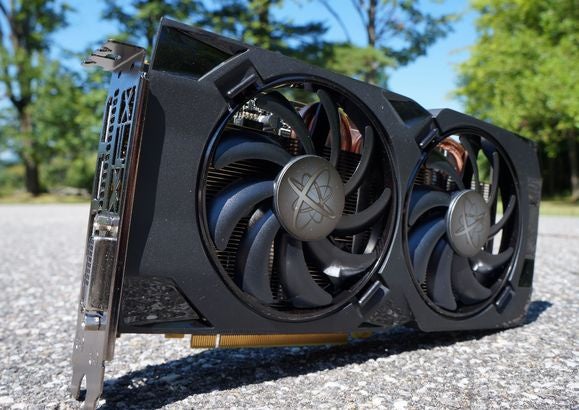 There could be a potential twist in the future, though.
In the real world, Radeon RX 480s have been hard to find, with customized partner variants (like the Sapphire Nitro+) essentially MIA. The RX 480s that have hit the streets overwhelmingly lean towards pricier 8GB models, which no doubt offer better profit margins for everybody involved. Given how close the two RX-series cards are in performance, some manufacturers might very well decide to pass on manufacturing the 4GB RX 480, opting to instead offer the Radeon RX 470 for 1080p gaming and the 8GB RX 480 as a step-up card. Doing so could make more fiscal sense for AMD's hardware partners and create more differentiation between the two GPUs.
That'd be intensely disappointing, given the 4GB RX 480's superb price-to-performance ratio and heavily advertised $200 price point, combined with the RX 470's not quite perfect 1080p chops. But I can see it as a possibility. And in that potential future, the RX 470 would be more attractive.
Okay, I'm taking off my tinfoil hat now.
In a vacuum, the Radeon RX 470 delivers a damned fine 1080p gaming experience that's a huge leap forward from the previous crop of similarly priced cards. You'll be able to hit 60fps at high or ultra graphics settings even in cutting-edge games. XFX's custom variant is superbly designed, runs cool and quiet, and offers a longer warranty than before. If one winds up in your stocking this Christmas, you'll be happy!
But here in the real world, the price is wrong. There's simply no reason to buy a Radeon RX 470 over a Radeon RX 480—unless my bizarre conspiracy theories wind up becoming reality. Skip a pizza, pocket the extra $20, and buy the RX 470's higher-performing cousin instead… if you can find one. If you can't, and RX 470s are available en masse, then well—it's still a great, affordable card in a vacuum.