At a Glance
Expert's Rating
Our Verdict
While we heartily recommend the Radeon RX 460 in general, XFX's customized 4GB version isn't compelling at this price point.
Best Prices Today: Radeon RX 460 (4GB)
Not everybody needs a $600 graphics card. Heck, not everybody needs a $200 graphics card.
While gorgeous games grab the biggest headlines, the games that draw massive crowds and televised tournaments run on far more modest hardware. Yes, I'm talking about e-sports. League of Legends, Counter-Strike: Global Offensive, Dota 2, and even Overwatch are eating the gaming world, and a large part of their success is their ability to run on pretty much any hardware you throw at it—even dirt-cheap PCs powered by AMD APUs.
But while gaming on integrated graphics is definitely possible, it requires visual compromise. Hitting buttery-smooth 60 frames per second often requires dialing down the resolution or graphics settings even in less-strenuous DirectX 9-based e-sports games. That's where AMD's new Radeon RX 460 ($109 and up) comes in.
AMD's positioning the Radeon RX 460 as an affordable solution for e-sports gamers who want to blow past not just 60 frames per second, but 90 fps with High settings at 1080p resolution without breaking the bank. That's one hell of a step up! It's no coincidence that this card is launching the very same day that Dota 2's mammoth $20 million The International 2016 tournament kicks off.
What's more, the RX 460's unique blend of features could make it a viable alternative to the legendary GTX 750 Ti in home theater PCs or power-constrained computers.
Can the reality live up to the hype? Let's dig in.
Meet the Radeon RX 460
As a graphics card devoted to e-sports and entry-level gaming, the Radeon RX 460 sports much more modest internals than the Radeon RX 480 ($200 and up on Newegg) or even the Radeon RX 470 ($180 and up on Newegg).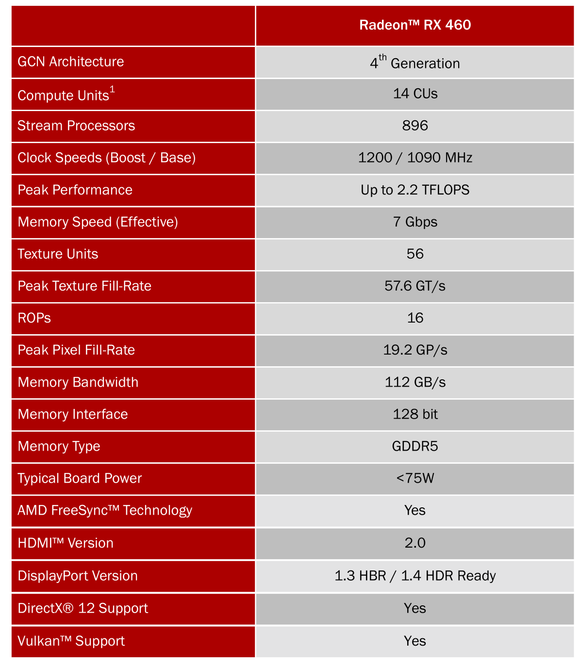 The RX 460 features a severely cut-down version of AMD's new 14nm Polaris GPU, with half as many ROPs and less than half as many compute units and stream processors as the RX 470. The most affordable model packs 2GB of RAM—though 4GB versions will also be available—over a smaller 128-bit memory bus.
This won't be a bridge burner, in other words. But the conservative design not only allows AMD and its partners to offer the Radeon RX 460 at an affordable price, it also reduced the TDP of the reference version to a mere 75 watts—low enough that it can be powered solely by your motherboard's PCIe slot, without any extra power connectors whatsoever. That makes the RX 460 a potentially compelling option as an upgrade for prebuilt big box machines (from Dell, HP, et cetera) that lack extra power connectors. It could also power a kick-ass small form-factor home-theater PC, especially since the Radeon RX 460 supports HDMI 2.0b and high-dynamic range video.
Further reading: Every Radeon RX 460 you can buy
In theory, at least. Like the RX 470—and very unlike the RX 480—the Radeon RX 460 is launching with a full array of customized partner cards rather than reference models alone, with a wide array of overclocks, customized coolers, and (sometimes) six-pin power connectors. Much of the initial batch of available RX 460s seems to lean into providing a better e-sports experience rather than fulfilling the needs of low-power machines.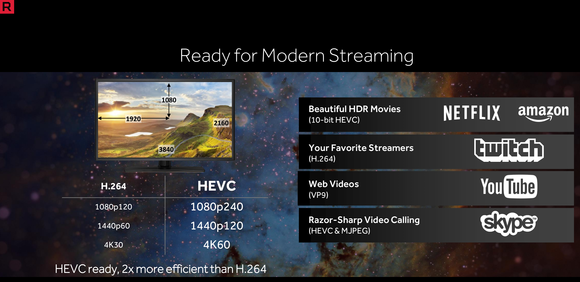 Another one of the Polaris GPU's new tricks lends itself well to e-sports, actually. The RX 460 (and its pricier relatives) support H.264 video streaming at up to 120 fps at 1080p, which means you'll be able to stream your games to Twitch easily.
AMD sent us an XFX Radeon RX 460 for evaluation ($150 for this 4GB model on Newegg; a $120, 2GB version is also available on Newegg). It's a traditional full-length, dual-slot graphics card as opposed to the Radeon Nano-esque RX 460 reference design, complete with a six-pin power connector to help fuel its modest 20Hz overclock, to 1,220MHz. Notably, that's a true on-card overclock—you don't need to install any extra software to enable it, unlike with some graphics cards from other manufacturers.
XFX put the extra length to good use. The XFX Radeon RX 460 features a pair of small mid-sized fans sitting atop a basic aluminum heatsink. Those fans have some nifty tricks up their sleeves, too. They speed up or slow down based on load, all the way down to going completely idle (and silent) when you aren't gaming. They're also held in place by brackets that can be squeezed and released using your fingers alone, making it dead-simple to replace the fans if one dies—though you'll still need to deal with the wiring connecting the fan to the graphics card.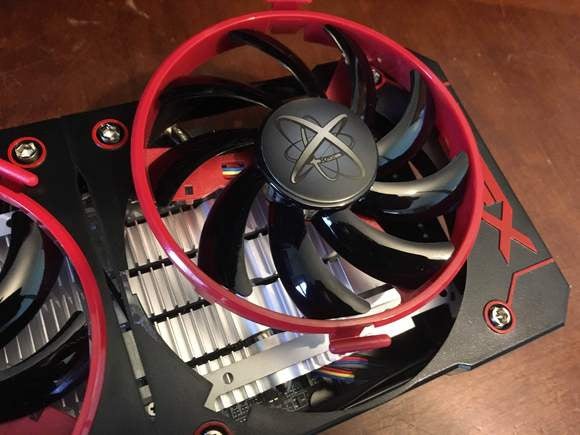 Beyond the HDMI 2.0b port, you'll also find solitary DVI-D and DisplayPort 1.4 connections, the latter of which supports resolutions far beyond what you'll realistically use this card for in a gaming PC. The 4K support may come in handy with a home theater PC, however.
As a Polaris-based card, the XFX Radeon RX 460 also delivers features like Frame Rate Target Control, H.265 encoding and decoding, the in-driver Radeon WattMan overclocking tool, glorious FreeSync support, and dedicated asynchronous shader hardware that can improve performance in next-gen, "close to the metal" DirectX 12 and Vulkan gaming APIs.
Now that the introductions are out of the way, let's dive into the fun stuff.
Next page: Test system details and e-sports discussion
Our test system
We tested the XFX RX 460 on PCWorld's dedicated graphics card benchmark system. I know, I know, it's not the sort of system a card like this would normally slot into, but we like to test all graphics cards in the same system to keep variables to a minimum. Our testbed's loaded with high-end components to avoid potential bottlenecks in other parts of the machine and show unfettered graphics performance. Key highlights:
We're be pitting XFX's $150 Radeon RX 460 4GB against the old workhorse EVGA GTX 750 Ti ($110 on Newegg, $90 after rebates), which is still so popular that it wasn't retired when Nvidia rolled out the GeForce GTX 950—which we'll also be testing, in the form of the EVGA GTX 950 SSC ($150 on Newegg). Sadly, we don't have an older Radeon R7 360 to test due to the unorthodox launch of the Radeon R300 series, and the Radeon R7 350 was only launched in Asian markets. But those two Nvidia cards should shine a clear light on the RX 460's relative performance.
We benchmark every game using the default graphics settings unless otherwise noted, with all vendor-specific special features—such as Nvidia's GameWorks effects, AMD's TressFX, and FreeSync/G-Sync—disabled. For this entry-level card, we used our standard 1080p resolution benchmarks, but also tested each game with medium graphics settings enabled to see how they run with graphics dialed back. It's a more realistic representation of how these cards would be used in the real world.
But first, let's do something completely different!
Test 1: E-sports
AMD's billing the Radeon RX 460 as an e-sports-centric card, so why not divert from our standard GPU review programming and talk about the card's performance in those games?
Rather than run a gamut of benchmarks in lengthy e-sports matches, I loaded up Counter-Strike: Global Offensive, Dota 2, League of Legends, and Overwatch and just plain played. I set the graphics options for each game to High settings, then unleashed my innate noob skills on the unsuspecting masses, keeping an eye on the fps counter in the corner all the while.
Indeed, every game sailed smoothly past 90 fps in general with the XFX Radeon RX 460. League never faltered. Dota 2 stayed above 110 fps in the vast majority of circumstances—without the beta Vulkan mode enabled—though it sometimes dipped into the high 90 fps range when a multitude of characters were battling onscreen. CSGO always cleared 150 fps, and Overwatch ran like butter. Delicious, clarified butter.
Every game performed like a champ and looked absolutely gorgeous, even when action got hot and heavy on-screen.
To put that in perspective, here's a chart from our look at e-sports performance on an APU-powered budget system that AMD designed in conjunction with the Fnatic professional gaming team. The chart shows how each game runs at 1080p resolution, and then lists a second entry that shows what settings we needed to nerf in order to coax the games into hitting 60 fps. Sometimes it required dropping the overall resolution, and other times we needed to reduce in-game graphics settings. On several occasions we had to do both.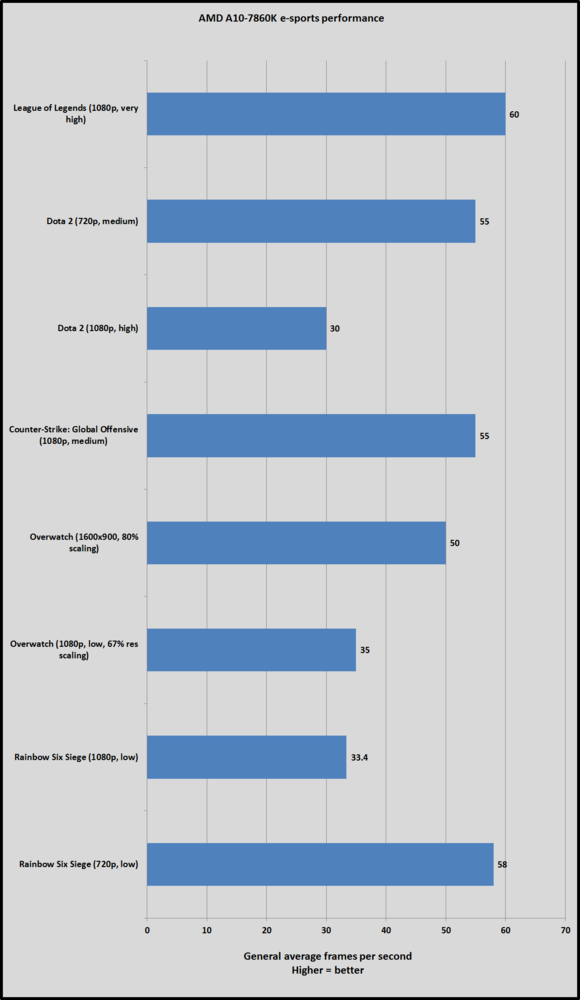 Wave goodbye to all of that with the RX 460. If you're looking to supercharge your performance in e-sports games, AMD's new card delivers in spades.
Onto the regular benchmark suite!
Next page: The Division
Test 2: The Division
The Division, a third-person shooter/RPG that mixes elements of Destiny and Gears of War, kicks things off with Ubisoft's new Snowdrop engine.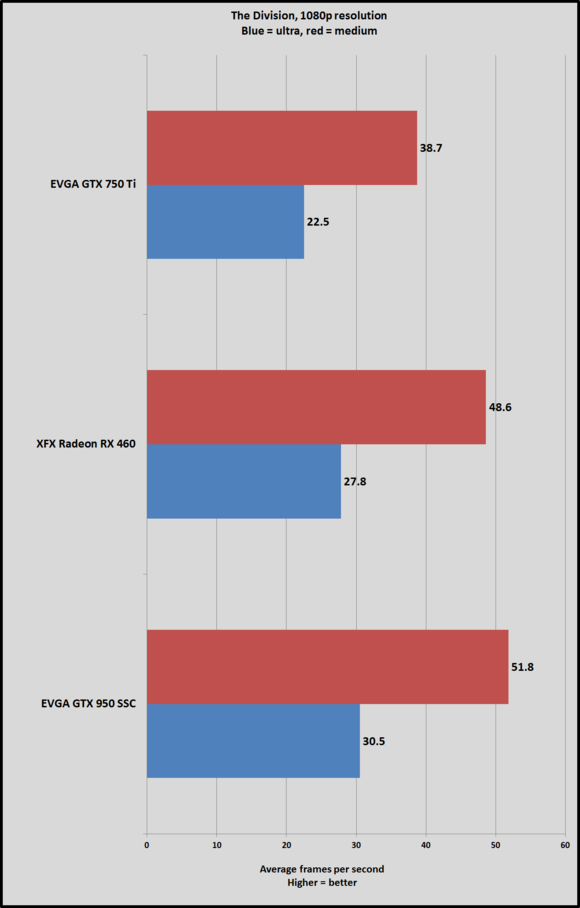 Now that we're done with e-sports, you'll find that most of these traditional games require dropping the graphics settings down to medium to hit decent frame rates. But that's okay! We're just trying to see how far you can push this card if you decide to expand beyond e-sports.
The overclocked, power-bolstered 4GB RX 460 falls a bit behind the more potent GTX 950 in The Division, but delivers a massive 20 percent more performance at Medium settings than the GTX 750 Ti, which draws its performance solely through a PCIe slot on your motherboard. Then again, you'd expect to see that—the GTX 750 Ti is over two years old.
Next page: Hitman
Test 3: Hitman
Hitman's Glacier engine heavily favors AMD hardware. It's no surprise; Hitman's a flagship AMD Gaming Evolved title, complete with a DirectX 12 mode that was patched in after the game's launch.
Important note: Hitman automatically caps the game's Texture Quality, Shadow Maps, and Shadow Resolution at medium on cards with 2GB of onboard memory, meaning the EVGA GTX 950 and 750 Ti can't be tested as High or Ultra settings. As such, we only tested the game at Medium settings for this comparison. Also, while the 4GB XFX Radeon 460 tested today could run the higher detail options, the 2GB reference version would be similarly restricted.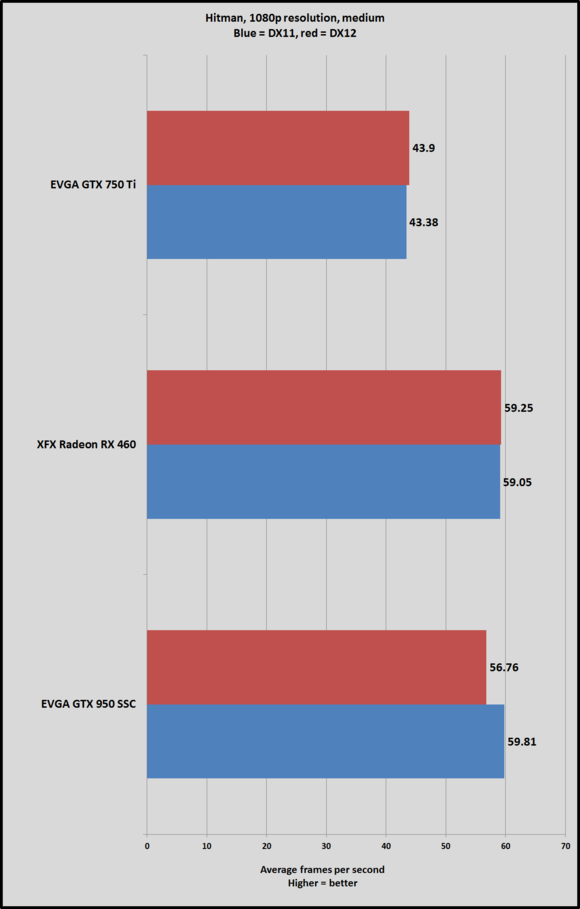 The limited graphical oomph and memory in these cards prevent any of them from seeing a major boost by flipping the DX12 switch. That said, both the GTX 950 and the RX 470 flirt with the 60 fps gold standard at Medium settings, with the GTX 750 Ti once again left in the dust.
Next page: Rise of the Tomb Raider
Test 4: Rise of the Tomb Raider
Whereas Hitman adores Radeon GPUs, Rise of the Tomb Raider performs much better on GeForce cards. It's also the single most drop-dead gorgeous PC game I've ever laid my eyes on.
We only tested the game's DirectX 11 mode, as we haven't had a chance to reevaluate the game's DirectX 12 enhancements now that several patches have been released to fix its once-wonky implementation.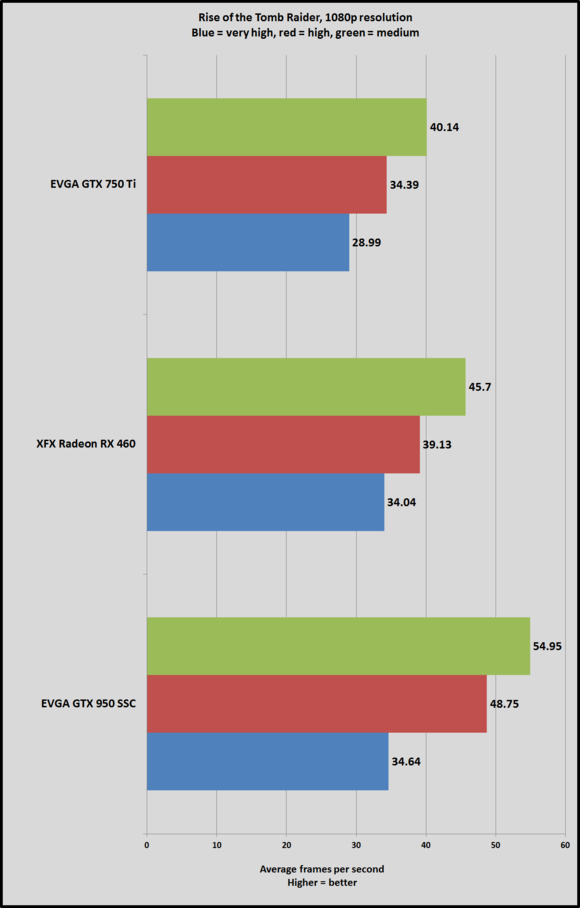 Rise of the Tomb Raider is a memory-intensive game, which resulted in some sporadic heavy stuttering on the 2GB GTX 750 Ti and GTX 950 at the Very High graphics preset. The XFX RX 460 ran more smoothly with its larger 4GB memory buffer. Below that extreme preset, all three ran smoothly.
The Radeon RX 460's lead over the GTX 750 Ti is nerfed in this Team Green-leaning game, but it still maintains a solid 12-percent lead at Medium settings. The EVGA GTX 950 opens a larger lead here, though—again, Rise of the Tomb Raider loves Nvidia. At nearly 40 fps, many people could get by playing RoTR on High settings on AMD's new low-budget contender, especially if aided by a FreeSync monitor.
Next page: Far Cry Primal
Test 5: Far Cry Primal
Far Cry Primal is yet another Ubisoft game, but it's powered by a different engine than The Division—the latest version of the long-running and well-respected Dunia engine.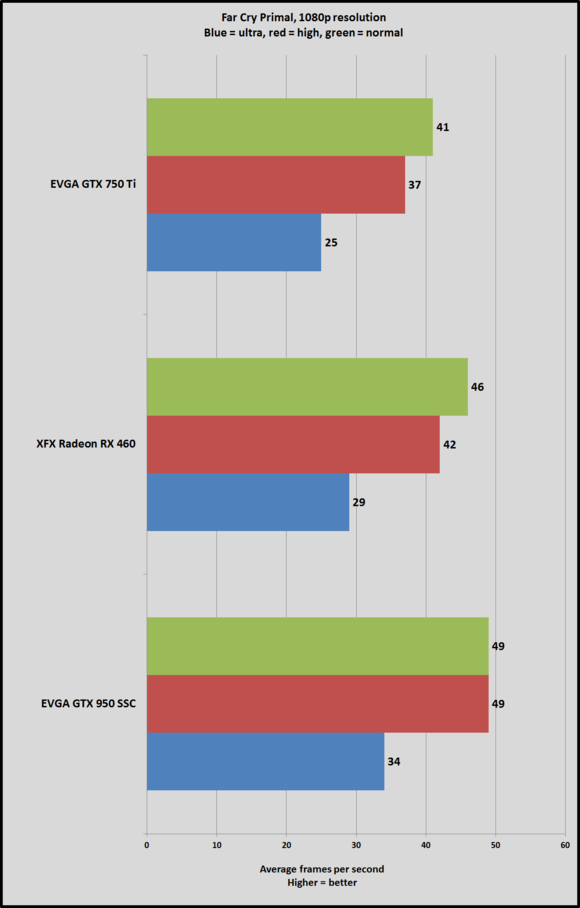 The RX 460 keeps a consistent 10- to 15-percent lead over the GTX 750 Ti here, with the gap widening between the two the higher you push the graphics settings. At Medium settings, AMD's new card also pulls neck-and-neck with the GTX 950 and pushes out in excess of 45 fps.
Next page: Ashes of the Singularity
Test 6: Ashes of the Singularity
Ashes of the Singularity, running on Oxide's custom Nitrous engine, was an early standard-bearer for DirectX 12, and many months later it's still the premier game for seeing what next-gen graphics technologies have to offer. (It's a fun real-time strategy game, too!) The performance gains it offers with DX12 over DX11 are eye-opening—especially when running on Radeon cards.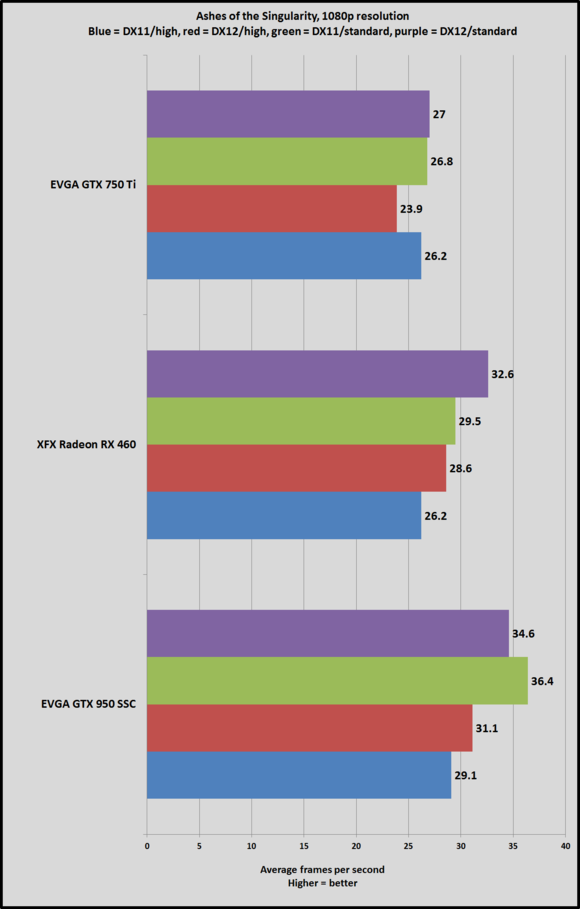 Unfortunately, those stunning performance gains aren't seen with any of these cards. While the RX 460 gains a roughly 10-percent boost in theory, that only slightly stretches the frame rate in reality. Once again, DX12 does nothing for these cards' modest graphical capabilities and limited memory capacities. (DX12 adores having more than 2GB of RAM to play with.)
Once again, the RX 460's results fall in between the two Nvidia cards. None of them deliver great frame rates, to be honest, but the RX 460's 32 fps in DX12 is definitely playable in a slow-paced real-time strategy game like this—albeit with a top-of-the-line processor, which no doubt affects results in a CPU-centric game like this. You'd probably want to drop details to even lower levels in a standard rig.
Next page: 3DMark
Test 7: Synthetic benchmarks
We also tested the RX 460 and its rivals using 3DMark's highly respected DX11 Fire Strike synthetic benchmark, which runs at 1080p, as well as its brand-new Time Spy benchmark, which tests DirectX 12 performance at 2560×1440 resolution.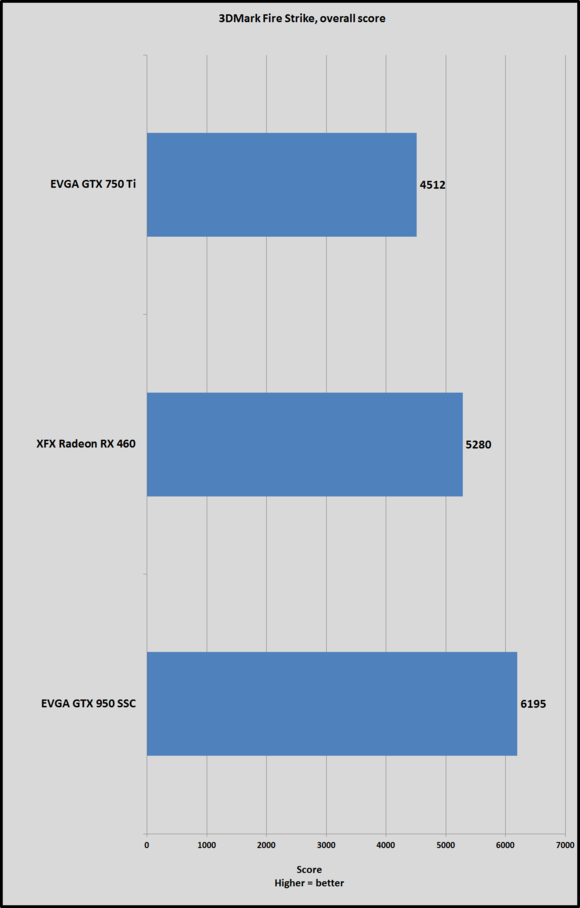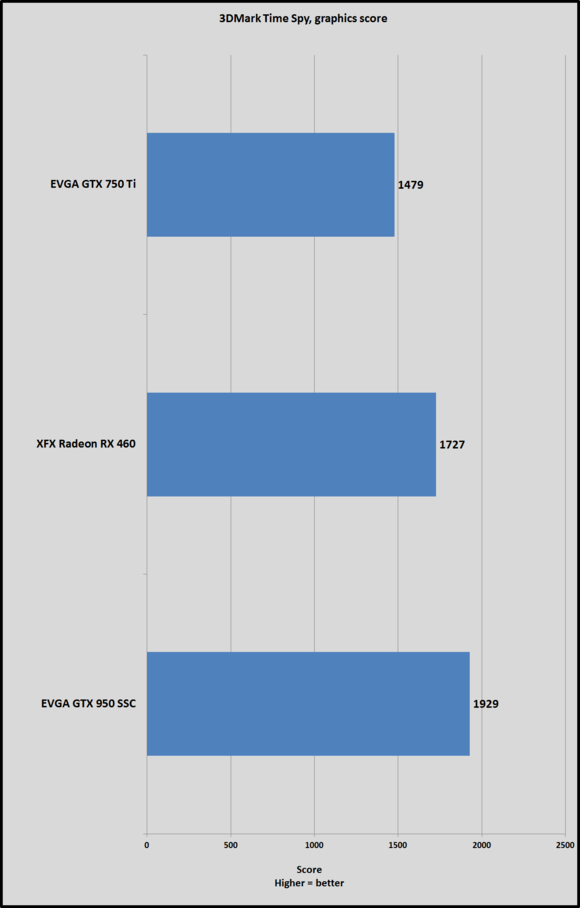 Like I said in the intro: None of these are barn burners. But as expected if you've been paying attention to the real-world performance results thus far, the RX 460 splits the difference between the two Nvidia cards.
Next page: Power and heat
Test 8: Power
We test power under load by plugging the entire system into a Watts Up meter, running the intensive Division benchmark at 4K resolution, and noting the peak power draw. Idle power is measured after sitting on the Windows desktop for three minutes with no extra programs or processes running.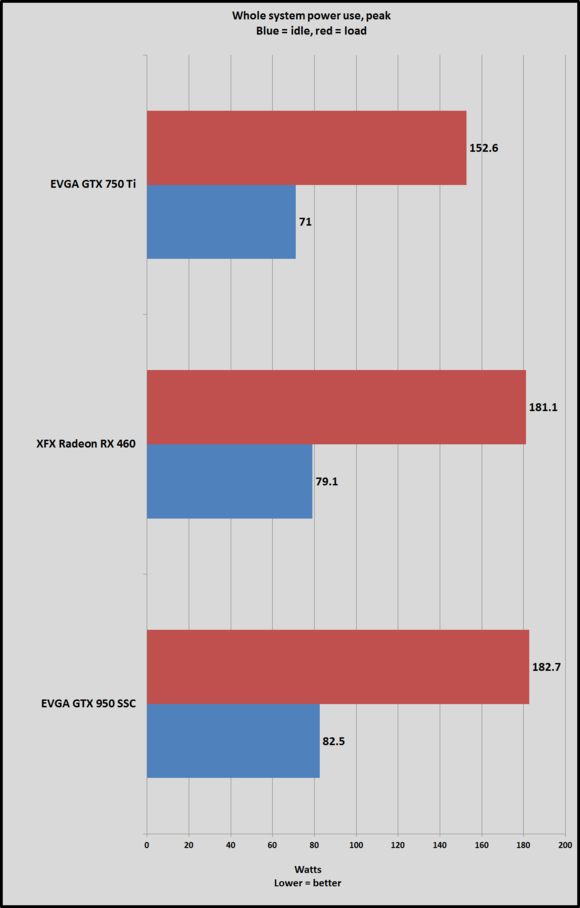 AMD's Polaris GPU grants Radeon graphics cards a huge step forward in power efficiency, but it still isn't as lean as Nvidia's chips. The overclock and extra power connector see XFX's Radeon RX 460 sipping exactly as much power as the GTX 950, while the power connector-less GTX 750 Ti comes in a full 30W behind. That said, the total system power consumption under load with all of these cards installed stayed far below 200W at peak. That's nothing to sneeze at.
Test 9: Heat
We test heat during the same intensive Division benchmark, by running SpeedFan in the background and noting the maximum GPU temperature once the run is over. All three of our test samples use custom coolers; there's not a single reference design in the mix.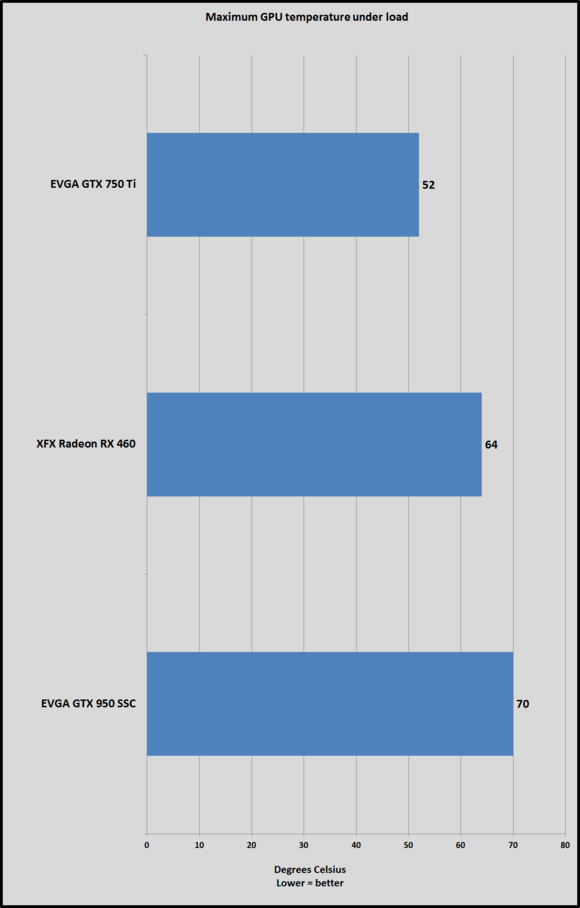 All of these cards run cool thanks to the sparse innards of their GPUs, with the GTX 750 Ti being the standout. The 64 degree Celsius maximum temperature of the RX 460 means it should be just fine even in cramped cases, though.
Next page: Bottom line
Bottom line
While the Radeon RX 470's positioning is downright baffling, the Radeon RX 460 achieves everything AMD set out to do. This affordable card gives e-sports games a tremendous shot in the arm over integrated graphics, brings all the modern technologies surging through Polaris GPUs down to entry-level price points, and finally gives AMD a true GTX 750 Ti competitor. Reference, power connector-less versions of the RX 460 would be a killer option for transforming a power-limited big-box PC into a decent gaming machine.
In theory, at least. Because the XFX card that AMD provided for review is a supercharged, powered-up 4GB version of the Radeon RX 460, we can't really be sure how a 75W reference version performs. I'd imagine it wouldn't be a massive decrease, especially in e-sports games. The XFX Radeon RX 460 we tested has only a 20MHz overclock.
The Radeon RX 460 you should buy
XFX Radeon RX 460 True OC (2GB)
Price When Reviewed:
$120
Though I didn't test a reference RX 460, I feel safe saying that if you're in the market for a basic graphics card that lacks additional power connectors, AMD's new card is the clear choice over a GTX 750 Ti. The Radeon RX 460 not only outpunches its low-powered rival in terms of sheer performance, it's infused with the latest and greatest ecosystem technologies, like HDMI 2.0b, high-dynamic range video, dedicated async compute hardware, and H.265 encoding and decoding. The two-plus-year-old GTX 750 Ti lacks all of that.
Plus, modest cards like these pair wonderfully with an AMD FreeSync or Nvidia G-Sync monitor, which sync the refresh rates of your display and GPU to eliminate tearing and stuttering. FreeSync monitors don't carry the hefty price premium that G-Sync monitors demand. You can pick up a 22-inch 1080p FreeSync monitor for as little as $130 on Amazon, or a blistering-fast 144Hz 1080p FreeSync display for $209 on Amazon. And if you've only got a 60Hz monitor, using AMD's Frame Rate Target Control to limit the frame rate of e-sports games to 60 fps would result in even lower temperatures and power usage.
That suggestion is tempered somewhat by the appearance of some low-power 75W GTX 950 graphics cards in recent months, which also support HDMI 2.0. Those appear to be phasing out of the market, though some models can still be found for $120 or less after rebates.
Further reading: Every Radeon RX 460 you can buy
But what about memory capacity? The Radeon RX 460 comes in two variants, a 2GB model and a 4GB model. More specifically, the custom XFX design today costs $120 with 2GB of memory, or $150 with 4GB. If e-sports is your core focus, stick to the 2GB model. All the most popular e-sports games are designed to use under 2GB of memory, and the price is right on the cheaper XFX Radeon RX 470 model, with a reasonable $10 markup for the custom cooler and performance-boosting extras.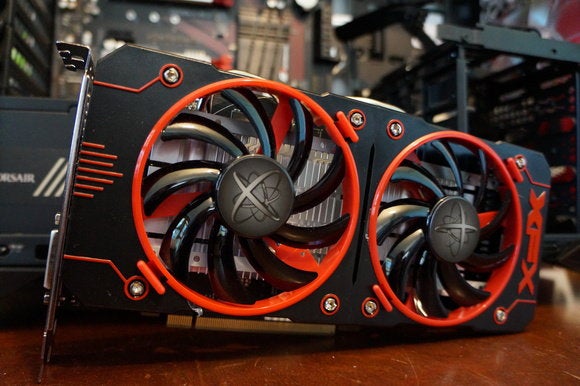 Only consider the 4GB Radeon RX 460 if you want the potential to play traditional games like the ones in our test suite, albeit at modest graphical fidelity. That said, XFX charges a steep price premium for the extra memory capacity. We've heard from other manufacturers that plan on charging $120 for their custom 4GB RX 460 models, and even less for 2GB variants, though we haven't had a chance to test those rivals yet.
If you're willing to spend $150 on a graphics card, you'll get more oomph from a GeForce GTX 950, or much more oomph from a Radeon R9 380, which was a $200 graphics card out of the gate but can now often be found for $155 or less on Newegg after rebates. All those step-up options are limited to 2GB memory capacity, and the R9 380 demands two six-pin power connectors and much more energy overall, but they still outpunch the 4GB XFX RX 460 by a healthy margin for roughly the same price. The GTX 950 even uses roughly the same amount of power as the six-pin-enhanced XFX Radeon RX 460, and can often be found for RX 460-level prices after rebates.
The 2GB Radeon RX 460 is clearly the sweet spot for these XFX models, and the one that best fits the card's intended role. It's hard to recommend the 4GB XFX Radeon RX 460 given its high cost in a price-sensitive market segment, even though it's a well-designed card overall.
In the end, the Radeon RX 460 provides AMD with something it hasn't had in years: an affordable, power-efficient graphics card perfect for e-sports and home theater PCs. Polaris is paying off big-time. Though Nvidia will no doubt launch a GeForce rival to this in due time, I imagine AMD's going to sell bucketloads of RX 460s around the globe.
Best Prices Today: Radeon RX 460 (4GB)