It's estimated that Americans spend around six hours a day in their inbox. All that reading, writing, searching, and organizing email not only eats up our time but also our bandwidth, leaving little for the stuff we really need to get done. A number of mobile apps, however, are changing the way we interact with our email so that we can process messages more quickly and move on to more important tasks. These four lead the pack.
Triage
As its name suggests, Triage helps you sort through and prioritize email quickly so you can devote your attention to the messages that need it most. The app displays emails one at a time in a card format, rather than in a chronological list, so you can focus on each individually. If a message requires an immediate response, you can reply right from its card. If it doesn't, just swipe down to mark it unread and keep it in your inbox or swipe up to archive it.
Triage isn't meant to replace your regular email client; you'll need that to access any messages you've processed out of Triage. But if an oppressive inbox ails you, Triage is the treatment.
$3 for iOS
Inboxcube
One of the most tiresome email chores is digging through your inbox for an attachment you need right now. Inboxcube eliminates that drudgery by putting your attachments front and center.
The app displays your inbox as a grid of cubes, each cube corresponding to a particular type of attachment: PDFs, photos, documents, links, contacts, and more. If you have multiple email accounts, the attachments for all of them are sorted to the appropriate cube. When you need to find a particular type of content, just tap the designated cube and you'll see thumbnail previews of all those attachments. You can also use the search bar that appears atop every cube view to home in on what you need.
Free for iOS
WeMail
At first glance, WeMail resembles a conventional inbox. But it actually sorts your messages by sender, so viewing email threads is more akin to SMS and IM. In addition to giving email messages a more conversational flow, it reduces your inbox size by more than half according to the app's developers.
Those benefits alone make WeMail worth your time, but the app has even more to offer. It also gives you one-tap access to all your attachments organized by sender, and the ability to compose or reply to emails with your voice.
Free for Android
Hop
Like WeMail, Hop makes email more like real-time messaging. Email exchanges are displayed in alternating-left-and-right speech bubbles, with photos and other attachments appearing within the thread.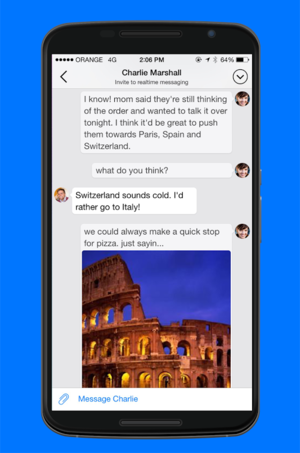 Hop's design has some immediate impact on your productivity. Because attachments are presented open, you know immediately what you're dealing with; sender photos replace email addresses for quicker identification; and the IM-like interface tends to make you reply to emails faster, with shorter, less-formal responses. You can also customize notifications for different types of messages and contacts so you're not constantly checking your phone.
Free for Android and iOS