Now that the next-generation graphics card war is being waged in full force, Nvidia's helping its partners clear house with an indie game giveaway bundle. Anyone who buys an Nvidia GeForce GTX 950 or GTX 960 (or a notebook rocking the 950M or 960M) will get their choice of either Flying Wild Hog's Hard Reset Redux or Behaviour Interactive's Dead by Daylight for free.
Taking a look at Newegg reveals the free offer bundles are already live. The GTX 950 is currently selling for around $150, while the GTX 960 is in the neighborhood of $175 and up. Rebates and short-lived discounts sometimes push prices lower for both models; the other day, we spied an EVGA GTX 950 selling for just $105 once all the discounts were added up.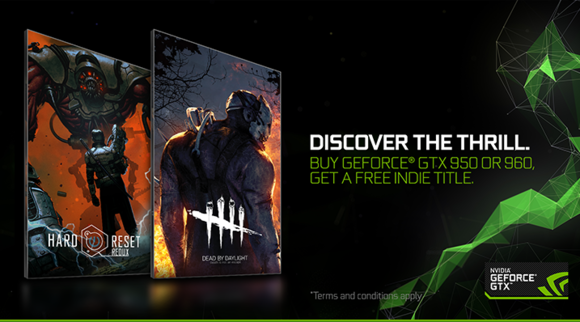 Both games are delivered via Steam after redeeming a coupon code on Nvidia's site.
Hard Reset Redux is a cyberpunk single-player shooter that first rolled out in 2011. The updated version with improved graphics and new content debuted in June. Dead by Daylight, which also rolled out in June, is a multi-player horror game where you can play either a crazed serial killer or one of the survivors trying to escape the carnage. It's huge on Twitch.
The impact on you at home: Bundled games are great, but the hard question with buying a GTX 950 or GTX 960 is whether it's worth it even with a free game. We liked both cards as mid-range options for 1080p gaming when they first rolled out in 2015, but the graphics card landscape has changed drastically since then. The latest generation of cards from AMD and Nvidia are offering ridiculous performance for similar price ranges as the GTX 960. (The GTX 950 still holds up favorably against the Radeon RX 460 for traditional gaming, on the other hand.)
If you don't mind switching to Team Red you can pick up a 4GB AMD Radeon RX 480, which offers performance that falls between the GTX 970 and GTX 980, for between $200 and $250. You'll definitely spend more on the RX 480 than on a GTX 960, but not by much—or you could save a few bucks by picking up a Radeon RX 470. The return on your investment will be miles ahead of the GeForce cards… if you can stomach leaving Team Green and its free games in the dust, that is.