Quantum Break, Remedy's time-traveling action game and/or lengthy TV show, is coming to Steam.
It's a pretty straightforward story, insofar as the facts are concerned. You'll be able to buy it there starting September 14, and unlike the Windows Store version, the Steam version will run on any PC with Windows 7 (64 bit) or higher—no restriction to Windows 10 or DirectX 12, in other words.
Them's the facts. But Quantum Break's movement to Steam is quite a bit more interesting because of the implications.
Microsoft's bringing pretty much all of its "Xbox exclusive" games (barring a future announcement about Halo) to Windows 10 PCs at this point, under an initiative called Xbox Play Anywhere. And no doubt, these games will end up in the Windows Store. It's Microsoft-owned. It allows them almost console-esque control over games that wind up on the PC. And the universal Windows app design is what enables the underlying Play Anywhere features in the first place.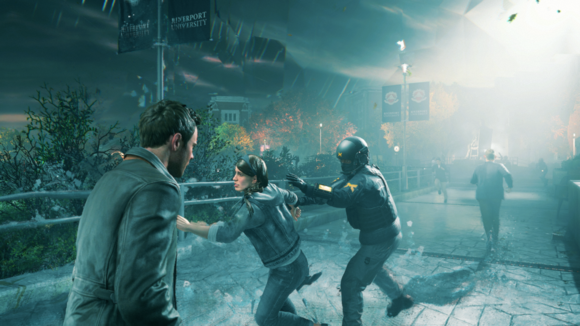 Will they hit Steam too though? Earlier in the year Microsoft's Phil Spencer said the company would eventually "ship games on Steam again," but I still had my doubts it would occur for top-tier games—until Quantum Break. Now, it seems more likely.
There are some caveats of course. First of all, Quantum Break was not technically an Xbox Play Anywhere title, just an Xbox "exclusive" that made it to PC. Second, Remedy is not owned by Microsoft. Despite a long-standing relationship, and Microsoft Studios' stats as Quantum Break's publisher, Remedy is still an independent company. Thus it's possible a Steam release was negotiated as part of Quantum Break's exclusivity—a timed exclusive, in other words. This would be smart on Remedy's part, as the studio no doubt knows that PC sales are bound to be better on Steam than the Windows Store.
But for branding reasons Microsoft still might keep first-party games off Steam, meaning we might never see Forza Horizon 3 or Gears of War 4 or what-have-you on Valve's platforms. Only time will tell.
For now, I'm just excited Quantum Break gets a broader release. It's an excellent game marred by performance issues, some of which were seemingly the result of the unfamiliar universal Windows app format. Hopefully the unfettered Steam version runs better.
And hopefully it's not the last "Xbox Exclusive" to hit Steam. We'll keep you updated.