Windows 10's Anniversary Update is now stable, and with it comes the Bash shell developers were so excited about when Microsoft announced it. If you're using an up-to-date Windows 10 system, you can install it today.
How to get it
As long as you've updated your Windows 10 PC to the Anniversary Update, and you're using a 64-bit version of the OS, Bash should work. The feature is compatible with all editions of Windows 10, including Windows 10 Home
Bash isn't installed by default. You'll have to activate a few quick options to enable it.
First, open the Settings app and head to Update & security > For developers. Enable Developer mode here.
After you do, open the Control Panel and head to Programs > Turn Windows features on or off. Put a check mark next to Windows Subsystem for Linux (Beta) and click OK to activate the feature.
You may be prompted to reboot. After you're done, you can just open the Start menu, type bash, and press Enter. A command prompt window will appear. Agree to install Bash and Windows will download the files and install them for you. You'll also have to provide a username and password that you'll use in the Bash shell.
Once you're done, you can now open the Start menu and search for Bash again. You'll find a "Bash on Ubuntu on Windows" shortcut that launches the shell.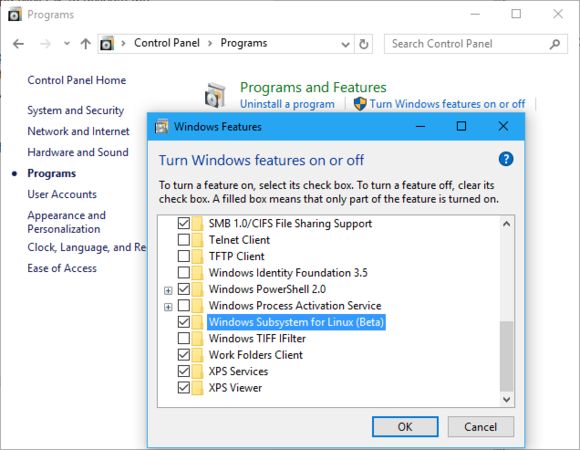 What about Ubuntu 16.04 LTS?
The Ubuntu-based Bash environment is currently still based on the previous long-term service release, Ubuntu 14.04. However, Ubuntu released Ubuntu 16.04 LTS earlier this year.
So when will the newer Ubuntu 16.04 LTS release be available? In a recent comment, Microsoft's Rich Turner explained: "We have to add some additional capabilities to make it work well, but we are looking at 16.04 support for a future release."