Microsoft said Thursday that it has acquired Beam, a livestreaming service that also allows users to collectively control and affect gameplay as it happens.
Terms of the deal were not disclosed. Beam will become part of Microsoft's Xbox team, Matt Salsamendi, the founder of Beam, wrote in a blog post.
Livestreaming video across YouTube has become a cottage industry in itself, as streamers discuss a variety of topics including fashion, sports, and technology. Streaming video games is one of the most popular niches, as minor celebrities including PewDiePie and Jeffrey Shih stream their exploits online to literally millions of viewers.
PewDiePie streams on YouTube, while Shih broadcasts on Twitch.tv. The latter service was purchased by Amazon for almost a billion dollars in 2014. Both YouTube and Twitch can stream games from Windows PCs, but the Xbox has never had a dedicated games streaming service.
Why this matters: Microsoft's Xbox One and related Xbox app allow users to record game clips of varying lengths and resolutions, and share them. But nothing within Microsoft's stable of technology allows users to actually stream games as they happen, which is becoming a popular alternative to actually buying the game itself. And, of course, there's e-sports: 226 million people watched gamers play DOTA 2 and other games streamed online, according to NewZoo, and Microsoft obviously wants a piece of that pie.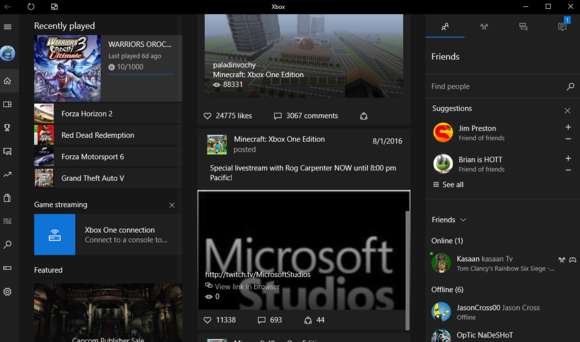 Interactivity is Beam's hokey hook
Beam works just like any other livestreaming service; users can browse a list of games that are currently playing and follow along, contributing comments in a chat box to the right. On Thursday, streamers broadcasting live commented that they had been asked to broadcast even outside of their normal broadcasting hours, presumably to demonstrate the service to those learning about the acquisition.
From a technology standpoint, Beam claims that its streams have very little latency—the delay between what's happening on the streamer's PC and what the viewer sees. This minimal delay is the foundation for what Beam calls "interactivity," wherein the community of gamers watching the stream is able to actually control the game.
The interactivity can be anything from collectively choosing what to buy at a shop in a Pokemon game to actively controlling the movement of a character in a frantic team-based shooter like Overwatch. Users "vote" by tapping the appropriate keys on their keyboard, and the majority wins. What this means in reality, of course, is that conflicting inputs can be the difference between life and death in a fast-paced game.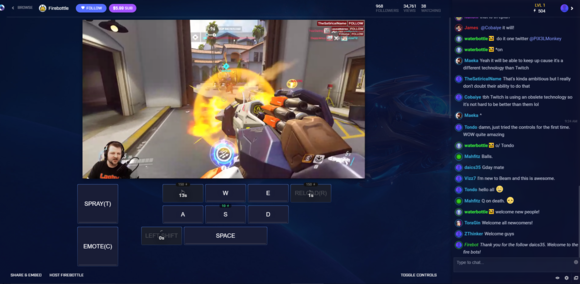 Interactivity aside, Microsoft plans to leave things as they are. Beam has mobile apps for both iOS and Android, though not Windows phones.
"We at Xbox are excited about this convergence between playing and watching, and want to provide gamers with the freedom and choice to have great multiplayer experiences across all of Beam's platforms," Chad Gibson, partner group Manager for Xbox Live, in a statement. "This acquisition will help gamers enjoy the games they want, with the people they want, and on the devices they want."