Microsoft isn't taking its foot off the gas pedal now that the Windows 10 Anniversary Update is rolling out. On Thursday, the company released Windows Insider preview build 14901 for PCs in the fast ring—the first post-AU preview build. Microsoft says it doesn't have an Insider build ready for mobile yet.
The mobile team "is laser-focused" on getting the Anniversary Update ready for mobile users, Microsoft's Insider program chief Dona Sarkar said in a blog post announcing the new PC build. Mobile Insider builds should start rolling out again in a few weeks.
If you're a Windows Insider and haven't got the new PC version yet, you can try to prompt the download by going to Start > Settings > Update & Security > Windows Update > Check for updates.
Further reading: How to join the Windows 10 Insider program
The impact on you at home: You may not want to do that just yet, however. Sarkar warns that the next few rounds of Insider builds will be particularly unstable. With these builds Microsoft is working on improvements to OneCore—the central part of Windows that spans across all Windows 10 devices including PCs, tablets, phones, HoloLens, and Xbox.
Anyone who doesn't want to deal with more bugs than usual should switch from the fast ring to the slow or release preview rings. (A reminder that installing fast ring builds on a machine you use every day is generally a bad idea).
What's new
Since this build is all about improving OneCore there aren't many exciting new features to speak of, as expected. However, there is one minor addition to the new build that's worth mentioning.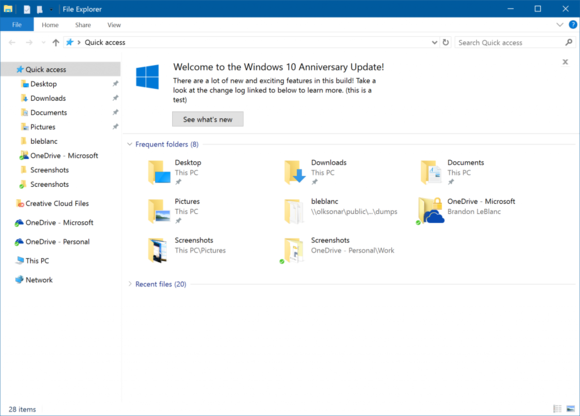 Microsoft is testing a new notifications feature within File Explorer. These notifications aren't connected to an app or to your files. Instead, the notifications provide "product education," such as telling you about new features or information about how you can better use Windows. There is, thankfully, a way to opt out of these notifications in the new build by opening File Explorer and clicking on View > Options.
For users, the only known issue in build 14901 is that Adobe Acrobat Reader crashes as soon as you try to launch it. Feel free to insert your "that's a feature, not a bug" jokes in the comments below.