What happens when some of the biggest companies in PC cooling and PC graphics collaborate on a take-no-prisoners enthusiast project? Today, we know the answer, as Corsair and MSI announce the Hydro GFX GTX 1080, an overclocked, liquid-cooled custom version of Nvidia's ferocious GeForce GTX 1080.
The Corsair Hydro GFX GTX 1080 ($750 on Corsair.com) follows in the footsteps of the Hydro GFX GTX 980 Ti, Corsair and MSI's debutcollaboration. The card features an integrated Corsair Hydro Series H55 liquid cooler with a micro-fin copper base cold plate as well as a 120mm radiator paired with a glowing, LED-lit low-noise fan. There's also a blower-style fan embedded in the graphics card itself.
Add it all up and the Hydro GFX 1080 at 50 percent lower temperatures than what the Nvidia GTX 1080 Founders Edition pumps out, Corsair claims.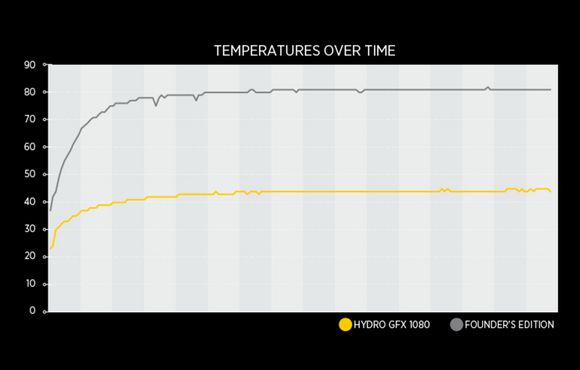 As far as the visuals go, the Hydro GFX GTX 1080 packs a sizeable overclock over the GeForce card's max 1733MHz stock speeds, with up to 1822MHz boost clocks in Gaming mode or 1847MHz boost clocks in OC mode. Those aren't out-of-the-box overclocks, though—you'll need to install MSI's Afterburner software and manually enable the preconfigured profiles.
Usually we're not a huge fan of graphics cards that require you to download extra software to enable advertised overclocks, but the new Pascal GPU beating at the heart of the GTX 1080 is a fearsome overclocker. If you're splurging on a $750 liquid-cooled custom version, you're likely to want to crank clock speeds even higher on your own. We managed to manually crank the Founders Edition past the 2GHz barrier, and EVGA's GTX 1080 FTW ($680 on Newegg) past 2.1GHz, and those have fan-based air coolers. Hopefully, the Corsair Hydro GFX GTX 1080's liquid cooler lets enthusiasts push their cards to just-as-lofty heights at even chillier temperatures.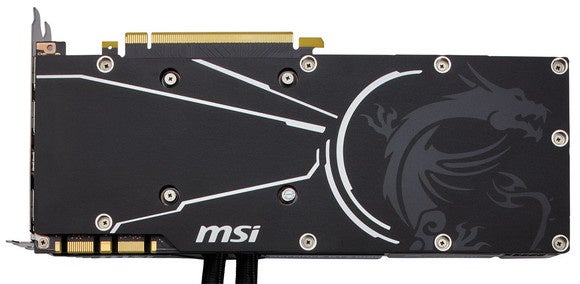 Beyond the overclock and liquid-cooling, the Corsair Hydro GFX features all of the GTX 1080's other high-end features, like 8GB of cutting-edge GDDR5X RAM and support for Nvidia technologies like supercharged Ansel screenshots and simultaneous multi-projection. It also packs the drool-worthy MSI-branded backplate pictured above.
The impact on you at home: The Corsair Hydro GFX GTX 1080 is available today on Corsair's website. The $750 price tag drops this card firmly in the "enthusiasts only" camp, but considering how much custom GeForce GTX 1080s are still selling for more than two months after the GPU's launch, that seems like a reasonable price for a version with a liquid cooler.