The first time I saw Modobag in a viral video, it thought it was a joke. After all, what better to illustrate the excesses of Silicon Valley than a motorized suitcase that scoots you to your gate at the airport.
But Modobag is real and the product of two years of research and development by a small team based in Chicago. They already have a surprisingly sturdy and well-engineered prototype and almost 200 orders, despite its high price tag compared to other luggage.
I got a chance to ride a prototype and it was a lot of fun.
The Modobag is a standard airline carry-on bag, so you can keep it with you when you fly. You'll lose about 20 percent of the luggage space to the batteries, motor, control stick and other pieces required to motorize it.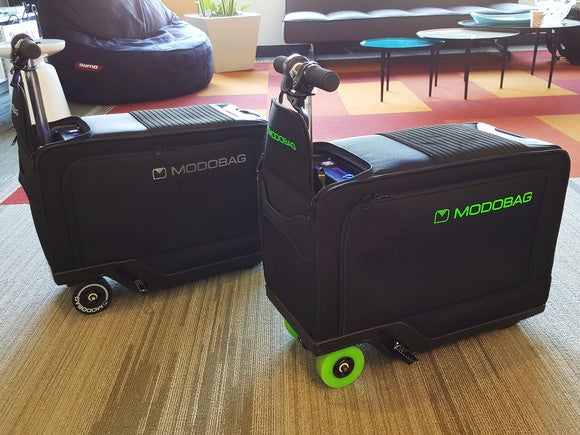 It can be pulled like a conventional bag but the developers envisage you won't be doing much of that. Instead, you'll take a seat on the bag, pull up the handle, press down on the accelerator and speed off.
The bags travel at up to 5 mph (8 kmph) in indoor mode and 8 mph (13 kmph) in outdoor mode. And the battery has enough juice to travel at least 6 miles (10 kilometers), so they won't be dying on the longest trip in the biggest airports.
Little foot rests fold out from the side of the bag to make riding easier and the sturdy wheels, similar to those on skateboards, appear strong enough to take any airport surface in their stride, indoors and outdoors.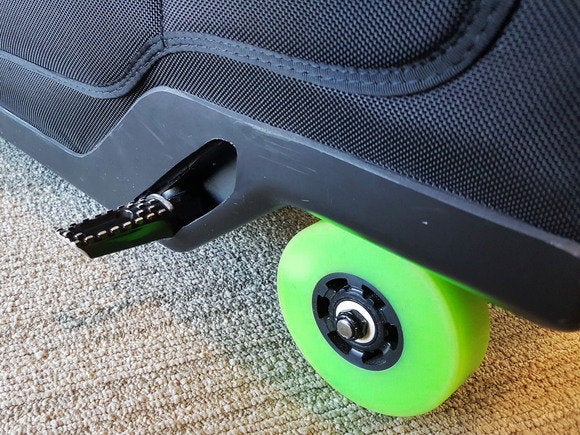 The bag can also charge up portable gadgets. There are a couple of USB charging sockets on the top and pockets built into the side to hold a phone, tablet or laptop up to 17-inches in screen size while charging.
That alone might be a huge help for road warriors.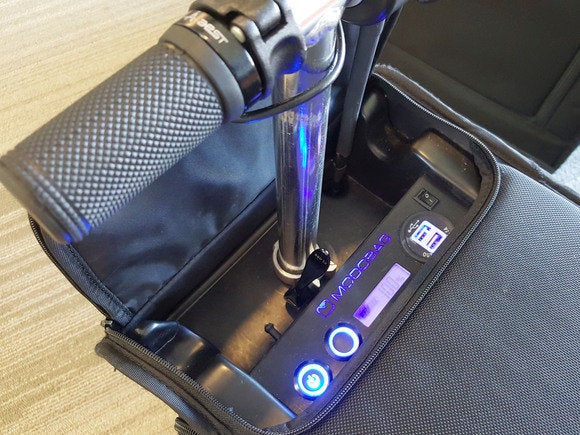 The bag is designed to carry a person up to 260 lbs (118 kgs), but the developers say it's easily survived much heavier passengers. It's easy to see when when I took the bag for a spin. The prototype is very well made: It's solid, nothing appears shaky or inadequate and we confidently had a short race around the office without worrying about breaking the bags. Of course, they aren't designed for airport races.
As much fun as the Modobag was to ride, I am still a little skeptical about the whole idea. Personally, I relish the exercise of walking through an airport after having been cooped up in a tiny airline seat for many hours.
And then there's the price. A regular carry-on bag costs somewhere between $100 and $200, while the Modobag is planned to cost $1,495 when it goes on sale in 2017. A current Indiegogo crowdfunding campaign promises one in return for a $995 donation. Almost 200 people have taken the team up on that promise.