Donning spiked shoulder pads, a silver helmet and skull mask to celebrate the Oakland Raiders season opener might draw some odd looks during your next budget meeting. But a Raiders-themed Surface cover? Pretty sweet.
Until now, this has all been a pipe dream for Surface owners, unless you busted out the model paints. On Monday, however, Microsoft and the NFL announced that fans of all 32 teams will be able to buy themed Type Covers for $159.99 at select Microsoft Stores and online; they'll be sold in Best Buy and on Amazon beginning on Aug. 29.
(You can land yourself a discount, though: If you buy a Surface Pro 4 and the NFL Type Cover together, the Type Cover's price is $129.99. Otherwise, that $159.99 price is the same price Microsoft charges for its Surface Pro 4 Signature Type Cover as well as a version with a fingerprint reader embedded in it. Unfortunately, the new NFL Type Covers were designed for the Surface Pro 4, not the older Surface Pro 3.)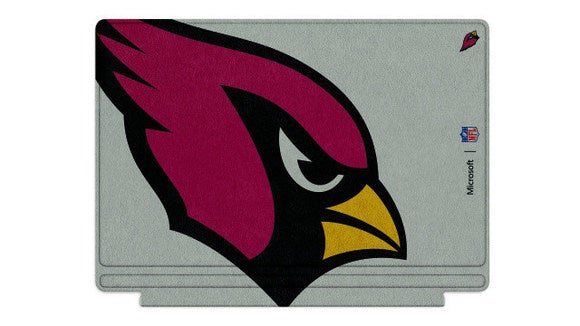 "We try lots of things out with Surface, and have mocked up a lot of different types of Type Covers for Surface Pro.," Panos Panay, corporate vice president of Microsoft Devices, wrote in a blog post. "One that I thought was really cool was a Seattle Seahawks keyboard that someone on our team made in the model shop."
Panay knew just who to give it to: "I had a chance to meet Paul Allen," the Microsoft cofounder who bought the Seahawks in 1996, "gave it to him, and he tweeted a picture." That was all the cover needed to gain fame, Panay continued: "The response we got was exciting – on Twitter and from coaches and players. So we started to dig in on how we can do this for all the teams and NFL fans."
Why this matters: Microsoft has worked hard to make the Surface tablets a staple of the NFL sideline—even as NFL players have taken out their frustrations on them (or used them to celebrate Super Bowl victory). Microsoft, meanwhile, has vigorously defended the ruggedness of the Surface tablets, especially since the version given to the NFL is encased in a sturdy protective case. Surface tablets are now even in the latest version of Madden football, cementing their role as a valuable sideline assistant. The NFL Type Covers, then, are just a natural outgrowth of that partnership.