Mozilla's Test Pilot program for Firefox is an interesting way to try out experimental features that aren't yet ready to be an official part of the browser. In recent weeks, Mozilla rolled out a new Test Pilot feature called "No More 404s" that's very helpful for anyone doing research online.
If you're not familiar with it, error code 404 is the dreaded result you get when you come across a webpage that's been deleted or is missing. Mozilla's solution with No More 404s is to immediately search the Internet Archive's Wayback Machine for a cached version of the page. This all happens automatically in the background so you don't have to do any of the searching yourself.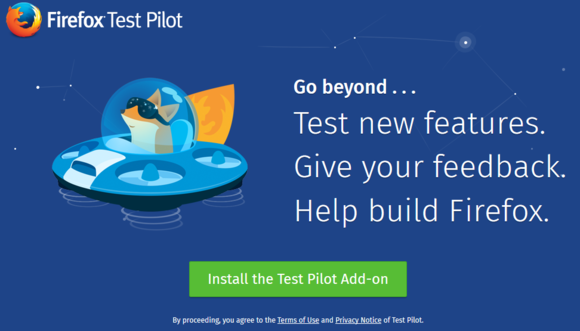 To get started using this feature, download and install the Test Pilot add-on, which isn't obtained the usual way. Instead of going to the regular Firefox add-ons catalog, visit Mozilla's Test Pilot website and click Install the Test Pilot Add-on.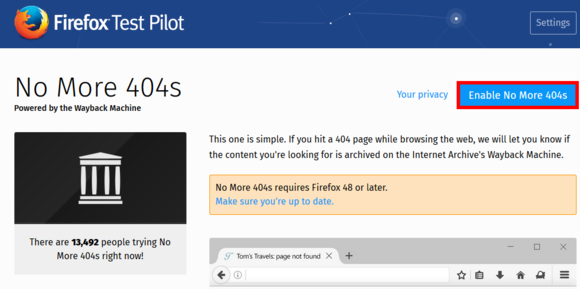 Once that's done, you can enable any of the various experiments Mozilla has on offer. To get No More 404s, click on the Test Pilot add-on icon next to the address bar (it kind of looks like something out of The Jetsons). Now select No More 404s from the drop-down menu, which takes you to a Mozilla webpage. Then on that page click the blue Enable No More 404s button.
Once the feature is enabled, you'll see a confirmation window pop-up that says you're ready to go.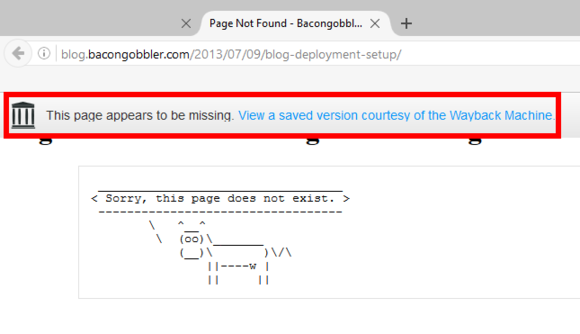 Now, when you come across a "404'd" website Firefox will alert you if there's a saved version of the page in the Wayback Machine.