You already know the GeForce GTX 1070 is a tremendous value because, well, you're getting original Titan X performance at less than half the price tag.
So what happens when you stuff one into a laptop? We found out when we hit the power button on Asus' updated ROG G752 gaming laptop, which rocks one of Nvidia's new mobile GPUs: the GeForce GTX 1080, 1070 (that's the one in the ROG G752), and 1060.
The ROG G752 we're using for our performance preview today should tell you a little about how efficient the GTX 1070 is. The laptop is designed to take the lower-powered GeForce GTX 980M. The telltale sign is the power brick: While GeForce GTX 980 laptops need even more massive 330-watt bricks, those with the GeForce GTX 1070 can run on smaller 230-watt bricks.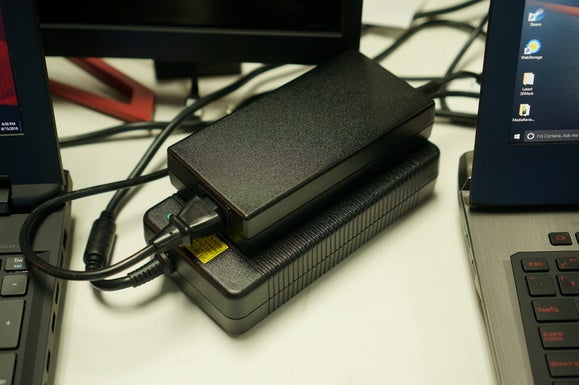 But you don't care. You just want to know if Nvidia's claims live up to the hype on the only thing that matters: performance. Let's find out.
3DMark Fire Strike Extreme
For our performance comparison, all we can do is compare entire laptops. Remember, unlike desktop GPUs, you can't just swap them out. You have to consider the entire package. In 3DMark Fire Strike Extreme, the new GTX 1070 shows a 24-percent to 35-percent advantage over a pair of GeForce GTX 980 laptops.
Compared to the GeForce GTX 980M, it's a huge advantage. Nvidia claims up to a 76-percent jump over a GeForce GTX 980M from its new GPUs, and I'm seeing pretty much that with our results. Damn.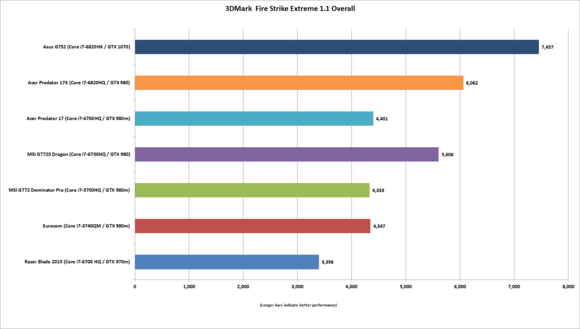 Tomb Raider Ultimate Performance
Moving on to an actual game, Tomb Raider Ultimate also opens up a wide gap—the closest GeForce GTX 980 laptop is about 30 percent slower. Nvidia's claim of a 76-percent difference over the GeForce GTX 980M holds steady, too.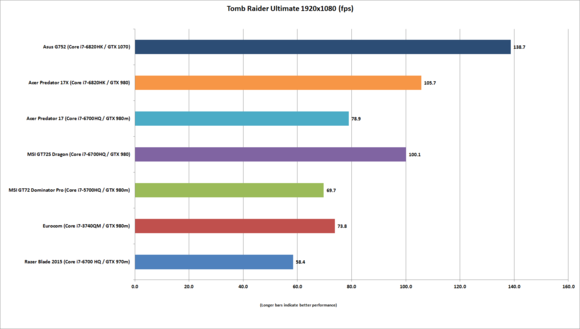 Middle-earth: Shadow of Mordor Performance
Next up is Middle-earth: Shadow of Mordor. The GTX 1070 leaves the GeForce GTX 980 behind by a good 50 percent. The performance gap in this one game is simply stupid. Against the GeForce GTX 980M, you're looking at a 100-percent performance increase.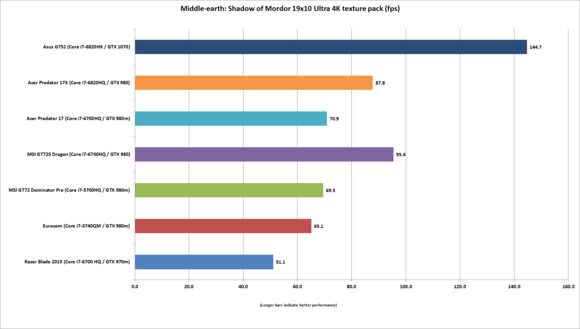 4K performance
The ROG G752 is equipped with a 75Hz G-sync panel with a resolution of 1920×1080. Even though our review of the desktop GTX 1070 said its comfort zone is at 2560×1440 resolution, I decided to hook up our ROG G752 to a 4K panel to see how it performs. For reference, I did the same with the Acer Predator 17X I recently reviewed.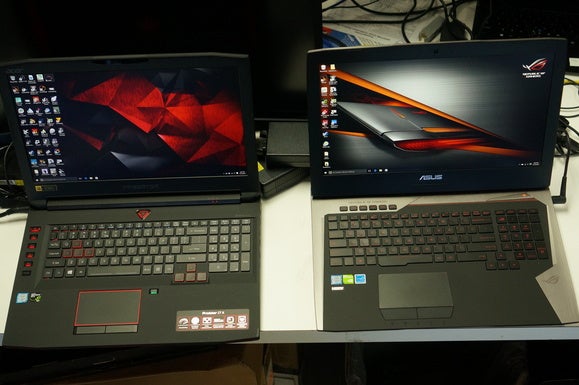 The GeForce GTX 1070 clearly has an advantage in Middle-earth: Shadows of Mordor at 1920×1080, and that advantage holds at Ultra 4K resolution too. As King of the Hill's Peggy Hill would say after beating you at Boggle: "Booyah!"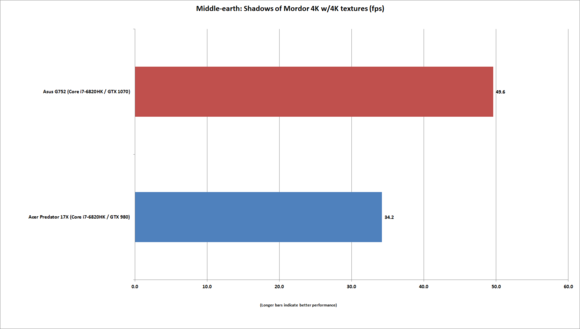 Rise of the Tomb Raider 4K
Next up is Rise of the Tomb Raider, which still sees a wide advantage in favor of the GeForce GTX 1070 GPU. You have to wonder how the GeForce GTX 1080 would do here.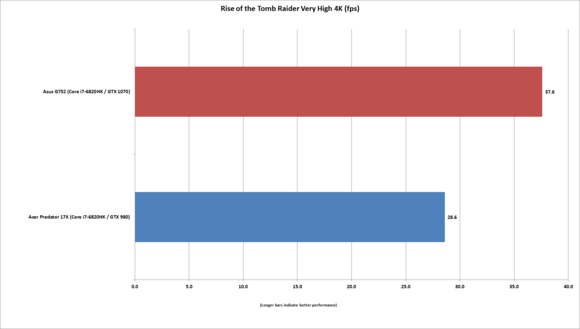 3DMark FireStrike Ultra
3DMark FireStrike Ultra is a synthetic test, and the Ultra pushes it to 4K resolution. The GeForce GTX 1070 is in front, but you knew that, right? I also dug up the score our Founders Edition GeForce GTX 1070 hit in the same benchmark. To be fair to the Asus laptop with its quad-core chip, our GPU zero point uses an 8-core CPU, which 3DMark factors into its final score. Overall, it's a good showing.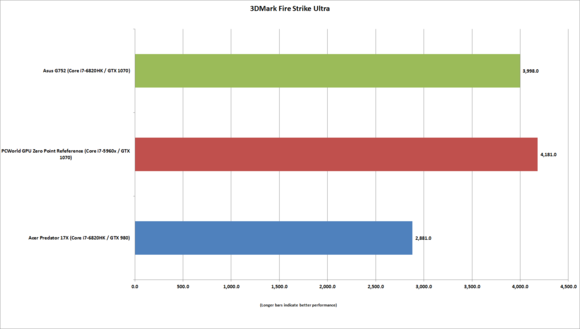 Conclusion
There's really only two facts you should walk away with here. First, there's a pretty big power efficiency to be had in the GeForce GTX 1070 laptop GPU. It's enough that you can shed the huge power brick, for, well, a less-huge power brick.
The second is damn, the GeForce GTX 1070 is fast. You're essentially getting the same performance of a GeForce Titan X or GeForce GTX 980 Ti in a laptop. Just a year ago, you'd be happy to do that using an external graphics dock. Today, you can get that performance inside of a laptop. That's a victory for all gamers.