Nvidia just can't stop rolling out new graphics cards. On Thursday, the graphics company announced a cheaper 3GB version of the $250 GeForce GTX 1060.
The new GTX 1060 starts at $200, putting it on a collision course with AMD's similarly priced 4GB Radeon RX 480. Several companies have already revealed large GTX 1060 3GB lineups, including EVGA and MSI.
For $200, the GTX 1060 loses half of its memory, dropping from 6GB in the original card to 3GB in the cut-down version. The 3GB GTX 1060 also sees its CUDA cores reduced to 1152 from the full-fat version's 1280. That cut-down combo results in performance that's roughly 5 percent slower than the full $250 GTX 1060 with 6GB of memory. To put that in perspective, the GTX 1060 3GB is about 3 frames per second slower if you're targeting 60fps.
While the original GeForce GTX 1060 is capable of hitting fine frame rates at 1440p, the new model's limited 3GB memory buffer will likely affect performance in some games at that resolution, despite the superb memory compression in Nvidia's new Pascal GPUs. Without having tested one of the 3GB GTX 1060s yet, based off that specification we'd recommend considering the new variant for 1080p gaming alone.
Everything else remains the same in the 3GB GTX 1060, including the base and boost clocks at 1.5GHz and 1.7GHz, respectively. Memory speed stands firm at 8Gbps, memory bandwidth is still 192-bit, and the card still requires 120W of power and is recommended for use with a 400W PSU.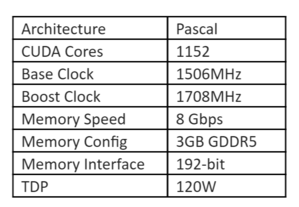 Why this matters: It's surprising that Nvidia didn't announce this card when the original 1060 came out in early July. It's also a little atypical for Nvidia to release a cut-down version of a card with fewer CUDA cores and still call it a GTX 1060, as opposed to a GTX 1050 or GTX 1050 Ti. All of this suggests this card is more about facing off against AMD's RX 480 at an identical $200 price point than anything else.
In fact, Nvidia specifically called out the 8GB RX 480 when the company pinged us about the launch of the 3GB GTX 1060. "The GTX 1060 3GB is about 10 percent faster than the AMD RX480 8GB," an Nvidia spokesperson said.
To recap: Nvidia priced its new card at the same level as the 4GB RX 480, but claims the new 1060's performance is 10 percent faster than the $240 8GB RX 480. The next-generation graphics card wars are indeed in full swing, and speaking as a gamer, you've gotta love it.