At a Glance
Expert's Rating
Pros
New work-friendly sans-serif typeface
Trendy stripped-down design
Same weighty construction as the standard BlackWidow
Cons
A safe-haven for dust
Some light leakage, like Corsair's K70
Can't change color of status indicator lights
Our Verdict
Razer's stripped-down BlackWidow X is a spin-off of the original BlackWidow—one that looks great but gets dirty fast.
Best Prices Today: BlackWidow X Chroma
The worst part of owning Razer's BlackWidow X Chroma is cleaning it. Every week. Sometimes every day, multiple times a day.
It's a problem I'm well familiar with, having taken other "naked" keyboards for a spin—most notably, Corsair's K70 and K90. Like the K70, the BlackWidow X lacks a faceplate around the keys. In fact that's the only real difference between the BlackWidow X and Razer's traditional BlackWidow line.
I've always been drawn to this type of keyboard design. There's something simultaneously futuristic and industrial about it: The keys seem to float above the base, and yet it's very heavy and mechanical too, as you peer underneath and catch sight of the housing and the way the switches actually work. It's like a car with an exposed engine—artistic minimalism.
Note: This review is part of our best gaming keyboards roundup. Go there for details about competing products and how we tested them.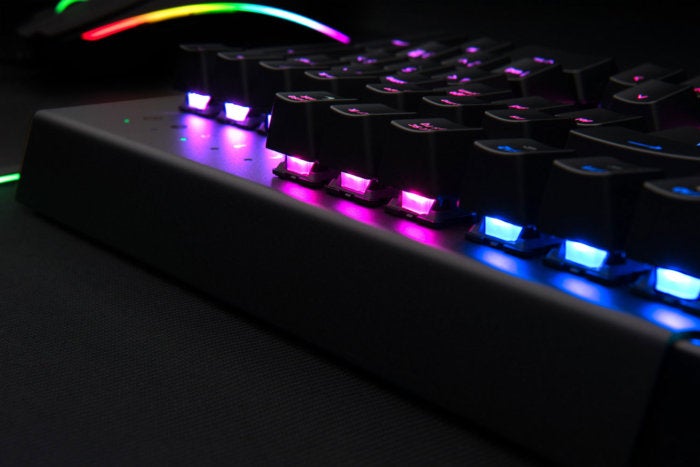 The BlackWidow X also has a lighting advantage over the K70 series. Corsair's custom Cherry RGB switches were built with light shining around all four sides of the key, which made the K70 a bit of a nuisance in low-light environments—the backlight basically shines right into your eyes, from under the keycaps. The BlackWidow X uses Razer's switches, with a lone lens at the top of each key. There's still light leakage, but it's angled toward the computer (or onto the key above) instead of toward the user.
And so I happily installed the BlackWidow X at my desk and started testing it. It's very similar to the BlackWidow Ultimate we reviewed previously, though Razer continues to reposition itself as a "Peripherals for everyone!" company instead of one that's only for hardcore gamers.
In other words, the primary change is a change in typeface, as we saw with Razer's Blade and Blade Stealth laptops. In years past, Razer used some awful "GAMER" typeface on all its keyboards. I'm pretty sure it was either Braciola MS or something modeled after Braciola MS. In any case, it looked ugly.
For 2016 Razer ditched Blah-iola and redid its keyboards in perfectly inoffensive, Apple-esque sans-serifs. Hell, they're attractive sans-serifs, giving Razer a leg up over other competitors like Logitech, Corsair, and SteelSeries.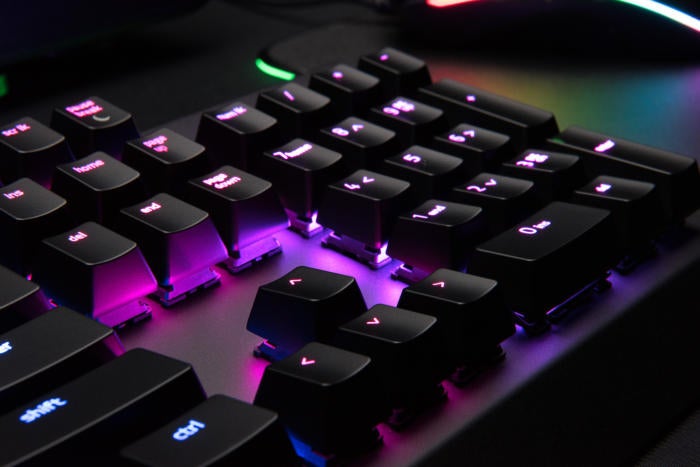 If you think I'm making a lot of ballyhoo over a simple change of typeface, I get it. It's a small change. But it's an important one. Mechanical keyboards are growing ever more popular—among people who play games, sure, but also people working office jobs, writing novels, entering data all day, and so on.
Point being: Just as most people don't buy a headset or headphones purely for one use case, most people buy a keyboard expecting to do multiple things with it. Me? I bought a mechanical keyboard for games originally, but now I couldn't imagine going back to rubber domes for day-to-day typing.
Part of the problem with Razer's aesthetic in the past was that it screamed "video games." I have a hard time imagining someone using last year's BlackWidow models in an office environment. But this BlackWidow X? Yeah, I'd take that to work. It looks like…well, basically any other keyboard.
Even the indicator lights have been swapped out on the BlackWidow X. Where the standard BlackWidow model has light-up symbols for Caps Lock, Game Mode, etc., the BlackWidow X has a row of five LEDs. It's simple and minimalist. The only oddity is they're not RGB, but instead always green—a baffling oversight.
Now, the not-so-great parts. First, and like always, we have to talk about Razer's switches. Once again we reviewed the BlackWidow X with Razer's Green switches. Here's what I wrote in March for the BlackWidow Ultimate:
I've come to accept Razer's switches. I can work with them. But I don't like them. In my opinion, they're bargain-basement Cherry MX Blues. They require the same force to press as Cherry MX Blues (50 cN) and feature the same kind of clicky feel, but with a slightly higher actuation point and a lower reset point. This means you get a lot of resistance up front and nearly none after a key press registers.
Time hasn't changed things. Everything I wrote still applies! I've gotten used to Razer's Greens over time, but I'll still happily take a true Cherry MX Blue-equipped keyboard any day of the week.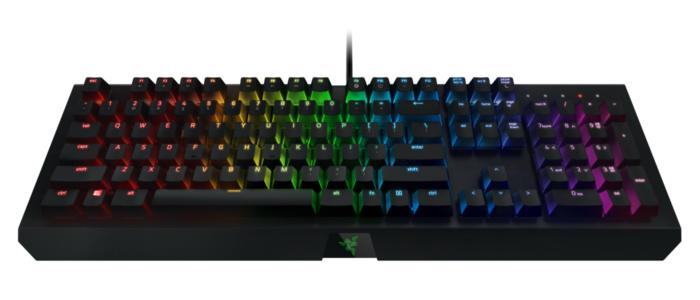 Again, we return to what I said earlier about people buying a keyboard for more than one purpose. Razer claims its design is better for games than MX Blues, most notably because it makes it easier to rapidly double-press a key. That claim isn't false, per se, but the trade-off is a switch that's worse for typing—more bottoming out, more stress on your fingers. You'll need to look at your own usage habits and decide what's best for you personally.
And then there's the whole cleaning aspect I mentioned. I love the look of these stripped-down keyboards. I really do. I liked the K70 despite its hardware flaws. I like the BlackWidow X.
Have you heard the horror stories about how your keyboard is one of the dirtiest objects in your home, though? It's easy to ignore usually. Some dust gets in your keyboard. A few hairs maybe. Maybe you drop some food on the thing. Pretty normal.
Well with the BlackWidow X you can see all of it. Every speck of dust, every cat or dog or beard hair, every crumb falls into the keyboard and then just taunts you—twofold at night, when the lighting shines on this littered landscape beneath your keys. I'd show you a picture, but we'd probably have to put this whole article behind an age gate for Disturbing Content.
Worse still: Since there's no faceplate, it's much harder to just wipe it down and move on with your life. You have to maneuver down between the keys to clear it all out or, as I've done, start blowing it out with compressed air.
The future is beautiful, but it's not very practical. Especially if you have pets.
Bottom line
Razer's new BlackWidow X isn't so much an improvement over the original BlackWidow as a lateral move. If you like the new stripped-down look and don't mind dusting, it's a solid choice. Otherwise, go with the original.
And if you still don't like Razer's switches, or hate that you'll need Razer's Synapse software to change the lighting? Well, the BlackWidow X isn't going to do anything to change your mind.
Best Prices Today: BlackWidow X Chroma