At a Glance
Expert's Rating
Pros
Incredible gaming performance
Comfortable keyboard
Great connectivity and ports
Cons
Anemic audio
1 year warranty
DVD drive
Our Verdict
This GTX 1070-powered notebook offers fantastic gaming performance, but its minimal overclocking ability keeps it from being completely mind-blowing.
Nvidia's GeForce GTX 10-series GPUs for laptops have arrived, and if the first Pascal-equipped notezilla in our lab is any indication, they're formidable. Asus' mighty ROG G752VS-XB72K OC Edition packs a GTX 1070 laptop GPU with 8GB of memory and an overclockable quad-core CPU. You also get 32GB of overclocked DDR4 RAM and an NVME PCIe SSD. along with a 1TB 7,200rpm hard drive.
This is a seriously high-end laptop that cuts no corners, and its $2,499 price reflects it. An even more expensive version doubles the SSD storage and RAM (512GB and 64GB, respectively) and sells for $2,999. Its closest rival would be a laptop like Acer's Predator 17X, which has almost the exact same base specs and configuration, but includes an older desktop GTX 980 GPU.
Under the hood
The G752VS we tested is a moderate upgrade from its last incarnation. Still, its hardware packs quite a punch.
The CPU has been upgraded from a Core i7-6700HQ to a Core i7-6820HK. Both are 14nm Skylake quad-core processors with hyper-threading, but the 6820HK has a 100MHz-higher boost clock of 3.6GHz and is also an unlocked chip. By default when under load, the chip will turbo-boost one of its cores to 3.6GHz, or two cores to 3.5GHZ, or all four cores to 3.2GHz. Asus provides software that lets you push further, though: You can boost one or two cores to 3.8GHz, or all four cores to 3.6GHz. For yet more oomph, you can manually tweak the values to get one core up to 4GHz.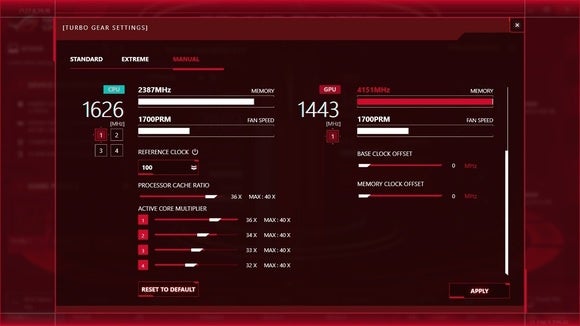 The GPU upgrade from a GTX 980M to the brand-new GTX 1070 is the bigger deal: In our benchmark preview, the GTX 1070 walloped the 980M by 50 to 100 percent, depending on the test. These 10-series mobile parts are designed to perform at the same level as their desktop equivalents—there's nothing cut down here. In fact, the GTX 1070 for notebooks actually has more CUDA cores than the desktop part (128, to be exact). It has a slightly lower clock speed than the desktop 1070, but the 38MHz difference is a moot point because the GTX 1070 for notebooks is overclockable.
With all this GPU muscle, you might be expecting one of the fancy new displays Nvidia said its 10-series GPUs would support, like a 120Hz panel, but that's sadly not the case here. The G752VS-XB72K features a good old-fashioned 1080p display with "wide viewing angles" (aka IPS equivalent), a 75Hz refresh rate, and a matte finish. However, it does also feature G-Sync, so that helps make up for the panel's lower refresh rate.
The ROG packs 32GB of DDR4/2,133MHz overclocked to 2,400MHz. You can up that to 64GB, but you should be doing some hardcore work to justify that outlay—32GB should be more than enough for 99.9 percent of enthusiasts. To upgrade down the road, you undo one captive screw on the bottom of the laptop to access two empty SO-DIMM slots, as well as the SSD and hard drive. An Intel 8260 card supports dual-band 802.11ac and Bluetooth.
Ports
The G752VS-XB72K bristles with ports and connectors. On the left side you'll find a Kensington lock port, two USB 3.0 ports, an SD Card reader, and…a DVD multi-drive. What year is this? I would prefer to see that space used for a bigger battery—or more cooling, because the fan noise is louder than in other systems we've tested.
The right side of the notebook looks like a strip of Swiss cheese: You'll find gigabit ethernet, HDMI 2.0, mini DisplayPort, two more USB 3.0 ports (one of which can charge devices while the system sleeps), and a USB 3.1 Type C port (10Gbps) with Thunderbolt 3. There are also jacks for a microphone, headphones, and line out, as well as a power connector.
Chassis, input, and speakers
Housing all this technowizardry is a chassis that is both massive and extremely solid. If you can pick it up (remember to lift with your knees), you won't feel a single iota of flex. While it's clearly a monster at 8.9 pounds, the G752VS-XB72K actually weighs one pound less than the Acer Predator 17X.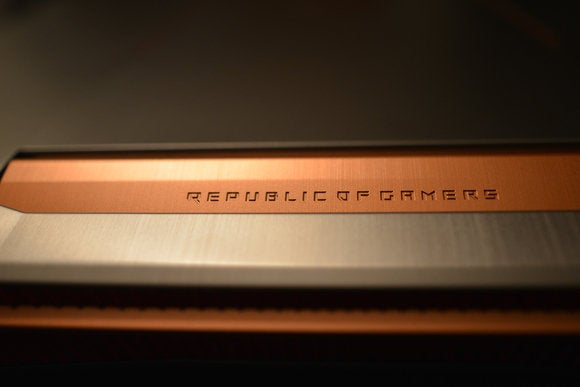 The overall color scheme is what we'd call "silver and salmon," but Asus calls it "armor titanium with plasma copper." I honestly prefer the Predator's black-and-red color scheme, but I'm a bit traditional.
One very cool feature is the underbelly: It has transparent panels so you can ogle the cooling apparatus. Asus uses 3D vapor chambers and copper heat pipes to keep the CPU and GPU frosty.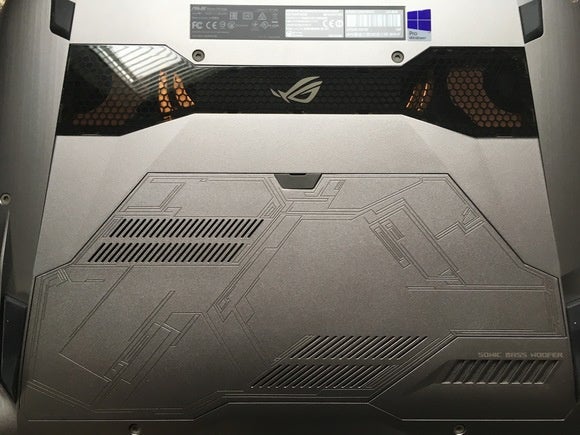 At the center of it all is a full-sized island keyboard with orange—sorry, "plasma copper"—backlighting. The keys are quite soft and also have some travel in them, so it feels very similar to typing on a real non-mechanical keyboard.
The layout is good, too, with arrow keys that are isolated off to the side—I really dug having some extra room around them. Five programmable macro keys run along the top of the keyboard. You can choose up to three profiles per key, for a total of 15.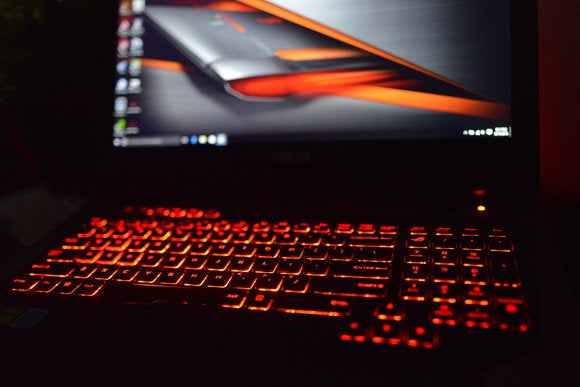 The keyboard's only real drawback is the inability to adjust the color of its backlighting. That's a surprising omission for a laptop of this stature, especially since the Acer Predator lets you change it via zones and the Razer Blade lets you tweak it on a per-key basis.
As for the trackpad, it has soft and tactile buttons that feel like the keyboard's keys and are easy to use, but it's too slippery. We found ourselves accidentally dragging-and-dropping folders with some frequency.
As a full-figured notebook, you'd expect the G752VS-XB72K to have a booming audio system, but sound is muffled and indistinct. It doesn't get loud enough, either. Asus includes a Sonic Bass Woofer in the chassis, but the whole shebang is underwhelming.
Software
One of the highlights of the G752VS-XB72K experience is Asus' Game Center software, which looks modeled after a Star Trek holodeck. All quips aside, it's a bit too much—everything is garish and hard to read. Here's what it looks like: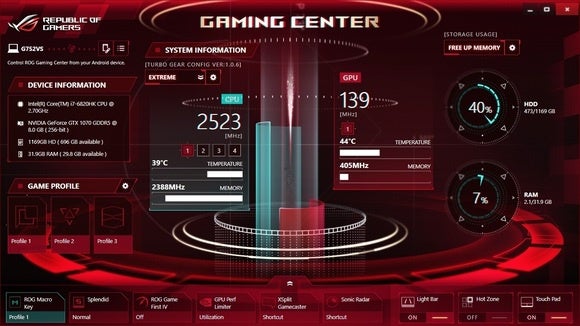 That said, we do appreciate its wealth of information and controls. You can examine every facet of the notebook's operation, change macro banks, toggle the chassis' light bars on and off, and most importantly, fiddle with the overclocking controls. (Though we doubt you'd do that more than once.) Asus provides two presets labeled Standard and Extreme, and there's also a manual mode that lets you juice the cores up to 4GHz by increasing the multipliers. Sadly, there's no way to overclock the GPU from this interface.
Speaking of macros: Crafting them is as easy as selecting which function you want the button to perform, and then selecting it or creating it. We love the interface.
Performance
Let's get down to the nitty gritty. For our benchmarks, we ran everything on the Standard profile (i.e., with the CPU and GPU set to stock clocks). Doing so clearly illustrates what gains the GTX 1070 has over 9-series GPUs—make no mistake, it comes to the party with a massive advantage. We're expecting a slaughter.
3DMark Fire Strike Extreme
Though it's synthetic, 3DMark scales well with GPU horsepower. The GTX 1070-equipped G752VS outperformed the next-closest notebook by a decent margin, but let's dig deeper into that.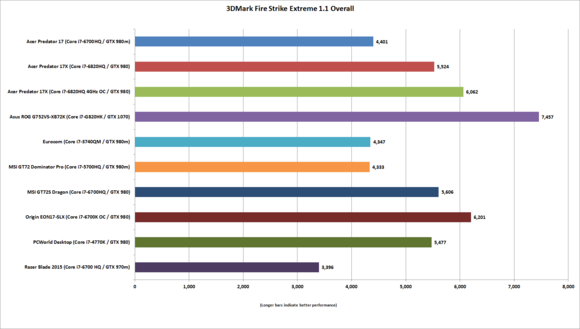 First, the Acer Predator 17X has a GTX 980 in it—not the mobile version, but the actual desktop part in a notebook form. Its equivalent among the 10-series parts would be the GTX 1080 for mobile, but the 1070 for mobile already beats it by a solid 35 percent.
Compared to the previous version of the Acer Predator, which rocked the GTX 980M, the G752VS-XB72K's GTX 1070 outruns it by an astounding 73 percent. That's quite a jump from one generation to the next. Just imagine what two GTX 1070s or GTX 1080s in SLI could do.
Tomb Raider
This is an older game that errs on the side of CPU-intensive, but it can still tax a GPU. We saw a healthy 31 percent boost going from the GTX 980 to GTX 1070.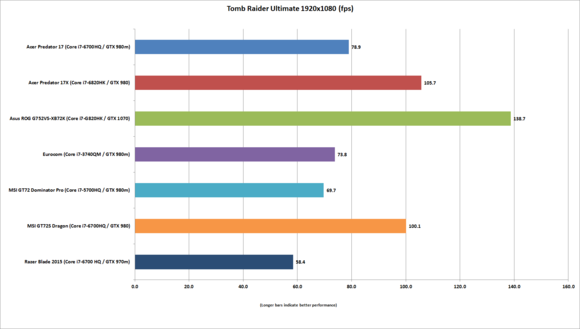 Once again, when compared to the GTX 980M, the jump was huge: an astounding 76 percent. (By the way, the next time someone tells you synthetic tests are dumb, remind them that we saw similar scaling here.)
Middle-earth: Shadow of Mordor
We ran this title with the 4K texture pack installed to see how the G752VS-XB72K handles a more modern game. We weren't disappointed.
Even on Ultra settings, the GTX 1070 ran at 144 fps: That's a 64-percent boost over the Predator's desktop GTX 980. The next number should make your jaw drop: Compared to the older GTX 980M, the GTX 1070's performance in this test marks an improvement of 104 percent. Holy. Crap.
Handbrake
This test uses the Android Tablet preset of the popular encoding software to crunch down beefy 30GB MKV file to a smaller MP4. The program will push the CPU to 100 percent and utilize every available core until the task is finished.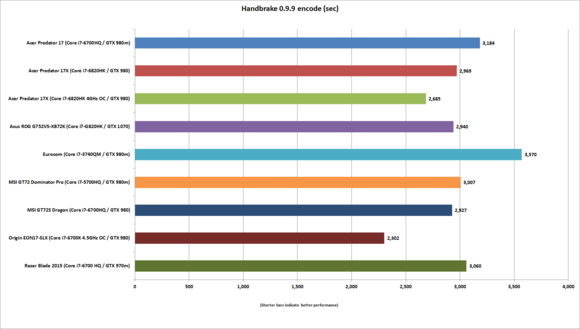 As we expected, the G752VS-XB72K finished in a dead tie with the Acer Predator 17X. They essentially have the same CPU, so similar times of approximately 49 minutes weren't a surprise. As for actual performance, that's about as fast as you can get for a notebook with a mobile CPU these days—so you may reasonably perform content creation on this machine.
We also overclocked the G752VS-XB72K to 4GHz and ran this test, but the chip wasn't able to hold at 4GHz throughout the encoding process. It reached temps of 83 degrees Celsius and then throttled down to about 3.3GHz to remain stable. The overall improvement in encoding time was a scant two minutes, so it wasn't worth the effort. Note that when we overclocked the Acer Predator 17X, it was almost 10 percent faster than the G752VS-XB72 in this test.
Overclocking
This laptop touts its overclocking abilities, but don't believe the hype. Sure the memory comes overclocked and the CPU is unlocked, but in our testing, we were unable to stress the notebook while overclocked.
For example, when we ran the stress-test Prime95 to hammer on the CPU, it ran at 3GHz in "Standard" mode, then jumped to 3.6GHz in Extreme mode. However, temperatures were in the ballpark of 90 degrees Celsius, causing the G752VS-XB72K to throttle the clocks down to 3GHz to keep the temps around 73 degrees.
Prime95 is a tough load, though. That said, the CPU still didn't hold high overclocks for long during our Handbrake encoding test—we verified this using Intel's XTU utility, which showed the G752VS-XB72K quickly fall down from 4GHz to keep the chip from overheating.
Is this just early hardware and something easily fixed in the UEFI? Only time will tell, but today we'd say that the overclocking feature isn't worth it.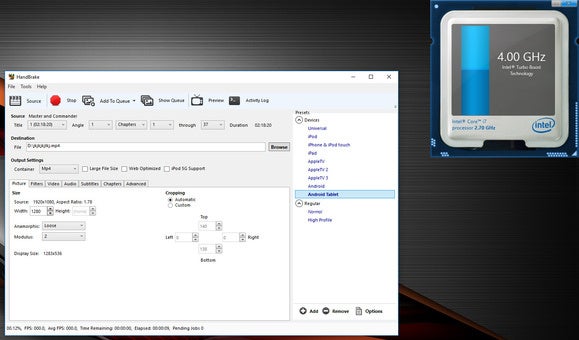 We also had very little luck overclocking the GPU. We were able to run a GPU offset of 221MHz, which resulted in a varying boost clock of around 1,750MHz or so. However, once we pushed the offset to 250MHz, the entire machine froze solid. Since the default boost clock for the GTX 1070 is 1,645MHz, running it at 1,750MHz will provide negligible gains.
Conclusion
The G752VS is certainly impressive. It offers almost double the a level of gaming performance over previously available single-GPU notebooks, which is insane. It's not a one-trick pony, either—both its quad-core CPU, DDR4 memory, and PCIe SSD are top-shelf all the way. This notebook is a desktop replacement, with the same amount of performance. And it's priced quite fairly, even though $2,500 might seem exorbitant to people not used to gaming laptops. All of the fully loaded GTX 1070 notebooks we found online fell between $2,200 and $2,600, and almost all of them had the exact same specs.
The only real fly in the ointment is its overclocking performance—its throttling under extended load is a bit disappointing. The Acer Predator 17X, for example, had no such issues. It would be nice if the keyboard had RGB backlighting capabilities and better audio, too. And the G752VS-XB72K only comes with a paltry one-year warranty, whereas similar notebooks from Acer and MSI offer warranties that are twice as long.
For most users, these are small issues, but they're worth noting. Still, it's hard to argue with the incredible graphics performance of the GTX 1070. Even with the disappointing overclocking performance, it's second to none.