At a Glance
Expert's Rating
Pros
Better-than-expected performance
Easy to swap out parts
Superb keyboard, trackpad, and audio
Cons
Just average battery life
No USB 3.1 or USB-C ports
Our Verdict
The Dell Inspiron 15 7569 is the Honda Accord of laptops: A well-built, reliable performer that offers good value.
Best Prices Today: Inspiron 15 7569 15-inch 2-in-1 laptop
Dell's new Inspiron series of 2-in-1 notebooks come in three distinct classes that go from mild to spicy: the 3000, 5000, and 7000 series. As the number goes up, so does performance. Today we're looking at the 15-inch model in the higher-end 7000 series. Dell offers four configurations for the 15-inch model in this series, and this one is the most affordable at $749. As its midrange price suggests, this laptop's specs are moderate: a Core i5 dual-core CPU with Hyper-Threading, 8GB of memory, and a 256GB SATA SSD.
The build
Since we've already reviewed the 17-inch Inspiron, we can deduce that all of the notebooks in the 7000 series sport a similar chassis and design, one made of brushed aluminum and that's quite thin without being anorexic. The 15-inch model is just 0.74-inches thick and weighs a chunky 4.8 pounds. For context, the Dell XPS 15, which is the company's flagship notebook, weighs just 4.4 pounds, but also costs more.
Like all of the Inspiron models, the 15-inch is a 2-in-1 running Windows 10. As such, it has a 360-degree hinge. You can flip the display all the way back to "convert" the notebook into a tablet at will. It makes for a rather hefty tablet, mind you, given this laptop's almost 5-pound weight. It's also a bit strange that when in tablet mode, the two parts aren't totally aligned—the section holding the display juts out a bit further. That slight annoyance aside, the display is touch-enabled, so you can swipe and tap to your heart's content.
The display itself runs at 1920x1080p using the integrated Intel HD 520 graphics, so don't expect to use this laptop for gaming. The display looks quite sharp, and true to Dell's marketing ptich, it has "wide viewing angles," indeed making it "IPS like." The panel is glossy, however, so know that glare can be an issue.
The laptop's CPU is a Skylake chip and runs at 2.3GHz, with boost potential up to 2.8GHz under load. It's paired with 8GB of DDR4 2,133MHz memory in the form of dual 4GB SO-DIMMs. You can upgrade these if you'd like by simply popping off the rear panel, but 8GB of memory should be sufficient as long as you're not editing photos or big videos. You can also upgrade or swap the M.2 SSD and Wi-Fi card, as both are easily accessible. Unfortunately, Dell no longer puts these parts behind their own tiny panels on the bottom of the laptop, which required removing just one or two screws. All the parts are under one giant panel, held into place with 10 screws. Still, that's a pretty minor downside to this much upgradability.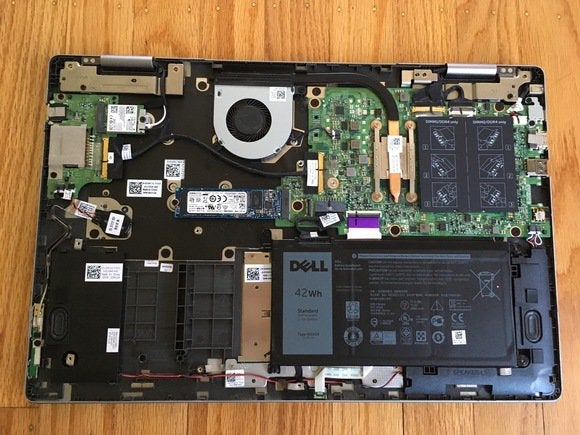 Ports, keyboard, trackpad, and audio
For connectivity, the right side of the notebook features a tiny power button at the leading edge, which is the absolute last place we'd choose to put this button, as most right-handers will be apt to pick up the notebook at this spot. We never shut it off accidentally, however. Next to that button is a volume rocker switch, a nice alternative to the Fn-key variant. The right side also sports an SD card reader, one USB 3.0 port, and a lock port. The left side features a headphone jack, one more USB 3.0 port, a USB C port, HDMI, and the power plug.
The keyboard is spacious but does not include a number pad despite there being enough room for one. We don't mind, however, as that keeps the keyboard from being shifted to the left, and off-center. The keys are quite firm with nice travel, and should please mechanical-keyboard fans. The keyboard also features a pleasant white backlight that looks great and even makes typing at night kind of fun.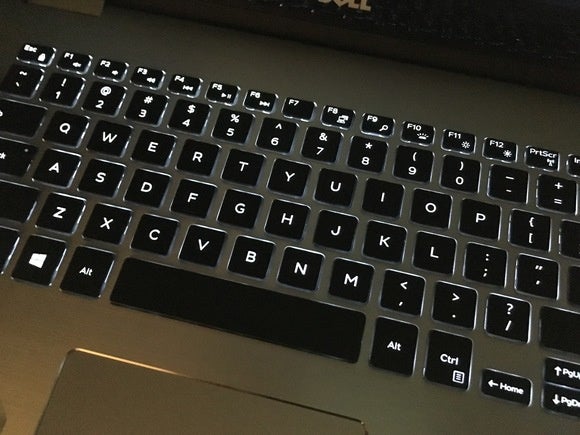 The trackpad is huge and as on the 17-inch model, one of the best we've ever used. People always say Apple makes the best trackpads, but our guess is those people haven't sampled these trackpads, as they feel entirely accurate. The sensitivity is just right out of the box and the slightly matte surface provides excellent resistance to your finger as you drag and tap. It's very well engineered, and a joy to use.
We were also impressed with this laptop's superb audio. It produces bass you can feel, and Dell provides an equalizer along with several presets for music and movies that are well matched and sound terrific. It also gets plenty loud, so much so that you'll probably never turn the volume all the way up, at least indoors.
Performance
But how does it actually hold up during use? We put the Inspiron 15-inch up against a plethora of other mid-size portables, using our usual battery of tests.[More filler text needed?]
Cinebench R15
To test the Skylake CPU's mettle we run Cinebench R15, which is a straight-up test of how long it takes a CPU to render a 3D scene. The more cores, the better, and this test pegs the CPU at 100 percent load through the duration of the test. Not surprisingly, the Inspiron 15 scored exactly the same as the last two Core i5-6200U laptops we tested: Dell's superb XPS 13 and the HP Spectre X360 15T. Since this is a straight horsepower test, performance can vary due to changes in clock speed, heat throttling, etc. But a dual-core CPU will never outperform a quad-core CPU, so results typically scale with a CPU's core count, unless there's a problem. The Dell didn't exhibit any problems, and it performed well for its spec.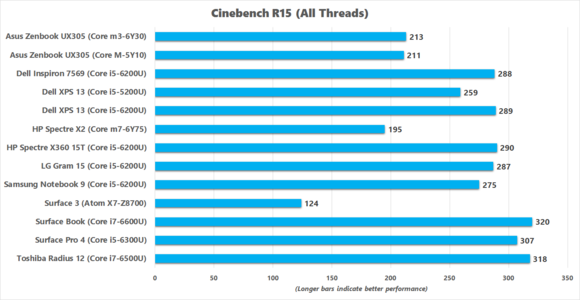 Handbrake
We use Handbrake to test how a notebook's performance in the editing bay. We feed the machine a hefty 30GB file, which it chews on for an hour or two before spitting out an Android-friendly MP4 file. In this test, when compared to its rivals, the Inspiron 15 proved faster than the Dell XPS but a bit slower than the HP Spectre X360. It also spanked the Samsung Notebook 9 for some reason, despite both machines using the same CPU, amount of memory, and an SSD. This is why we run these tests—to see if any abnormalities pop up. Whereas the Dell XPS took 7,728 seconds to munch on the file, the Inspiron 15 required just 7500, so it wasn't a massive victory, but a victory nonetheless. The HP Spectre required about 10 minutes less, however, so over the course of a two-hour test it's not a huge deal but certainly something to note if every minute is precious in your working day.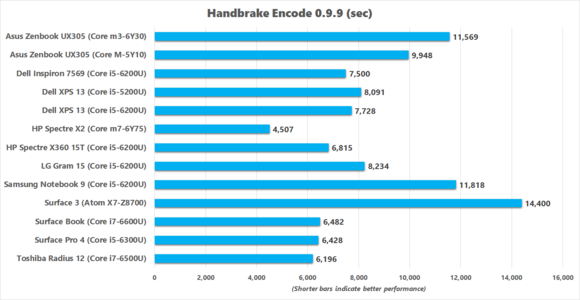 PCMark 8
It goes without saying that any modern laptop with a decent CPU and an SSD is going to tear through office work like a Rottweiler at a postal convention, but we still like to run these tests just to make sure the rubber meets the road or some such analogy. In the end, all the systems we tested that are similarly configured to the Inspiron performed about the same here, with only small deviations.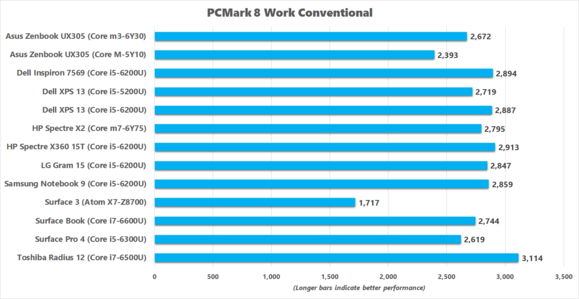 3DMark
Any laptop that uses integrated graphics can't be called a gaming machine, period. But that doesn't mean it can't still play older games. The graphics in Intel's Skylake CPUs are certainly the best integrated graphics we've experienced, even if they can't compete with the lowest discrete GPU. In 3DMark, we run a test called Sky Diver, and here the Inspiron 15 outperformed all the other notebooks we've tested with this same CPU/GPU combination, which is quite impressive. It doesn't mean those other notebooks are relegated to running Half-Life while this notebook can play Doom on Ultra-Nightmare, but it shows that the laptop is performing to the best of its ability.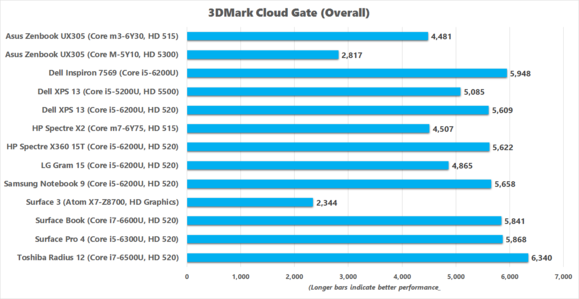 Battery Life
Dell's spec sheet says this notebook can achieve eight hours of battery life using a test called Mobile Mark, but we don't run that test. Instead we loop a 4K video at 250-nits screen brightness and with all wireless radios turned off until the laptop dies. We then look at the notebook's battery log to find out when the test began and when it shut down, which typically occurs when the battery reaches five percent charge. In this test, the Inspiron's smallish 42Whr battery was only able to achieve 293 minutes on average, or about five hours. That's not too shabby in general, but obviously far short of "all day" battery life, or the eight hours Dell says the laptop can achieve. Granted, you could certainly eke out more time with just light web browsing, but we don't test for that. Most of the other laptops in this class also scored around five hours, so the Dell is in good company. But one laptop the Inspiron 15 couldn't touch is the Dell XPS 13, which lasted over eight hours in this test. Of course, the XPS is a flagship product, so we need to keep our expectations in check here. The XPS 13 also costs $350 more than the Inspiron.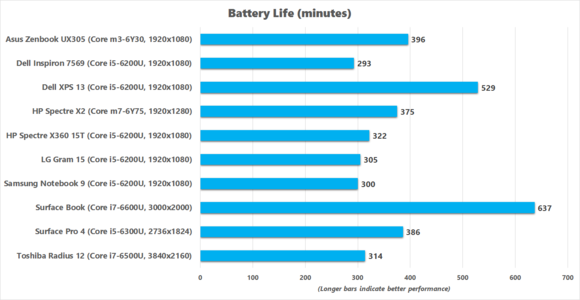 Conclusion
Though the design of the Inspiron 15 7000 is a bit basic, especially compared to flashy rivals like the HP Spectre X360, it performs well and is quite affordable at just $749. A similarly configured Spectre is $400 more, and the Samsung Notebook 9 in this config is $250 more. What's more, it doesn't seem like many corners were cut to reach that low price either. This laptop has a fantastic keyboard and trackpad, great audio, and ran very well in our benchmarks. Think of it as the Honda Accord of laptops. It's not going to win any fashion contests or draw looks of envy in the boardroom or coffee shop, but it offers great performance and features at an affordable price. For many buyers, that's a very compelling offer.
Best Prices Today: Inspiron 15 7569 15-inch 2-in-1 laptop