I use OneNote every day. It's great for organizing household to-do lists, and an easy way to take notes for work research. But it has this one default feature that used to drive me nuts, until I figured out how to turn it off.
The problem was that every time I copied and pasted a quote from a webpage, OneNote included a link to the source page.
That's great when you're not paying attention to what your source material is. Personally, I'd probably use the feature if it only pasted the same link once per page. But that's not the case, so it had to go.

To get rid of automatic source links, click File in the upper left hand corner of OneNote 2016 (the standard desktop version).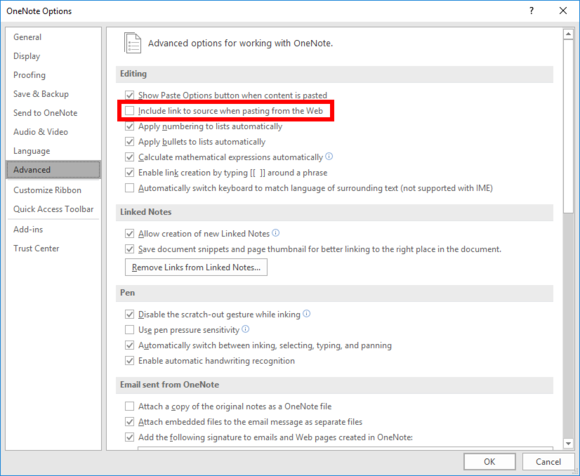 When the File interface opens, select Options in the left-hand navigation panel towards the bottom. A pop-up window appears, similar to what you see here. Next, select Advanced from the left-hand navigation panel of the pop-up window. Finally, under the Editing subheading, uncheck the box labeled Include link to source when pasting from the Web. Click OK and you're done. No more source links.
OneNote includes the same automated link feature in the Windows Store version of the app; however, that version of OneNote does not have an option to turn it off. There also isn't a way for your desktop app preferences to transfer over to the Windows Store version.
If the links really bother you like they did me, and you're using a Windows 10 tablet or PC, try the desktop version instead of the Windows Store app. Just like its Windows Store counterpart, the desktop version is a free download from Microsoft.