1. No, this is how you pronounce it. Intel's 7th-gen CPU is pronounced "Kay-bee" Lake, not "Cabbie" Lake. But then again, we still can't agree on how to pronounce DATA and SATA, so maybe we should just grit our teeth when someone says the name differently than us.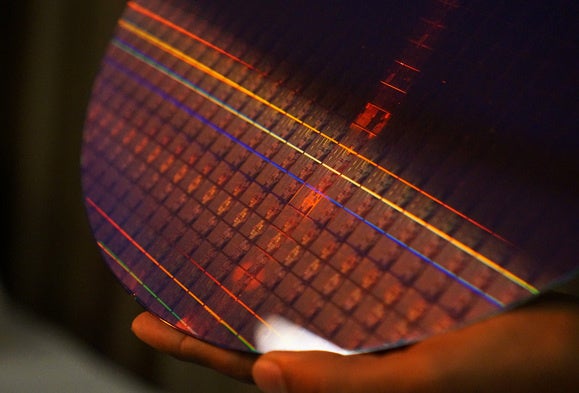 2. It uses an improved process. Kaby Lake is built on the same 14nm process as Skylake, but Intel says there were enough improvements to the manufacturing process to consider it "14nm+." The upshot is that Kaby Lake CPUs can run at higher clock speeds than the equivalent 6th-gen Skylake CPUs. For example, while a Skylake CPU might have topped out at a Turbo Boost speed of 3.1GHz, Intel says its Kaby Lake equivalent can hit 3.5GHz.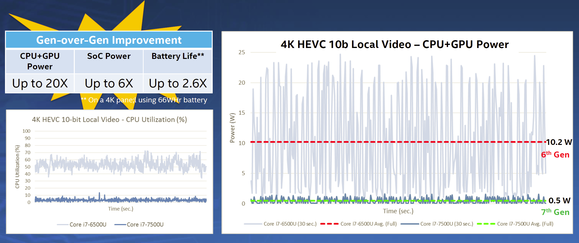 3. Watch video much? You'll want Kaby Lake. While the x86 side mostly gets its boost from the process improvements, the video, or media, block engine in Kaby Lake gets bigger upgrades, such as hardware support for encoding and decoding 10-bit 4K HEVC video codecs as well as 4K VP9. Not a codec nerd? Intel says the upshot is that playing a 4K 10-bit HEVC video will offer a 2.6x battery-life improvement and cut power consumption from 10.2 watts on Skylake to 0.5 watts on Kaby Lake. If you watch 4K video on YouTube using the Chrome browser, you can expect 1.75x more battery life over a comparable laptop, and power consumption will drop from 5.8 watts to 0.8 watts.
TL;DR: Mo' better battery life for video freaks!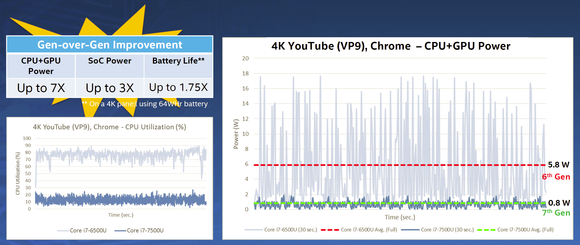 4. No, seriously, video freaks will want Kaby Lake. Like a Ginsu knife, there's more. Intel says it built the media block of Kaby Lake for where we're going with video, not where we're at. Kaby Lake machines, for example, can stream up to eight 4K-resolution AVC and HEVC videos simultaneously. That means a single tiny NUC-style PC could power a massive video wall of 4K TVs. Intel officials say the engine can actually decode 4K-resolution video at 60fps with a bit-rate up to 120Mbps. Kaby Lake also includes support for Microsoft's PlayReady 3.0 and HDCP 2.2 DRM, so, in theory, if Netflix and Amazon decide to stream 4K to a PC, the pieces are now all in place for that to happen.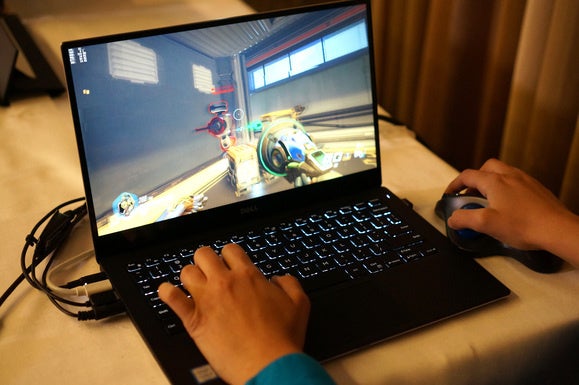 5. It's faster for games too, but… Intel says graphics are improved and Kaby Lake's graphics are capable of running the game Overwatch at 1280×720 resolution on the game's medium quality setting. In the demonstration I saw, frame rates were in the 30fps range, which ain't bad.
If you're laughing because you have a GeForce GTX 1080 running Overwatch at a billion frames per second, just remember this was done on an Dell XPS 13 ultrabook, a dainty little laptop, so remember to put it all in perspective.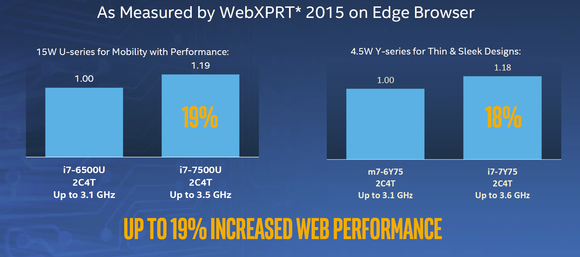 6. Aside from graphics, how much improvement can we expect? As I said, there aren't any apparent big changes to the x86-side of the CPU. No cache buffs or pipeline changes. What's amazing though, is that Intel is nonetheless claiming a healthy double-digit performance increase for CPU-related chores going from Skylake to Kaby Lake. In fact, Intel says that improvements made to its Speed Shift technology (which effects responsiveness to performance bursts) combined with the refined manufacturing techniques, will result in up to 12 percent better performance in office productivity and as much as 19 percent in mundane tasks like web browsing. That's a pretty decent boost considering the lack of substantial alterations.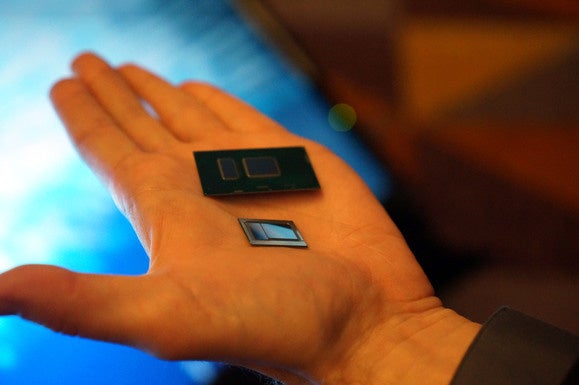 7. Core m7 and Core m5 are kinda dead. With the 7th-gen Kaby Lake, Intel is retiring the Core m7 and Core m5 chip nomenclature but will keep the model numbers. For example, today's Skylake-based Core m7-6Y75 ran at 3.5 watts, 4.5 watts, or 7 watts. The Kaby Lake chip that replaces it will now be named the Core i7-7Y75 and will also run at 3.5 watts, 4.5 watts, or 7 watts. Intel's official reason for the name change? Because it's fast now, it deserves the Core i7 moniker. I'm not totally sold on that explanation but Core m isn't completely dead. Intel said it has plans to introduce a Core m3 version along with a Kaby Lake Core i3 to go with the four Core i5 and Core i7 chips.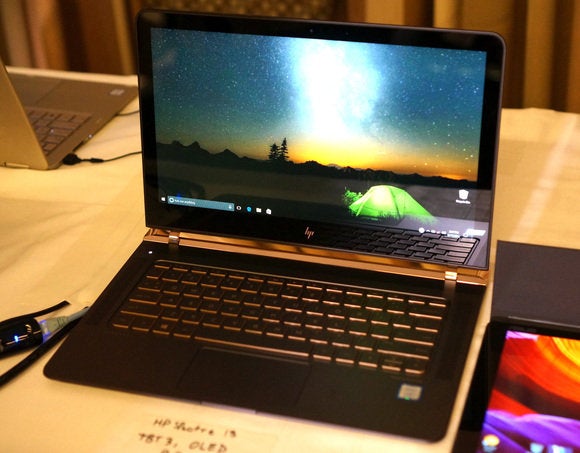 8. When can we expect the chips? Intel says to expect around 100 different makes and models of laptops using Kaby Lake this quarter. By next year, that will crank up to several hundred makes and models of laptops.
Following that, we'll get quad-core "H" laptop CPUs and then the actual desktop CPUs will launch. Intel says desktop users will also benefit from the manufacturing refinements and the video engine improvements.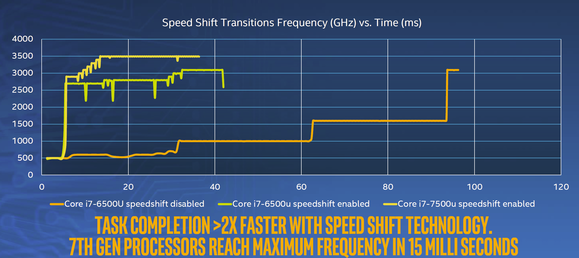 9. What we know about Kaby Lake desktop chips. While Intel declined to discuss details of the Kaby Lake desktop CPUs, we have talked to enough hardware partners to know that Kaby Lake, when released, should work in existing LGA1151 motherboards. Sometime next year we should also expect a 200-series chipset to replace the current 100-series chipset: The Z170 will make way for the Z270, which will add native USB 3.1 10Gbps support, more PCIe lanes, and the cryptic "Optane support."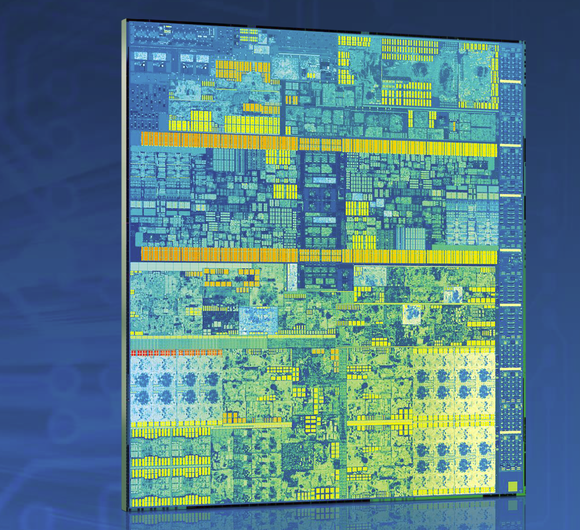 10. What's next? With Kaby Lake finally rolling out, Intel now moves on to the 8th-gen Cannonlake (yes, one word.) Cannonlake moves us from the 14nm manufacturing process that's been used since the 5th-gen Broadwell to a 10nm process. Cannonlake was originally expected this year but all leaks point to it hitting at the end of 2017. The problem, it seems, is the size. Getting silicon working at 10nm isn't easy; indeed, many believe we are nearing the end of Moore's Law on silicon. Intel itself has publicly said that going from 10nm to 7nm will be difficult and that it expects to move away from silicon for that jump.