The hotly anticipated Deus Ex: Mankind Divided hit the streets today, and good news! It's pretty excellent, just like every other game in the beloved franchise other than that cursed Invisible War. But gamers planning to upgrade their rigs are in for even better news: AMD announced Tuesday that it will toss in a free copy of Mankind Divided when you buy a new 6- or 8-core FX processor between now and November 14.
You read that correctly: The game's being bundled with AMD processors, not Radeon graphics cards. Ostensibly, it's because Deus Ex: Mankind Divided will add in DirectX 12 compatibility in the coming weeks, and DX12 can utilize all the cores in your processor simultaneously—meaning that systems containing AMD's 6- and 8-core processors could theoretically see a decent performance boost when the game's DX12 patch rolls out. (We're told the developers hope to release the DirectX 12 patch on September 5, but that's not set in stone.)
Mentioned in this article
AMD FD832EWMHKBOX FX-8320E FX-Series 8-Core Black Edition
Pulling back a bit further, the new Radeon RX 400-series graphics cards are a hit, with RX 480s selling as quickly as AMD can make them. On the other hand, the current FX lineup is getting a bit long in the tooth. With those alluring Zen chips being teased for an early 2017 launch, AMD's processors could probably use a helping hand to push sales.
This is one hell of an assist. Popular FX processors like the 6-core AMD FX-6300 ($100 on Amazon) and 8-core FX-8320 ($130 on Amazon) already sell for damned affordable prices. Bundling in a free copy of a $60 game on top of that only makes AMD's price-friendly processors all that more attractive to budget-minded buyers.
The usual caveats apply to the offer, of course. It's only good while supplies last, and through participating partners—which none of AMD's current bundle marketing materials identify. We've asked company representatives for specifics, and will update this article when we hear more. UPDATE: Most major North American online stores are participating, including Amazon, Newegg, Microcenter, Fry's, and B&H. A number of boutique custom PC builders are also getting in on the action, such as Puget Systems, CyberPower, iBuyPower, and CyberTron PC.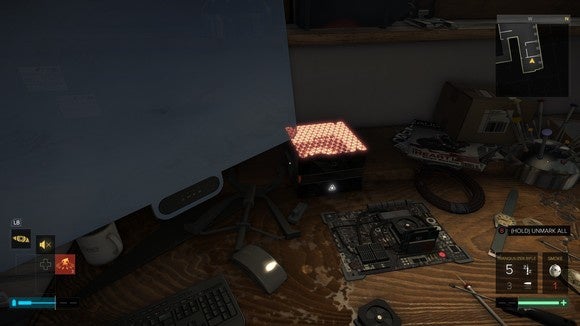 The story behind the story: Fun fact: The dystopic future portrayed in Deus Ex: Mankind Divided is brimming with computers, motherboards, and more as background clutter. The desks of the game's VIPs—included protagonist Adam Jensen himself—contain digital representations of Project Quantum, the jaw-dropping concept PCs AMD created to push the space savings of its high-bandwidth memory-equipped Radeon Fury graphics cards.
Here in the real world, only one publication ever managed to dig inside the guts of a Project Quantum PC: Us. Check out our Project Quantum dissection for a glimpse at the sort of rig that cybernetically augmented agents use to help them fight back against the Illuminati and save the world.