HP just introduced a new technology to fight back against the feeling that somebody's watching you.
HP's EliteBook 1040 and EliteBook 840 laptops now have an option to add a new one-touch solution called SureView that combats what the company calls "visual hacking." SureView was developed with 3M privacy technology, and HP first showed off the technology during CES in January.
To call this activity "hacking", however, is a bit of a stretch. What we're really talking about is someone who's literally peeking over you shoulder to read the information on your screen.
Regardless, SureView sounds like a pretty cool feature. All you do is tap F2 on the laptop's keyboard and SureView "reduces up to 95 percent of visible light when viewed at an angle." With SureView enabled, HP says those pesky eavesdroppers will have a much harder time reading your TPS reports.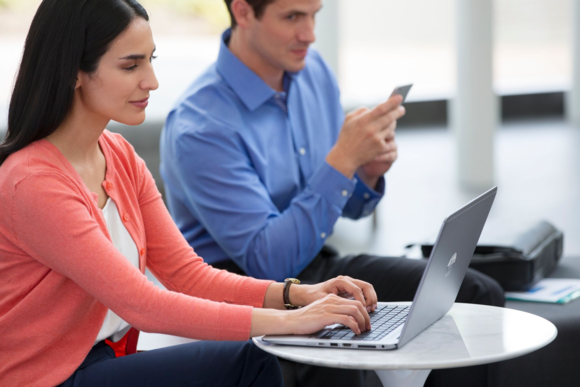 HP's positioning SureView an ideal solution for young (I refuse to use the "m" word) corporate drones who might unwittingly display sensitive company data at public places like Starbucks or the airport. In reality, SureView could be ideal for people of any age to keep email, usernames, account numbers, and other sensitive data private while you're in public.
The impact on you at home: How real is the threat of "visual hacking?" 3M sponsored a study that showed visual hacking is easy enough, which anyone who's ever walked by a laptop in public already knows. It's not clear how often visual hacking has resulted in real damage, but it really doesn't matter. I'm sure many people have experienced a feeling of "exposure" when viewing private information on a laptop while in a public place. We haven't tested HP's technology yet. But from the sounds of it SureView could go a long way to alleviating real or imagined spying so you can work more confidently while sipping on that delicious mocha double no-foam latte.