When Microsoft created Windows 10 it borrowed a few features from the world of smartphones. One of the more obvious ones is Battery Saver. Just as your phone has a low-battery mode, the battery life on Windows 10 laptops and tablets can be extended by turning off things like automatic email and calendar sync, live tile updates, and background processes for some apps. Battery Saver also lowers your display's screen brightness, though you can undo that setting.
With Battery Saver enabled, you can keep checking Facebook, writing email, or finishing your dissertation for a few more minutes before your PC has to shut down.
Here's how the feature works in the Windows 10 Anniversary Update.
Where to find it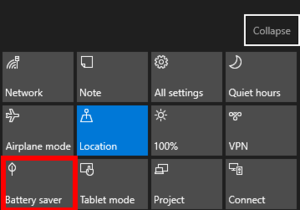 Battery Saver lives in two different spots on your PC. The first is in the quick-actions area at the bottom of the Action Center. Here you can quickly turn Battery Saver on and off at will.
You can also get to the Battery Saver quick-actions tile by clicking on the battery icon on the far right of the taskbar.
Note that you cannot turn on Battery Saver if you're using your PC's power cord. That seems obvious, but nonetheless bears mentioning.
The other location for Battery Saver is in the Settings app.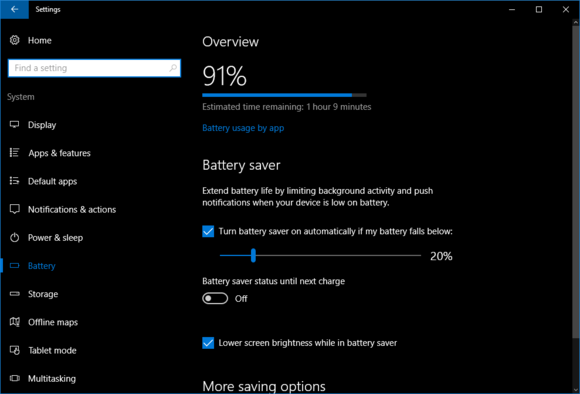 To take a look go to Start > Settings > System > Battery. When you're running on battery power you'll see your battery's remaining percentage at the top under the heading Overview, as well as the estimated time remaining before your PC has to shut down. This section also has a link labeled Battery usage by app that takes you to another screen that shows a breakdown of that information.
Below that, the Battery Saver subheading houses the actual settings you can tweak for the feature. First, you will see a checkbox—that should be enabled by default—to turn on Battery Saver automatically when your battery falls below 20 percent. If you'd rather turn on Battery Saver manually every time, just uncheck this box.
Next, you'll see a slider labeled Battery saver status until next charge. This is just another way to turn on Battery Saver. When this slider is activated you'll enter Battery Saver mode until you plug in your device.
Finally, one last checkbox at the bottom of the Battery Saver area allows you to go into Battery Saver mode without the lower screen brightness.
Battery Saver is a good feature to know about for those times you want to extend your Windows 10 device's cord-free power for as long as possible.