Update November 15, 2016: The "Ascension" update is now live, introducing EVE Online's new free to play characters. The rest of the original article, which was published on August 31 with full details for the update, can be read below.
"EVE is ready for this." That's the key takeaway from CCP's latest blog post, announcing that after thirteen years of subscriptions EVE Online is going free-to-play. Sort of.
This November, EVE will introduce two new "Clone States," the Alpha Clones and the Omega Clones. According to CCP, "Your clone state will be determined by your account status. Characters on subscribed accounts will be granted Omega state, while Alpha state will be given to characters on any unsubscribed account."
And as such, Omega Clones function the same as current paid subscribers. Nothing will change.
The big addition are the Alpha Clones, the "new base state." There's a huge Q&A under CCP's blog post, plus the video above, but here are the basics: Free-to-play users are only able to train certain skills, and at a slower pace than paying members. If you go from a subscriber to free-to-play, you'll also enter Alpha status. Any skills you've trained over-and-above the Alpha limit will be "locked and unusable until Omega state is reactivated."
CCP is quick to specify though that this doesn't mean Alpha users are useless. "Alphas also have enormous freedom. They will be doing everything from rampaging null sec in Caracal fleets to exploration sites in high sec to playing a major role in faction warfare," says CCP.
Combat is liable to be most important. While EVE battles tend to focus on the high-end ships, the ones that are equivalent to thousands of dollars of real-world money, it's the smaller pilots weaving around the battlefield that make up most of the fighting. A move to free-to-play should see EVE's various coalitions courting an influx of new players. Or an influx of alt accounts, at least.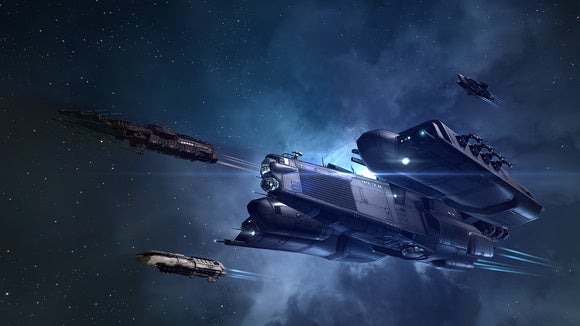 As for how the EVE community is receiving the news? A quick sweep of the EVE Online subreddit reveals mixed feelings, with some saying it's the end of the game, others saying "It's the end of the game if such and such conditions aren't met," and some small minority seemingly excited. It's exactly what I would expect from the highly-insular EVE community when they're told to prepare for a flood. We'll see if feelings change come November.
Regardless, it's a huge change for EVE and basically the end of the subscription-MMO era. Oh sure, World of Warcraft is still holding it down in the corner, but it's the last major one—and WoW's always been a bit of a special case.
It's much more surprising to see EVE go free-to-play because its mechanics are so closely tied into its sprawling and complex economy. That's why we can talk about so-many-thousands-of-dollars-worth of ships being destroyed in a battle—because subscriptions (PLEX) are tied so tightly to the in-game economy. Adding this new Alpha State means big changes ahead for every facet of the game. Hopefully EVE's unique nature survives the transition.