If you're looking for a top-tier curved monitor capable of displaying the highest quality pixels, LG's introducing premium 21:9 ultrawide models at IFA that might just scratch your itch, no matter if you're into gaming, editing, or just watching videos.
First up: The 38UC99. Don't let that horribly bland name fool you—this 38-inch ultrawide is brimming with cutting-edge features.
The massive screen rocks an impressive 3840×1600 resolution, and it's powered by IPS technology that delivers "wide color gamut covering 99 percent of the sRGB color space," according to LG. A pair of integrated 10W Bluetooth-compatible speakers with enhanced bass give the monitor basic audio chops to complement the on-screen beauty. The 38UC99 also includes a USB-C port for transferring data or charging devices.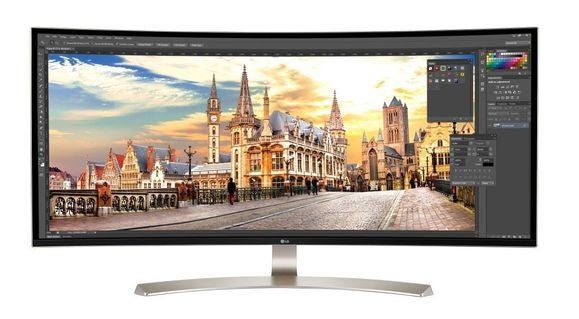 Those high-end features come at a price, however. The 38UC99 will set you back a cool $1,500 when it launches in September.
Gamers may want to check out the 34UC79G instead. This 34-inch display is the first 144Hz curved, ultrawide IPS monitor, according to LG. That's an incredibly specific niche—but a highly desirable one, too. Unfortunately, the display resolution wasn't announced.
The $700 34UC79G includes support for AMD's buttery smooth FreeSync technology, along with other gaming-friendly features like Black Stabilizer, Dynamic Action Sync, and even the ability to display a crosshair in the center of the screen to up your game in competitive shooters. Look for it in October.
The story behind the story: Curved displays aren't especially compelling in TV form, but make much more sense as PC monitors, where they help to create a more immersive feel. And they certainly shake up the stale state of screen design, which may be why we're swimming in curved monitor announcements all of a sudden. Just yesterday, Samsung announced two curved displays of its own—the first PC monitors powered by quantum dot technology.
Flattened out
LG also announced the flat-screen 34UM79M, Engadget reports, though it wasn't included in LG's official press release.
The key selling point for this $600 monitor? Baked-in Google Cast support, which seems kind of superfluous if you plan on using the monitor on a traditional desk. You know, since it'd already be attached to a keyboard and monitor. That said, Cast support could come in handy if you plop the display in a central location in a TV replacement-type role, though the 34UM79M's 34-inch ultrawide form factor could make it hard to find place in most rooms.