Acer's Predator 21 X literally throws a curve into the hotly competitive gaming laptop market with its gently bowed display, an industry first. Announced Wednesday at a press conference before IFA in Berlin, the flagship Predator 21 X boasts several other cutting-edge components within its husky profile.
The industry-first curved screen is a 21-inch, 2560×1080 IPS. With its wide color gamut and generous viewing angles, it promises a deeply absorbing gaming experience. Add to that its Nvidia G-Sync technology and dual Nvidia GeForce GTX 1080 GPUs in SLI, and you have a truly formidable imaging setup.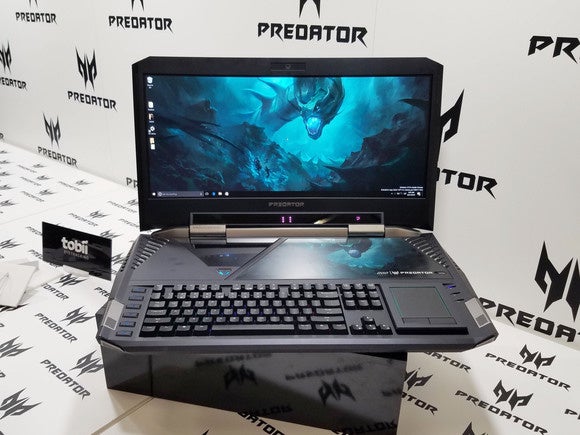 Another brand-new component is the Predator X's Kaby Lake CPU. Intel's 7th-generation chip, announced Tuesday, ekes out a little more performance and efficiency from the company's aging 14-nm architecture. Acer didn't specify which specific chips would be available for the Predator 21 X, but I'm guessing it'll be the brawny, 15-watt U versions of the chip rather than the 4.5-watt, mobile-oriented Y parts.
With all this under the hood, you won't be surprised to know that the Predator X comes with five cooling fans. Three of them are super-slim metal AeroBlade fans that can push lots of hot air out of a tightly packed chassis.
Another innovation on this laptop is integrated Tobii eye-tracking. Within the context of gaming, it could let you move through a game's environment or aim a weapon with a glance. My colleague Mark Hachman tried Tobii eyeX with Windows 10 and found its sensitivity varied by user, so seasoned gamers—for whom accuracy is everything—may rightly look askance at this particular innovation. (Acer also introduced a trio of standalone Predator gaming monitors with native Tobii eye-tracking.)
The Predator X sports a full-size Cherry MX mechanical keyboard with individually adjustable RGB backlighting for each key. The numeric keypad can be flipped over to become a touchpad.
We still don't know a few important things about this crazy laptop. We don't know where and exactly when it will ship, other than the broad promise of Q1 2017 per an Acer spokesperson. We don't know how much it will cost—but you can bet it won't be cheap. Acer also didn't specify the weight, but this category of laptop doesn't mind packing on the pounds. We'll keep an eye on this product and update you when we learn more.