In the battle to sell more stuff to consumers, Acer has a new target: your pets.
The company will soon begin selling a high-tech pet monitor that can serve live video of a dog or cat to its owner via a smartphone or tablet app. Later, the camera will be supplemented with additional gadgets including a treat dispenser and cat teaser.
The products are Acer's first step into the "petware" market. Its interest was sparked by two recent interns at the Taiwan company, who suggested looking at the burgeoning market for pet products, Acer CEO Jason Chen said on Wednesday at the IFA trade show in Berlin.
That market was worth $79 billion in 2009 and will climb to $104 billion this year, he said. By 2019, global spending on pets is expected to reach $128 billion.
To kick-start its efforts, Acer has acquired Pawbo, a Taiwanese company formed in 2014 by an executive from the IP camera industry. He wanted to do more than just watch his pets through a video stream.
So Pawbo was born. The device contains a camera, treat dispenser, laser, and networking hub for the envisaged family of devices. The camera can be used to watch pets, the remote controlled laser will entertain cats, and the treats can be dispensed remotely, too.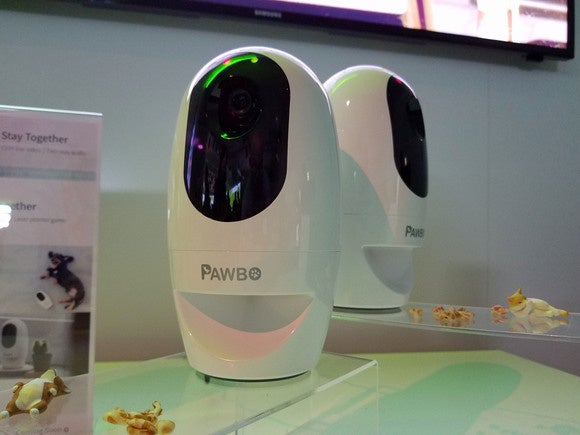 The device goes on pre-order on Sept. 1 and will be available to consumers in the U.S., U.K., Italy, Germany, Japan, and Taiwan. It will cost $169.
The Pawbo base unit will act as a hub for up to eight other cameras, enabling an entire pet surveillance system for a house.
Planned products will include Pawbo Flash, an infrared light for the base unit that will let users see their pets in the dark; Pawbo Munch, a dedicated treat dispenser for larger treats than the base unit; Pawbo Catch, a cat teaser that shakes around a fluffy toy on a stick; and Pawbo Punch, a whack-a-mole type game for cats.