Swirling rumors about a Google Pixel refresh just received a possible shot in the arm.
Google recently listed the $1,300 Chromebook Pixel 2 as out of stock on the Google Store, and other retailers appear to be discontinuing the laptop as well. The end of the $1,300 Chromebook Pixel 2 comes four months after Google discontinued the $1,000 version in April.
Google told Venture Beat, which first noticed the end of the Chromebook Pixel 2, that the expensive Chrome OS laptop was discontinued. "We're committed to the Pixel program but we don't have plans to restock the Pixel 2," a Google spokesperson told the site.
Whether that means a Chromebook Pixel 3 is on its way will now be the subject of speculation—including right here, right now. In June, OMG Chrome came across a job listing that (very loosely) suggested the company was working on a new Pixel. The listing advertised for a Quality Engineer for the Chromebook Pixel team who would be "part of shaping Google's next game-changer."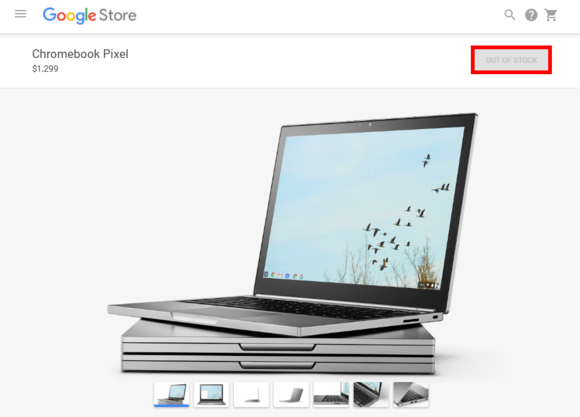 That next "game-changer" could mean a new Chromebook Pixel, or it could mean another Pixel Android tablet created by the same team. In fact, if you want to really go off the rails the next Pixel could be a Chromebook tablet—Play Store support, anyone?—for all we know.
Complicating matters, Google doesn't have a regular schedule for releasing Pixels—at least with two versions released so far. The Pixel 2 came out in April 2015, succeeding the original Pixel, which was released in March 2013. If that suggests a pattern then we shouldn't count on seeing a Pixel 3 until the spring of 2017.