At a Glance
Expert's Rating
Pros
Supports full-sized mechanical keyboard and mousepad
Wired for minimal latency
Powered USB ports for charging a phone or using a headset
Cons
Too massive to store anywhere convenient
Wires are a nightmarish tripping hazard
Expensive, especially if you need a new keyboard too
Our Verdict
Corsair's Lapdog goes for no-holds-barred approach to living room gaming, but a few compromises might've made for a better product.
In designing the Lapdog (available on Amazon for $120), Corsair seems to have operated under the tenet of "Why solve the problem with a penknife when you could use a tank?" This lapdesk embodies the belief that there's no need for compromise just because you're in the living room.
But…maybe sometimes compromise is a good thing, because the Lapdog is huge.
The elephant in the room
Like, really huge. Corsair calls the Lapdog a "portable gaming control center," but I'd argue that it's only semi-portable. Measuring around three feet wide and weighing five pounds, this accessory is more desk than lapdesk. It's a landmark, a tourist attraction, a piece of extra furniture that says, "I didn't bring my PC to the living room. I brought the living room to my PC."

The benefit? Anything you could play at your desk, you can play from your couch. You know, provided the developer included UI scaling so you can actually see what the hell you're supposed to be doing from afar at any given moment—but that's a problem with games, not Corsair.
So if you want to play twitch shooters on your TV with a mouse and keyboard, you can. If you want to play Minecraft, you can. If you want to play Total War: Warhammer or Battlefield 1 or Doom or XCOM 2 or whatever, you can.
But keep in mind, that's because—as I said earlier—you might as well be at your desk. The Lapdog, fully kitted out, contains a full-sized mechanical keyboard and a mouse with an 11-inch textured surface to skate across. All of it comes mounted in a brushed-metal enclosure with a pillowed piece of foam on the bottom for your lap. This lapdesk is built for performance first, and looks second.
Which is not to say the Lapdog is ugly. On the contrary, the Lapdog is a gorgeous bit of engineering. I'm impressed at how Corsair's K65 and K70 keyboard lines subtly blend with the enclosure, brushed metal overlapping brushed metal so as to minimize the seam.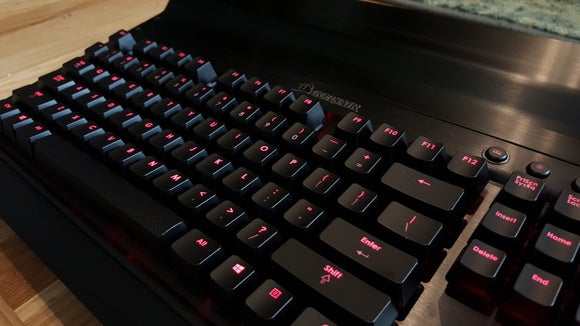 There's also the pillow, which is magnetized to the bottom and holds the Lapdog's all-important hex key. Need to remove the K70 from its enclosure? Pop off the bottom, grab the hex key, and start unscrewing. It's a genius way to conceal the tool while ensuring easy access.
But the Lapdog's problem is that it cares not a whit for how a living room might differ from an office, the corner of your bedroom, or wherever you've stashed your primary PC.
Just look at its size. The competing Razer Turret is unsuitable for most performance-heavy uses, but it's small and unobtrusive: It folds in half, fits practically anywhere you can imagine, and doesn't draw attention to itself. I think most people want a mouse and keyboard for the living room that stays out of the way, like a remote or a gamepad. Something you can tuck into a nook when not being used.
The Lapdog is decidedly not that. When not in use, I can either lay it on the floor in front of my TV or put it behind or—if I'm lucky—underneath the couch. It's huge and unwieldy.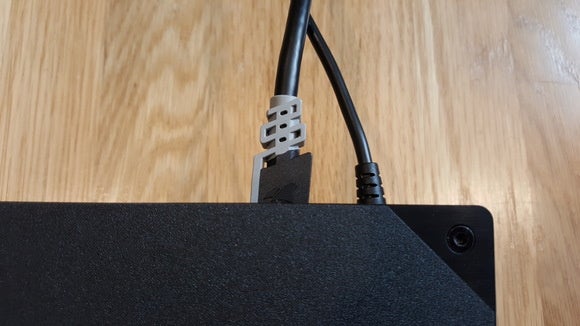 Worse still is the fact that the Lapdog is wired. Now, I've long believed in wired peripherals for my desktop PC. Even as wireless peripherals get faster and more responsive, I still prefer the reliability of wires. No batteries, no signal interference, no worries.
But in the living room, that's not so ideal. To use the Lapdog, Corsair wants you to string a 16-foot cable across your floor, then plug one connection into a 12-volt wall wart and a USB cable into your PC.
Some obvious problems with that are:
It's not very attractive.
It makes setting up the Lapdog a hassle.
It makes putting the Lapdog away a hassle.
It's a nightmarish tripping hazard for anyone with kids or pets or clumsy roommates—especially at night. And because there's no breakaway in the cable, you're liable to screw up the hardware at the same time.
Sure, there are some benefits. You don't lose any performance, nor will you have to deal with interference. You can take advantage of the K65 or the K70's RGB backlighting. You get USB passthrough for headsets or other peripherals. And obviously, you'll never run out of battery life.
But I can't help feeling that the drawbacks outweigh any positives here. Even with the Lapdog already set up in my living room, I found myself reaching for the Turret whenever I had to do anything short of hardcore gaming. Just watching Netflix or playing something like The Warlock of Firetop Mountain? Yeah, the Turret can handle that, and with one-tenth the effort.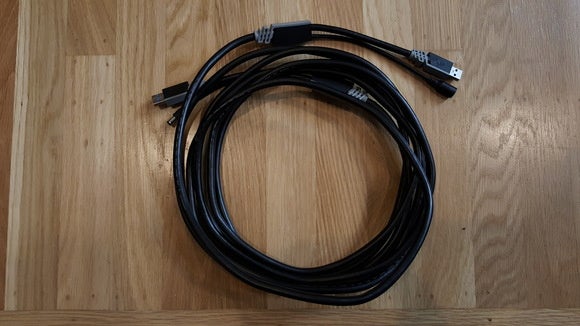 Still, Corsair's in a good position if only because the Turret can't really handle full-on PC gaming. If you think there's any chance you'll play something like Doom on your living-room PC, well, the Turret's just not going to cut it. Ideally there would be some middle ground between the Lapdog and the Turret—something that combines the best aspects of each. But for the moment? It's either go big or go home.
A padded board
The other odd aspect of the Lapdog is that it's essentially just a board with a pillow on it. A very expensive board and pillow.
At $120, I'd forgive the average person for thinking the Lapdog includes everything you'd need to make it work—but no. As any PC gamer is probably aware, peripherals are expensive, and $120 only gets you an empty metal enclosure, plus the 10-foot power/USB cable. You'll need to bring your own keyboard and mouse.
The Lapdog is also very particular about which keyboard you can bring. It doesn't even work with all Corsair keyboards—only, as I mentioned above, the K65 and K70. Got a Corsair K90 sitting around? Out of luck. Corsair Strafe? Nope. Literally any competitor's keyboard? Dream on.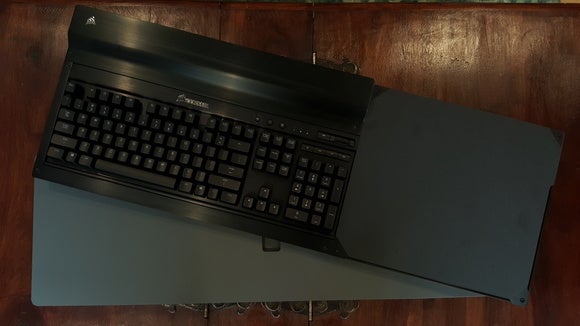 Okay, so you're buying a K65 or K70. Factor that into the price. You could, in theory, move the mouse and keyboard back and forth from your desktop to the Lapdog, but the fact that you must screw the K65 or K70 into place means you'll probably want a dedicated keyboard for the living room. Probably a dedicated mouse too, for convenience.
Corsair does offer bundles that give you both a Lapdog and compatible keyboard, but not (as far as I can tell) at a discount. A bundle with a K65 RGB or a K70 with blue LEDs runs a whopping $250. Two hundred and fifty dollars for the privilege of a keyboard in your living room. Wired.
And that doesn't include a mouse.
I'm loathe to say the Lapdog is overpriced, because there's not really much to compare it to. Razer's Turret is $160 but inadequate for most games, while Roccat's Sova is $200 for the mechanical configuration and slightly smaller. Prices are all over the place here, as manufacturers start to test the waters for this new niche.
Regardless, $250-plus is a lot of money to move your mouse and keyboard into the living room. Probably more, I'd bet, than the average person wants to spend.
Bottom line
The Lapdog is precision-engineered to accomplish exactly what Corsair set out to achieve: zero-compromise PC gaming in the living room. I can't fault the company for that.
I can, however, question the wisdom of that mission. A full-size mechanical keyboard, a large mouse surface, the ability to use off-the-shelf peripherals, zero-latency wired gaming—these are all wonderful ideas in theory, and ones well-suited for the traditional desktop. But in front of my TV? Personally, I'd rather use something that compromises just enough to work around the unique challenges of the living room.
Combine that with the exorbitant price, and I don't think the Lapdog is quite ready to take America by storm. Maybe in round two.