I want Lenovo's innovative new Yoga Book, and here's why. It's not because it's small, thin, and light, making it easy for me to take it anywhere—though that's a plus. It's because Lenovo turned the keyboard side into a large, touch-sensitive surface, adding sketchpad superpowers that make it a tool for creativity as much as productivity. The Yoga Book stretches the boundaries of what a computer can do for you.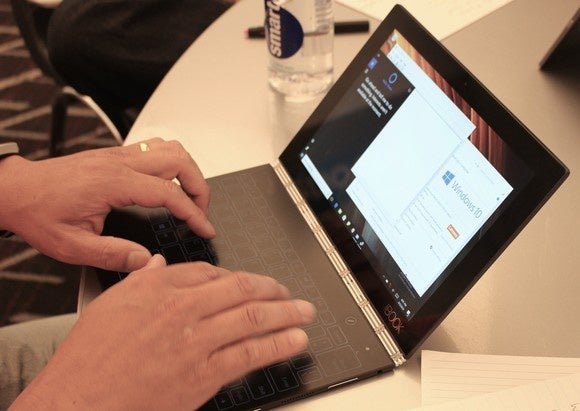 Let's take a closer look at this unique device, which will ship in October and cost $549 for the Windows version (a similar Android version will cost $499). It's small and very slender, just 0.15 to 0.21 inches thin. It sports a 360-degree watchband hinge, much like we've seen on other Yoga laptops.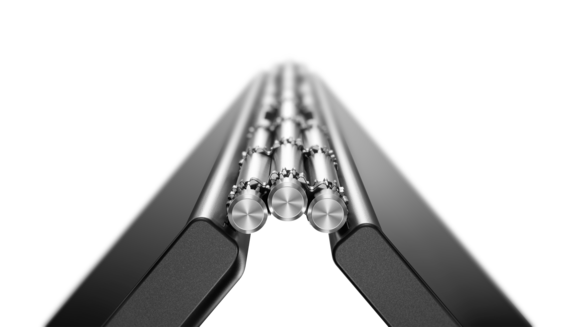 The Yoga Book has a 10.1-inch full HD (1920×1080) IPS touchscreen. That's a lot of pixels for a small display, but remember, the Yoga Book has a greater mission than spreadsheets and documents.
The CPU is an Intel Atom x5 (so no, this isn't a power user's PC), which can be paired with 4GB to 64GB of memory. You also get 64GB of storage and a microSD slot for additional capacity. The 8500mAh battery is specified to last up to 15 hours.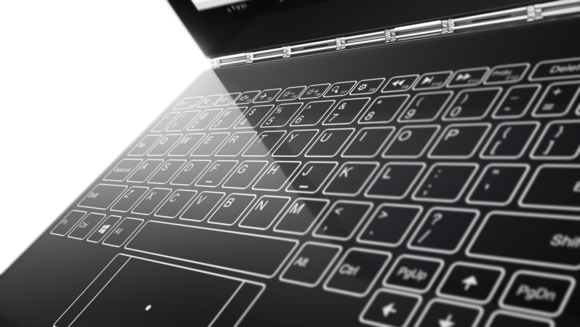 The truly distinctive part of the Yoga Book is its Halo Keyboard, a large touch surface that can be a backlit typing tool or a sketchpad for writing or drawing. I know a lot of people who dislike touchscreen keyboards, but Lenovo has set it up for ease of use. For one, the touch surface is lightly textured glass rather than a smooth, smartphone-like surface, which can get so slippery. Lenovo built in haptic feedback to guide you as you type, plus predictive typing and artificial intelligence so the Yoga Book can improve accuracy over time.
What I love is the ability to tap softly as I type rather than pound keys. After years of using computers, this gives my hands a much-needed break.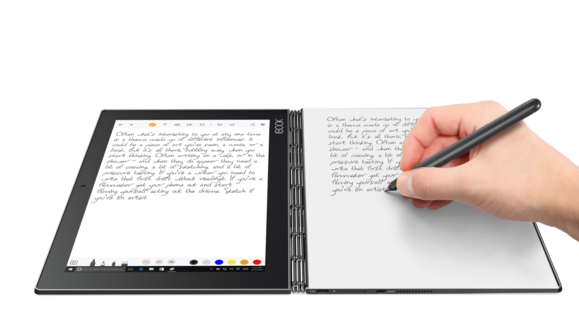 A simple, touch toggle switch turns the Halo Keyboard into a touch surface with 2,048 points of pressure. Pick up the Real Pen that also comes with the Yoga Book and use it as a stylus to draw directly on the touch surface. You can also place paper—any kind of paper—onto the surface to write or draw images that will be automatically digitized using Lenovo's Note Saver app.
The app does not do optical character recognition of written notes, but it can output any notes as PDF files. An included Create Pad attaches magnetically to the touch surface to hold paper, or just give you a softer surface upon which to write. The Real Pen doesn't need batteries—it charges while attached to the Yoga Book—and you can replace its ink cartridges.
I've spent just a little time with the Yoga Book during briefings and am looking forward to trying it for a longer period. Like HP's Sprout, it brings your hands and your creativity into the computing experience, and of course adds the power of digital capture. This is something I could take to a trade show or a museum, or on a trip. It would be light, versatile, and even fun, with better content-creating capabilities than a smartphone but less weight than a traditional PC.