We might be in the age of Windows 10, but for longtime Windows users there's nothing like some of the classic features of earlier versions. Today's tip helps bring an ancient relic to your Windows 10 desktop: the XP-era Quick Launch bar. These instructions are specific to Windows 10, but this tip will work on earlier versions of Windows as well.

Why would I want that old thing?
Look, I'm not going to spend a lot of time trying to convince you of the Quick Launch toolbar's worth. The fact is, ever since Windows 7 made it possible to pin your desktop icons to the taskbar, there isn't a lot of need for Quick Launch.
That being said, there are still good reasons someone would want this. If you're coming from an XP machine that someone had to drag out of your cold (but not quite dead) hands, then the Quick Launch bar may be more comfortable for you to use. Quick Launch also puts the "show desktop" feature in a more obvious place than that little rectangle on the far right of the taskbar.
Bringing back Quick Launch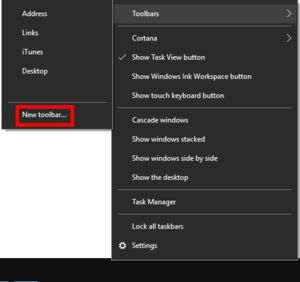 Right-click on an empty space in the taskbar and select Toolbars > New toolbar…
A File Explorer window will open.
Next, click on File Explorer's address bar so that the current file location is highlighted. Then copy and paste the following bit into File Explorer:
%UserProfile%AppDataRoamingMicrosoftInternet ExplorerQuick Launch
Now hit Enter and you'll be in the Quick Launch folder. Click the Select Folder button.
That's it—the Quick Launch toolbar is now on your taskbar. Click the double-arrow icon on the right to bring up a list of the folder's contents on the desktop, or right-click the folder name to open the folder (and get other menu options for the taskbar).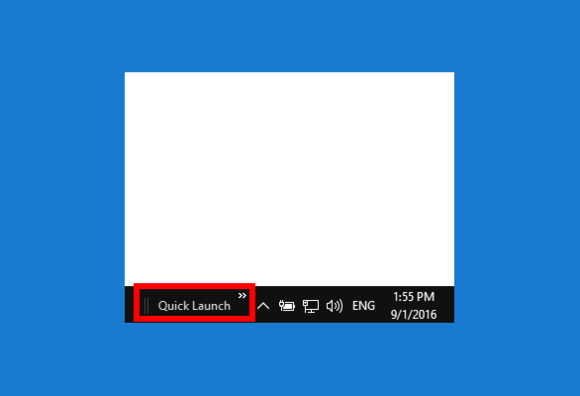 The only problem is that it's in the wrong spot. Instead of being close to the Start button it's on the far right side.
All you have to do is click and drag that double line next to Quick Launch until it's on the other side of the taskbar. This will make the Quick Launch bar extend across half the taskbar. At that point you can shrink it back to normal by clicking and dragging the double line to the right of Quick Launch.
In my tests, I could only get Quick Launch to sit to the right of the Task View button. If you want to get it even closer—and you don't mind losing Task View—right-click the taskbar and select Show Task View button. In fact, if you're using Quick Launch there's really no reason for a separate Task View icon since the Switch between windows feature inside Quick Launch accomplishes the same thing.
You can also hide Cortana by right-clicking the taskbar and selecting Cortana > Hidden to get even closer to that Windows XP vibe.
Now you may have noticed that the Quick Launch bar looks nothing like the original—though it's functionally the same.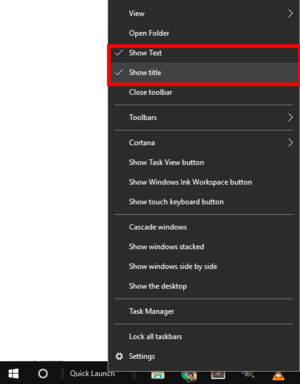 For one thing, there's no Quick Launch icon, just the title "Quick Launch." There's no easy way to bring back the icon, but if you want to get rid of the title, hover over Quick Launch, right-click, and deselect Show title. You may also want to deselect Show text so that each program icon in your Quick Launch bar won't be labeled.
Once you've got it set up the way you want you can expand and contract the Quick Launch bar to show all your icons, a few of the first ones, or only the Quick Launch title—assuming you decided to keep it. You can also add more items to Quick Launch by dragging and dropping program icons from the Start menu.
That's about all there is to bringing the Quick Launch toolbar to Windows 10. It's not for everyone, but for XP fans or anyone else who misses the old way of doing things, bringing back Quick Launch is a great trick to know about.