At a Glance
Expert's Rating
Pros
High-quality 1080p gaming
Incredibly power efficient
Affordable and available
Cons
3GB of RAM isn't very future proof
Limited RAM already requires texture compromises in some games
Our Verdict
EVGA's $200 GTX 1060 3GB Gaming would be a no-brainer over AMD's Radeon RX 470 if it had a bit more memory.
In June, AMD released the $200 Radeon RX 480, the crown jewel in the company's oft-trumpeted campaign to bring high-performance graphics to the masses. While Nvidia was busy releasing powerful, yet pricey cards like the GeForce GTX 1070 and GTX 1080, AMD said its focus was squarely on everyday gamers. VR isn't just for the 1 percent, a revolution-themed ad campaign barked.
A mere week after the Radeon RX 480 launched, Nvidia surprised everyone by announcing its own affordable GeForce GTX 1060.
The GTX 1060 delivered a similar, yet slightly better experience than the RX 480: It was slightly faster at gaming, slightly faster in VR, slightly quieter, and a hell of a lot more power-efficient. But Nvidia's card is also not-so-slightly more expensive, starting at $250. Between the extreme price sensitivity in the $200 segment and the fact that the RX 480 already delivers no-compromises 1080p gaming, we actually recommend most people pick up the Radeon over Nvidia's card—even though the 6GB GeForce GTX 1060 is technically superior on paper.
Mentioned in this article
GeForce GTX 1060 (3GB)
There's a hiccup in all of this, though. The cheaper 4GB versions of the Radeon RX 480 have been extremely difficult to find, and $200 models based on the reference design are virtually nonexistent. People looking to buy an RX 480 for the $200 price point AMD trumpeted have been sorely disappointed, as the enthusiasts on the r/amd subreddit are quick to point out.
Enter Nvidia's 3GB GeForce GTX 1060—a cut-down variant that also starts at $200. It's on.
Meet the 3GB EVGA GTX 1060
The 3GB version of the GTX 1060 is mostly the same as the full-fat 6GB version, but with a couple of key differences.
Obviously, the memory's been halved. But more insidiously, the 3GB GTX 1060 actually disables one of the GP106 GPU's ten streaming multiprocessors. That reduces the graphics card's CUDA cores to 1152, down from the full-fat 6GB model's 1280. Add some other under-the-hood changes, and the 3GB GTX 1060 becomes a subtly—yet materially—different GPU than the 6GB GTX 1060. All this may have been necessary to hit the $200 price point, but calling this card a "GTX 1060" seems destined to confuse buyers who don't dig into 10-page performance reviews. Calling it a "GTX 1050 Ti" or "GTX 1060 LE" could've avoided all that.
Alas. On the plus side, Nvidia says it won't mix and match the differing GPU's memory capacities. A 6GB GTX 1060 will always have the full 14nm GP106 "Pascal" GPU, while any 3GB versions you see will always pack the pared-down version of the processor.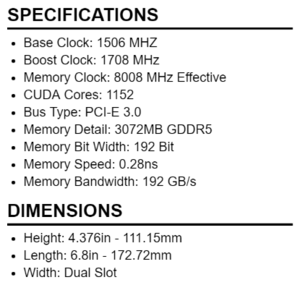 To test the new configuration's capabilities, EVGA sent us an EVGA GTX 1060 3GB Gaming ($200 on Amazon) for review. You couldn't ask for a more ideal paragon: The card sticks to the GTX 1060 3GB's reference speeds, feeds, and pricing. Ports-wise, the EVGA GTX 1060 3GB Gaming packs the stock DVI-D, HDMI 2.0b, and trio of DisplayPort 1.4 connections. It doesn't include an SLI connector, as Nvidia decided not to bake multi-card setup support into the GTX 1060, presumably because a pair of GTX 1060s in SLI would likely outperform the $600-plus GTX 1080, but for just $500, and Nvidia doesn't want that happening.
Nvidia didn't create a Founders Edition "reference" version of the GTX 1060 3GB, and EVGA equipped this diminutive 6.8-inch-long graphics card with a single-fan version of the company's ACX 2.0 custom cooler. Pricier options upgrade to a more efficient ACX 3.0 model, but hey—ACX 2.0 excelled on EVGA's GTX 970 and GTX 980, albeit in dual-fan setups. This cooling solution is nothing to sneeze at. The card pulls its 120=watt TDP through a single 6-pin power connector.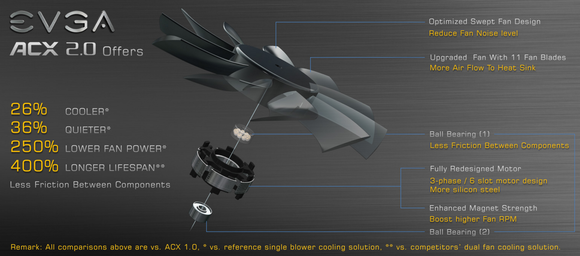 Of course, the Pascal architecture-based GPU in the heart of the EVGA GTX 1060 3GB Gaming enables all sorts of fancy features found throughout the GTX 10-series lineup. That includes key additions like simultaneous multi-projection and async compute improvements, as well as handy extras like Ansel screenshots, Fast Sync, GPU Boost 3.0, and more. Importantly for this particular model, Pascal-based video cards also pack Nvidia's superb fourth-generation delta color compression to ease memory demands. Hit those links for details on all the goodies, which we covered in-depth in our GTX 1080 review.
And now to answer the most important question about the GTX 1060 3GB: How does it stack up against AMD's RX 400-series cards?
Next page: System configuration and initial performance results
Our test system
We tested the EVGA GTX 1060 3GB Gaming on PCWorld's dedicated graphics card benchmark system. Our testbed's loaded with high-end components to avoid bottlenecks in other parts of the system and show unfettered graphics performance. Key highlights:
Intel's Core i7-5960X ($1,016 on Amazon) with a Corsair Hydro Series H100i closed-loop water cooler ($97 on Amazon).
An Asus X99 Deluxe motherboard ($360 on Amazon).
Corsair's Vengeance LPX DDR4 memory ($65 on Newegg), Obsidian 750D full-tower case ($155 on Amazon), and 1,200-watt AX1200i power supply ($308 on Amazon).
A 480GB Intel 730 series SSD ($248 on Amazon).
Windows 10 Pro ($199 on Amazon).
We're comparing the $200 EVGA GTX 1060 3GB Gaming against its direct competitors: AMD's RX 480 and the XFX Radeon RX 470 RS Black Edition True OC ($210 on Amazon), as well as the original 6GB GTX 1060. (We're testing the $240 8GB version of AMD's RX 480 card, though the 4GB model offers virtually identical performance.) As the full-fat GTX 1060 offers performance that falls somewhere between the older GTX 980 and GTX 970, we've also tossed in results from EVGA GTX 970 FTW, a highly overclocked GTX 970 custom card. We're not including results from AMD and Nvidia's last-gen $200-ish graphics cards, as our original GTX 1060 review established that this new generation blows those older models away.
We benchmark every game using the default graphics settings unless otherwise noted, with all vendor-specific special features—such as Nvidia's GameWorks effects, AMD's TressFX, and FreeSync/G-Sync—disabled. Based on the GTX 1060 3GB's target performance we're looking at 1080p and 1440p results today.
Test 1: The Division
The Division, a third-person shooter/RPG that mixes elements of Destiny and Gears of War, kicks things off with Ubisoft's new Snowdrop engine.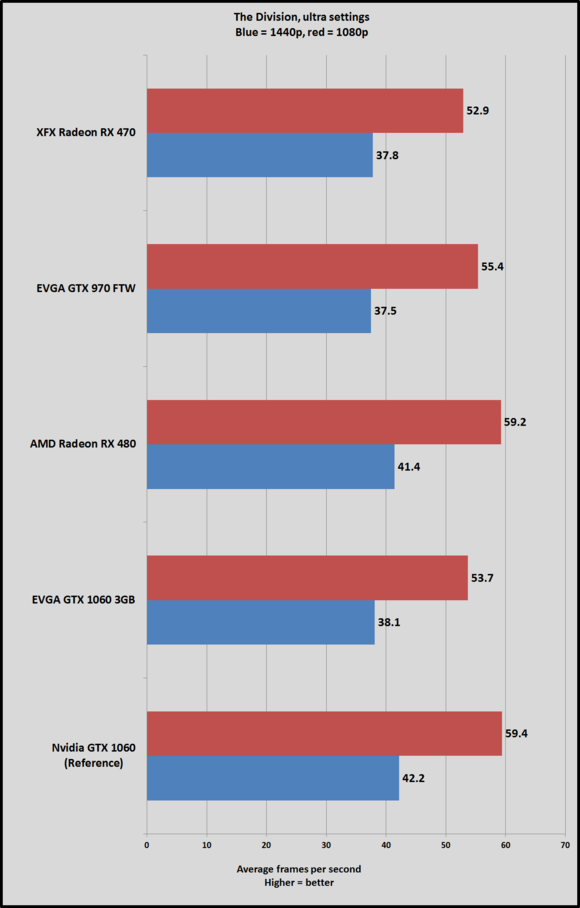 The effects of the cut-down GPU start to show themselves immediately, as the EVGA GTX 1060 3GB Gaming pumps out about nine percent fewer frames than its full-fledged cousin. That makes sense, considering one of the GP106 GPU's ten streaming multi-processors is disabled in this model. That pulls the 3GB GTX 1060 away from the 6GB model's no-compromises 1080p performance at 60fps. It's a smidge faster than AMD's Radeon RX 470, though.
Next page: Hitman
Test 2: Hitman
Hitman's Glacier engine heavily favors AMD hardware. It's no surprise; Hitman's a flagship AMD Gaming Evolved title, complete with a DirectX 12 mode that was patched in after the game's launch.
Important note: Hitman automatically caps the game's Texture Quality, Shadow Maps, and Shadow Resolution at Medium on cards with less than 4GB of onboard memory, meaning the EVGA GTX 1060 3GB is limited to those settings out-of-the-box. We overrode the memory safeguard to run the benchmark with those features set to the highest possible setting, to match the legion of 4GB graphics cards we're comparing against this new GeForce variant. That said, the benchmark didn't exhibit excessive stuttering or any other frame rate concerns.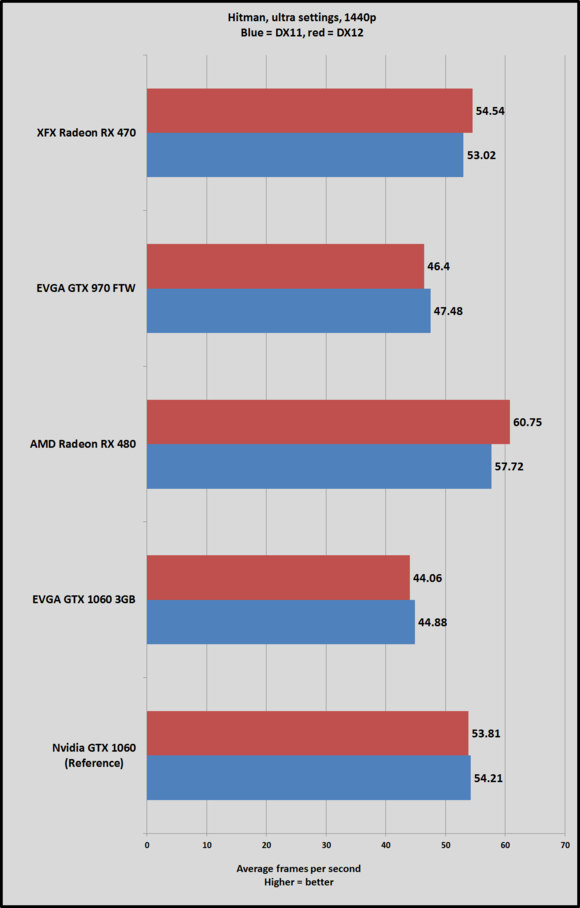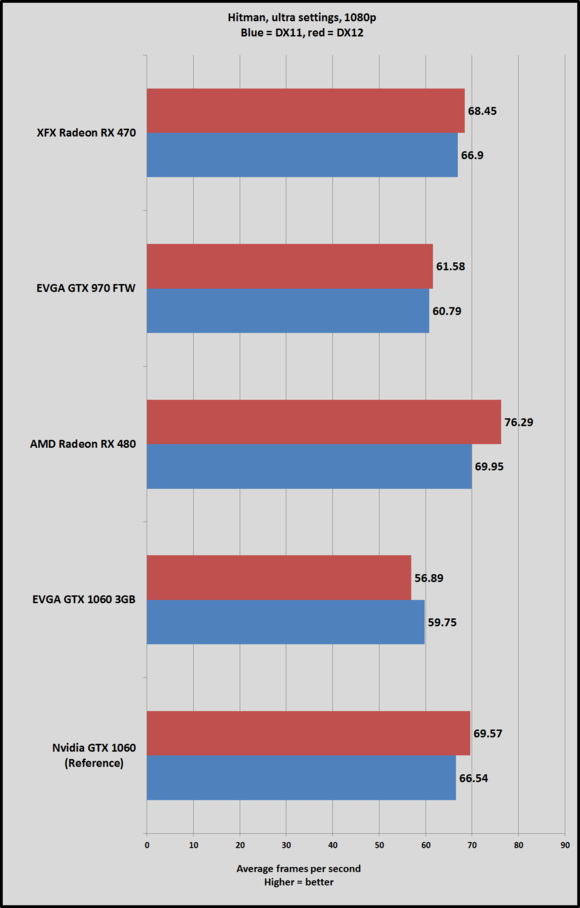 As expected given the game's hearty Radeon tendencies, both of the GTX 1060s are outpunched by the RX 480 and even the RX 470. The GTX 1060 3GB also loses a few scant frames in DX12 mode. That's likely due to the limited memory, especially since the GTX 970 and its 4GB of RAM fails to see a similar dip moving from DX11 to DX12. DirectX 12 loves RAM.
That said, the EVGA GTX 1060 3GB Gaming still hovers around the 60-fps gold standard with all the graphical settings cranked at 1080p.
Next page: Rise of the Tomb Raider
Test 3: Rise of the Tomb Raider
Whereas Hitman adores Radeon GPUs, Rise of the Tomb Raider performs much better on GeForce cards. It's also the single most drop-dead gorgeous PC game I've ever laid my eyes on. We only tested the game's DirectX 11 mode.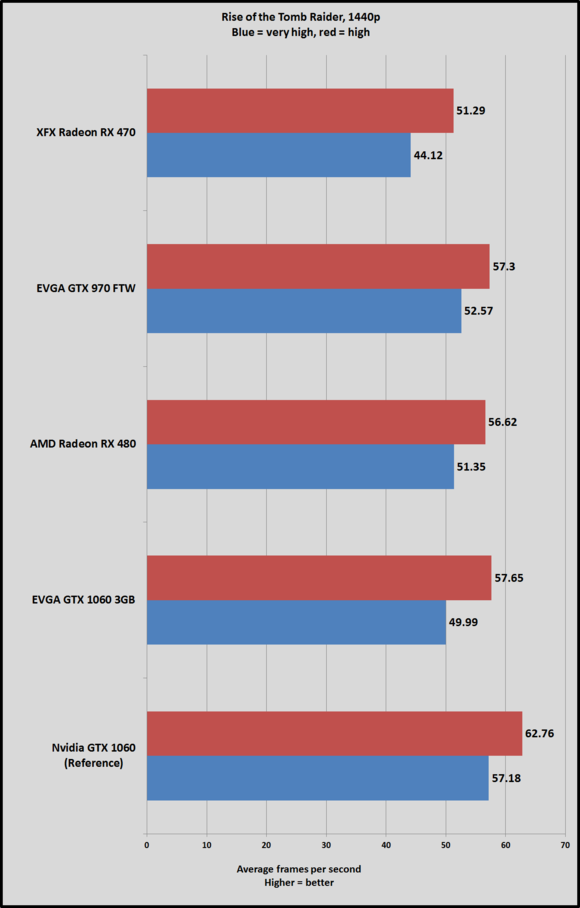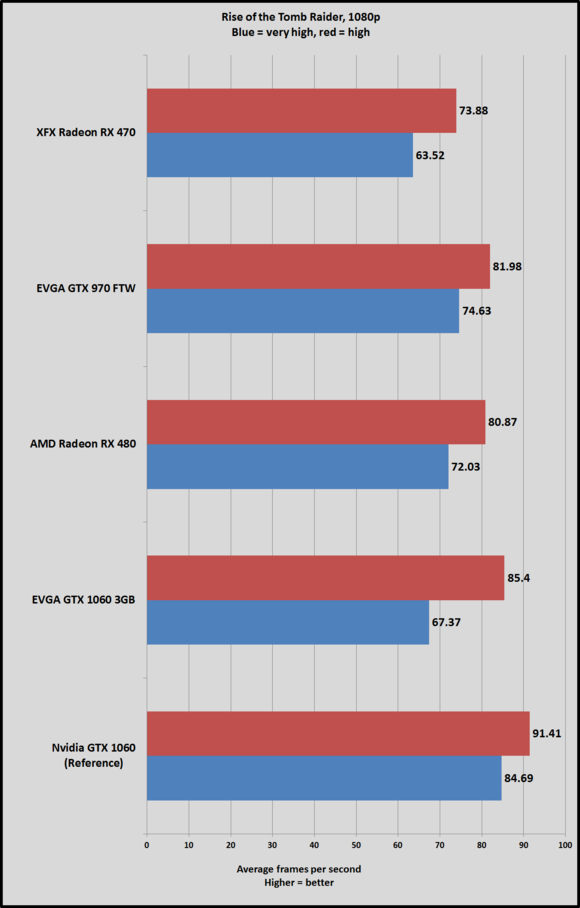 The shaved-down SMPs create a sizeable performance difference between the two GTX 1060 models here. The EVGA GTX 1060 3GB nevertheless opens a sizeable lead over the RX 470, and even manages to outpunch the 8GB Radeon RX 480 when you reduce the graphics options to High—at least in raw frames per second.
The minimum frame times tell a different story when you bump things up to Very High settings. Rise of the Tomb Raider warns that the game needs 4GB+ of memory when you do so, and indeed, the EVGA GTX 1060 3GB Gaming saw minimum frame rates plunge to sub-10fps rates at the highest detail settings. That's probably why the card fails to topple the Radeon RX 480—or the older GTX 970—at Very High.
Next page: Far Cry Primal
Test 4: Far Cry Primal
Far Cry Primal is yet another Ubisoft game, but it's powered by a different engine than The Division—the latest version of the long-running and well-respected Dunia engine.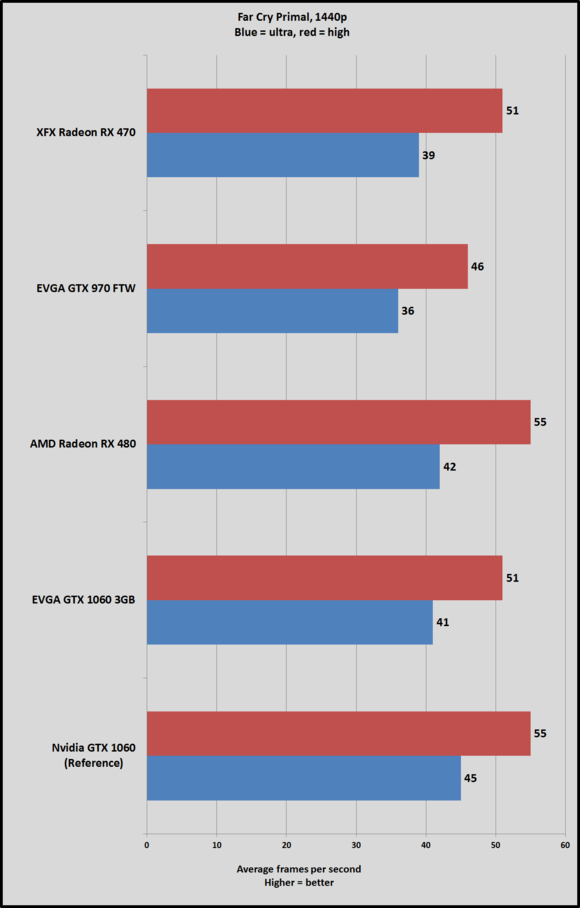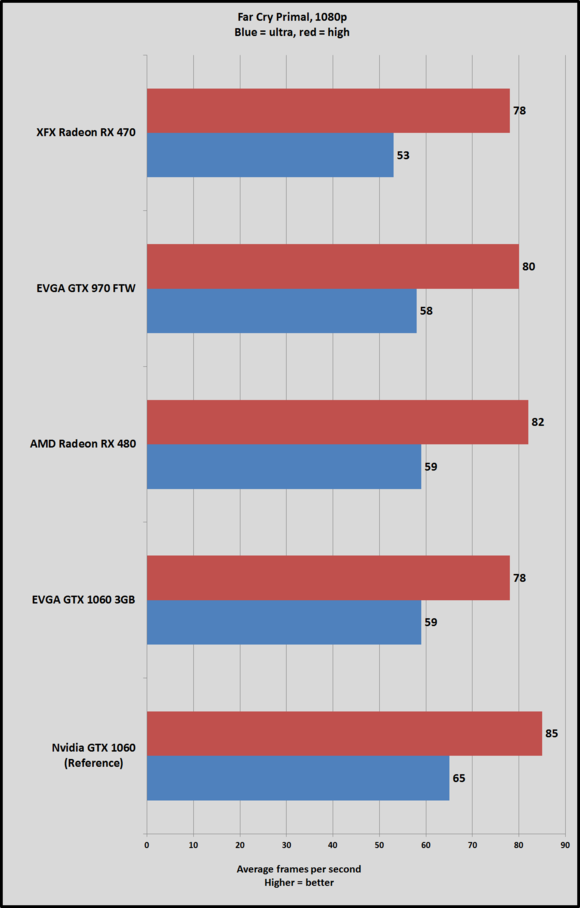 Here, we see the opposite behavior compared to Rise of the Tomb Raider. While the EVGA HTX 1060 3GB Gaming's in a dead heat with the RX 470 at High settings, it pulls ahead to match the RX 480 at Ultra.
Next page: Ashes of the Singularity
Test 5: Ashes of the Singularity
Ashes of the Singularity, running on Oxide's custom Nitrous engine, was an early standard-bearer for DirectX 12. Many months later it's still the premier game for seeing what next-gen graphics technologies have to offer. (It's a fun real-time strategy game, too!) The performance gains it offers with DX12 over DX11 are eye-opening—especially when running on Radeon cards.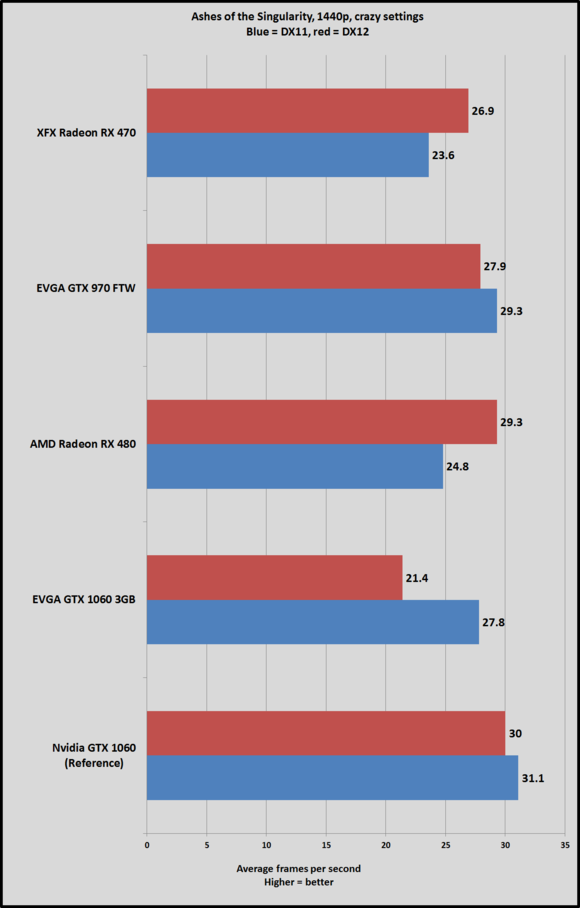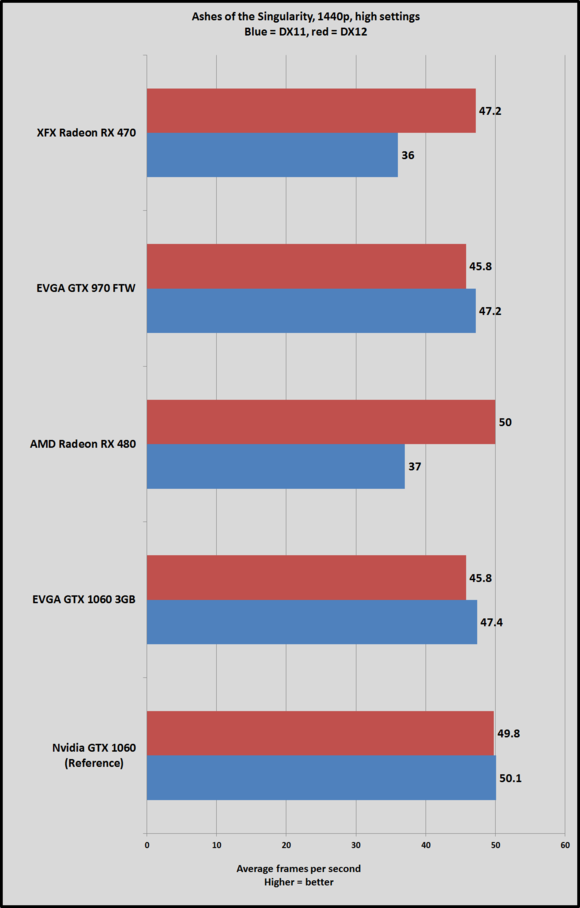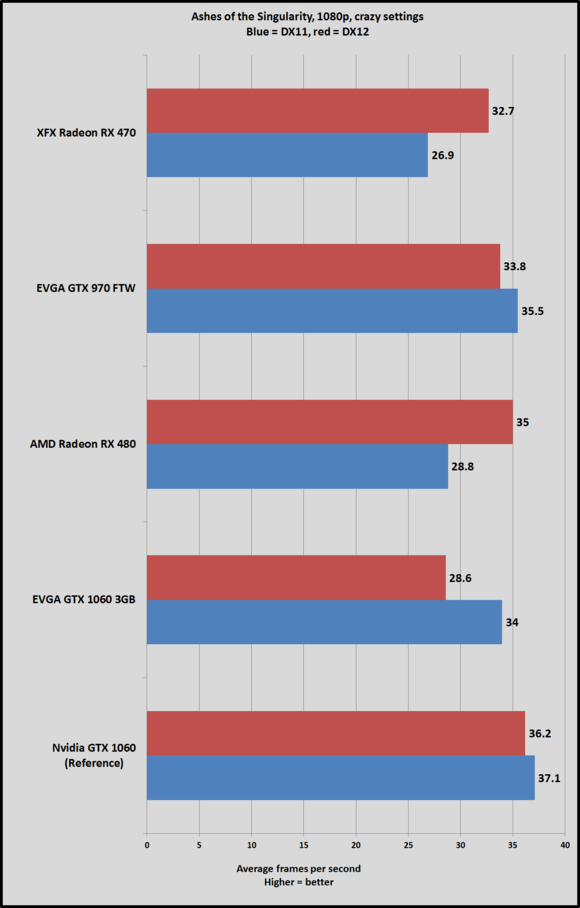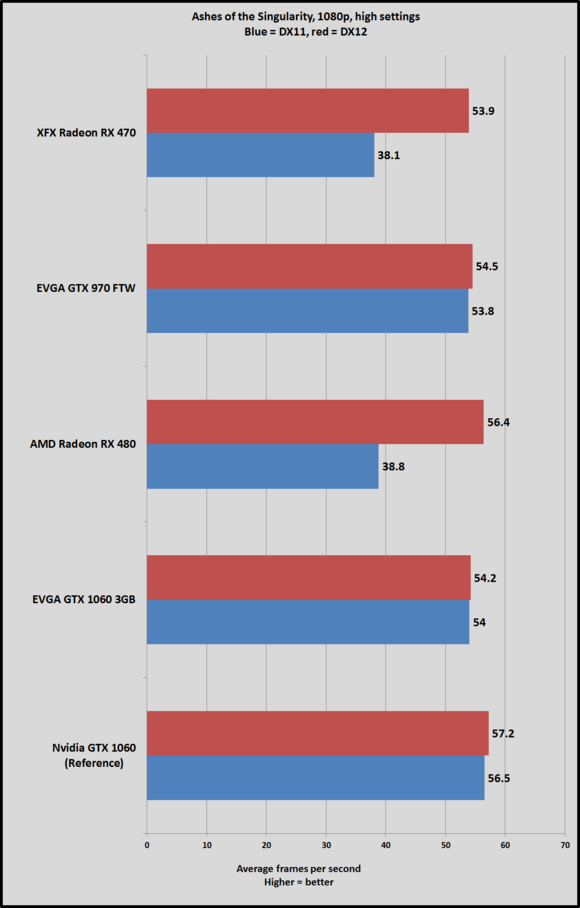 The EVGA GTX 1060 3GB Gaming's average frame rate drops when you activate DirectX 12, especially at the high-end Crazy graphics preset (and likely because of its limited memory). Conversely, the average frame rate for Radeon cards skyrockets—though its DX11 results are downright poor at best.
That said, when you look solely at the peak performance for comparable cards—DX11 for the GTX 1060 3GB, and DX12 for the Radeon RX 470—then the GeForce offerings actually come out very slightly ahead, in a way you'd never be able to actually see on-screen.
Next page: 3DMark
Test 6: Synthetic benchmarks
We also tested the RX 470 and its rivals using 3DMark's highly respected DX11 Fire Strike synthetic benchmark, which runs at 1080p, as well as its brand-new Time Spy benchmark, which tests DirectX 12 performance at 2560×1440 resolution.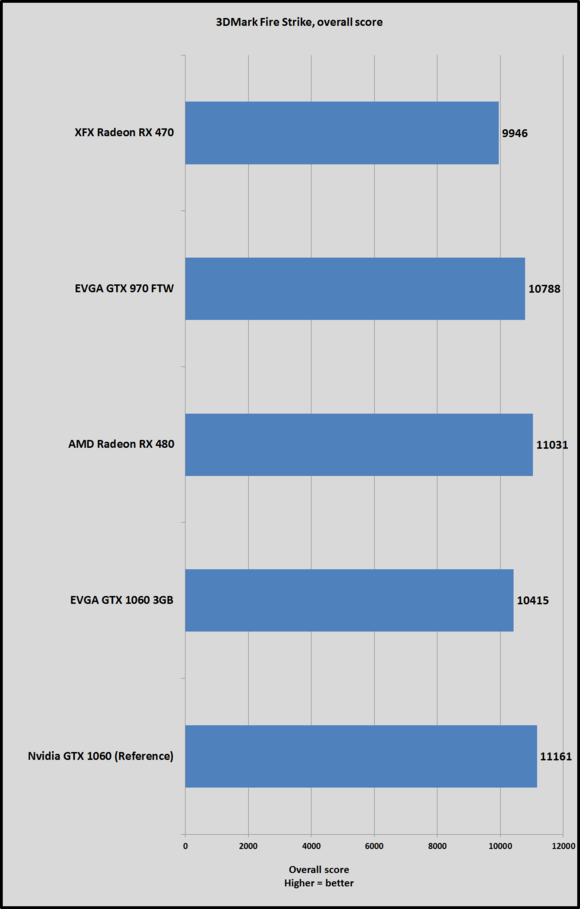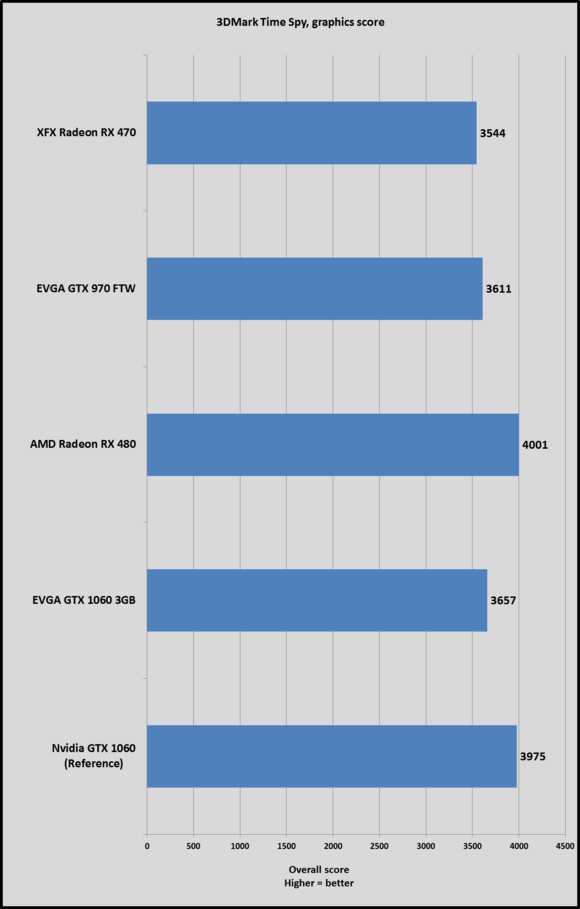 Everything falls about where you'd expect. The Radeon cards perform better in Time Spy's DX12 test due to their dedicated asynchronous shader hardware.
Next page: Power and heat
Test 7: Power
We test power under load by plugging the entire system into a Watts Up meter, running the intensive Division benchmark at 4K resolution, and noting the peak power draw. Idle power is measured after sitting on the Windows desktop for three minutes with no extra programs or processes running.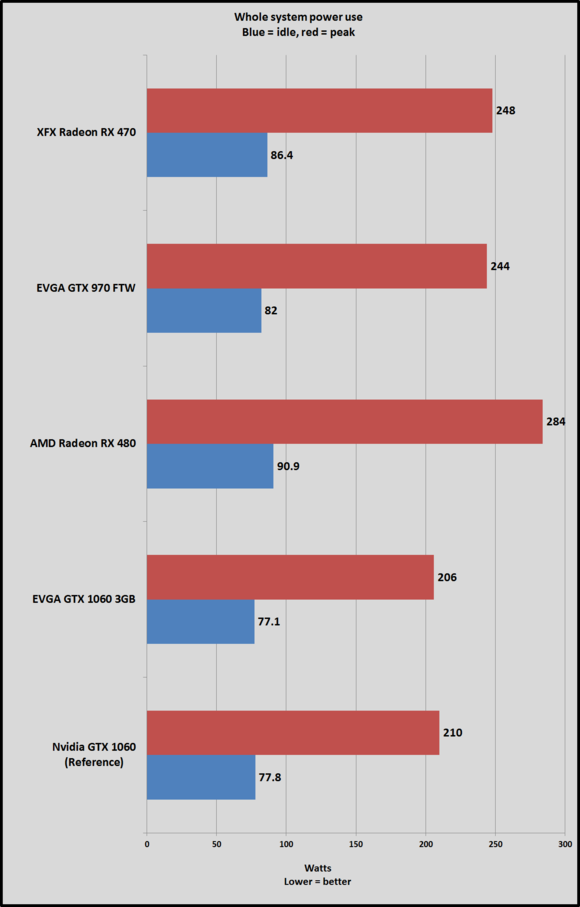 The 6GB GeForce GTX 1060 was already a model of power efficiency. This version, with a cut-down GPU and 3GB less RAM, is just as much of a marvel. AMD's Polaris architecture made great strides forward in power efficiency, but Nvidia's Pascal design is still head-and-shoulders better in that regard.
Test 8: Heat
We test heat during the same intensive Division benchmark, by running SpeedFan in the background and noting the maximum GPU temperature once the run is over.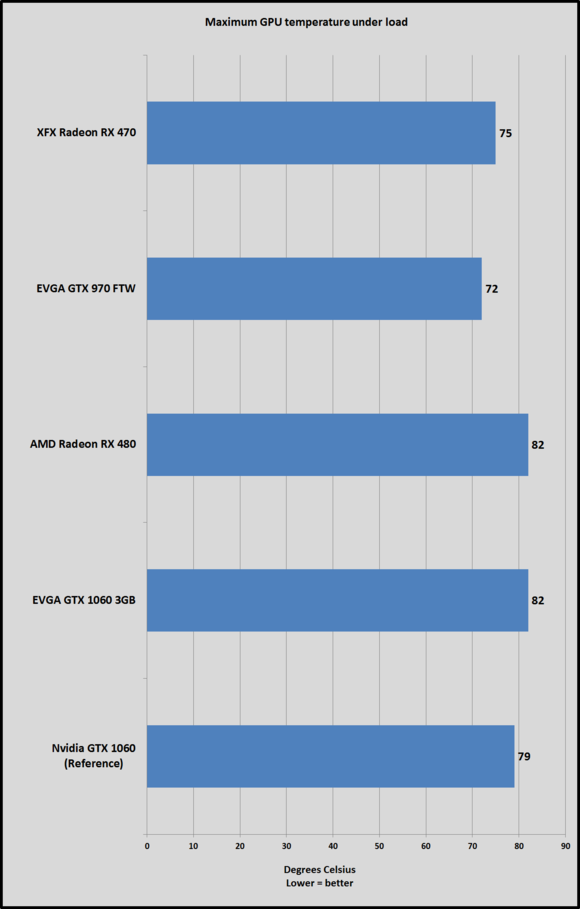 The EVGA GTX 1060 3GB Gaming runs hotter than the 6GB GTX 1060 Founders Edition, but that's no surprise. This particular design opted for a shorter length, so it only has a single fan compared to the usual pair on full-length cards. That's neither good nor bad; it's just different. On the plus side, the card runs quiet enough while you're gaming—that single fan isn't blaring to compensate for its lack of a buddy.
Next page: Bottom line
Bottom line
The $200 EVGA GTX 1060 3GB Gaming is an interesting graphics card being released into an interesting market.
In theory, there's no reason to buy one over a $200 4GB Radeon RX 480, period. But in reality, $200 reference versions of the RX 480 have been nonexistent since the card's initial launch in June. Heck, any 4GB RX 480s are borderline mythical. The MSI Radeon RX 480 Gaming X is the only 4GB model available on Newegg right now, and it costs $250. AMD's partners have focused almost exclusively on pricier 8GB versions.
Mentioned in this article
GeForce GTX 1060 (3GB)
Instead, the Radeon RX 470 has assumed the 4GB RX 480's place. While its theoretical starting price is $180, you'll find a handful of models starting at $200 in reality, with most in-stock custom-cooled models going for $230 or more. Most 3GB GTX 1060 cards, meanwhile, sell for less than that.
If you can find an affordable 4GB Radeon RX 480, buy it. AMD's card offers superior performance and more memory than Nvidia's $200 challenger, which makes it a viable option for more intensive 1440p resolution and VR gaming. Don't hold your breath, though.
The 3GB GTX 1060's true rival is AMD's Radeon RX 470. Both deliver damned fine 1080p gaming experiences—though not quite the same no-compromises, 60-fps 1080p gaming as the RX 480 or 6GB GTX 1060.
At first blush, the 3GB GTX 1060's slightly higher performance, incredible power efficiency, and lower street pricing should make it the easy pick. And it would be a no-brainer—if Nvidia's cut-down card had 4GB of RAM like the RX 470.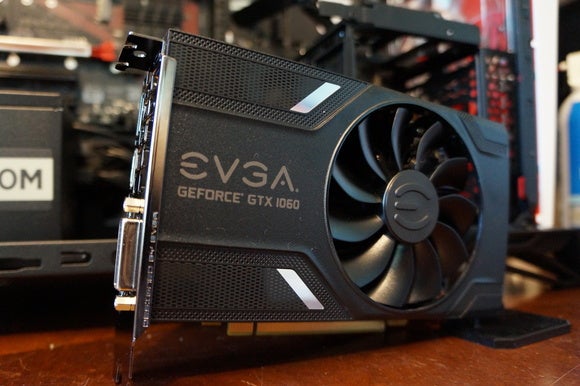 Memory demands are only rising in this age of DirectX 12 and modern consoles. While Nvidia's stellar memory compression helps, this new GTX 1060's 3GB of RAM doesn't feel very future-proof. It's enough for top-tier 1080p gaming at 60 fps in the here and now, but the limited capacity may force you to dial down textures and avoid memory-hogging features like MSAA anti-aliasing going forward. You can already see the limits of the 3GB capacity in our most grueling Rise of the Tomb Raider and Hitman tests. (Though to be fair, Ultra textures and extreme MSAA are better suited for higher resolutions than 1080p.)
For anyone stuck as close to a $200 budget as possible, the GeForce GTX 1060 3GB is the best option available today because RX 480s at AMD's trumpeted $200 don't exist (I'm going to keep saying that whenever I get the opportunity!). EVGA's GTX 1060 3GB Gaming hits that price right on the nose, and offers all the advantages listed above. It runs a little warm on account of its itty-bitty length, but not uncomfortably so, and the card isn't loud.
If you plan to hold onto your card for several years and are worried about long-term viability, you may want to opt for a Radeon RX 470 over the GTX 1060 3GB. With most 470s selling for over $200 when they're available, however, another option is to save your pennies for another month to snag a 6GB GTX 1060. It's a lot more future-proof, opens the door to better gameplay experiences, and several models can actually be found for the card's $250 MSRP.