It's been mere months since the last iterations of Razer's Blade and Blade Stealth laptops, but we're already getting a refresh of each. The revolving door of technology keeps swinging 'round, eh?
The Blade Stealth is the more modest of the two upgrades, with a bump to the CPU and battery, plus additional options for memory and storage. Intel's newly-official Kaby Lake processor sneaks into the mix, replacing the 2.5GHz Core i7-6500U with the new 2.7GHz i7-7500U. The battery's been increased to 53.6 watt-hours, with Razer now touting up to nine hours per charge.
And for those who want to sneak a bit more performance out of their not-really-built-for-performance-anyway ultrabook, you can now snag the Stealth with up to 16GB of RAM and up to a terabyte of PCIe storage. Other than that? The Blade Stealth's essentially the same machine we reviewed earlier this year. Same 4K screen, same miniature-MacBook look, same black-and-green color scheme, same value proposition. It's pretty damn nice.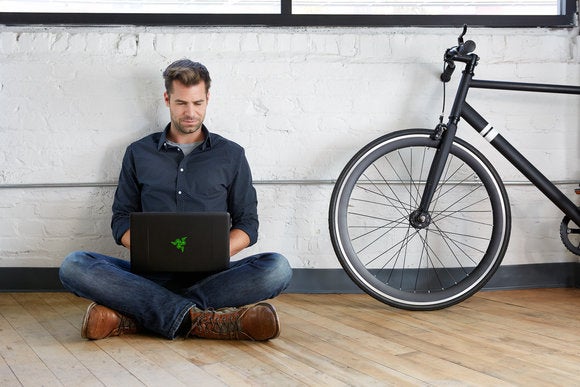 The Stealth's big sibling, the 14-inch Blade, gets an upgrade too—though no Kaby Lake yet. Quad-core Kaby Lake doesn't hit until early 2017. Nvidia's latest mobile GPUs are here though, and the Stealth upgrades from the old 970M to the new 1060.
Don't be fooled by the "downgrade" in numeric designation. See my colleague Gordon Ung's article for more info, but here's the gist: That "M" was important, and Nvidia's positioning the 1060 (no "M") as the successor to the 970M (with the 1070 subbing for the 980M and the 1080 subbing for laptops that used a desktop 980 part).
We'll have to run our own benchmarks to see how much an improvement Nvidia's new Pascal architecture makes, but Razer's claiming "a performance increase of more than 40 percent." That's huge.
Just as interesting, to me: Razer's offering a 1080p screen on the Blade, in addition to the standard 4K model. For years now I've complained that the Blade's 4K screen is overkill—nobody's running games at 4K on a laptop, least of all a laptop with a 970M-grade GPU. A native 1080p option is much smarter for people who want the Blade as a pure gaming laptop, though those who use the Blade for creative work might still opt for the 4K display.
And…that's it. Again, these are pretty modest upgrades that mostly just swap in the new for the old. Expect another Blade refresh in early 2017 to take advantage of Kaby Lake, and the cycle continues.