The most well-stocked arsenal of productivity tools won't help you get a single thing done if you can't overcome your own inertia. That's why a number of developers have started gamifying their apps. Study after study has shown that adding game mechanics to activities motivates participation and increases engagement.
No wonder then that productivity apps have been eager adopters of these techniques. Here are four that put the fun in getting things done.
The Email Game
The only thing more challenging than managing email overload is deciding on the best method to do so. While there are many effective techniques and assistant apps, each has its own learning curve. The Email Game offers a quicker, more entertaining option.

This web app turns email processing into a game of beat the clock. When you log in with your Gmail account, Email Game fetches the first 30 messages in your inbox one at a time. For each message you get 45 seconds to choose an action: reply, reply all, forward, boomerang, skip, archive, move, or delete.
"Good" actions such as labeling and archiving earn you points, but skipping and other "bad" actions take points away. After each session you a get a detailed report that includes your score, your email actions, and how you stack up against other users. It's the most fun you'll ever have getting to inbox zero.
Price: Free
Productivity Challenge Timer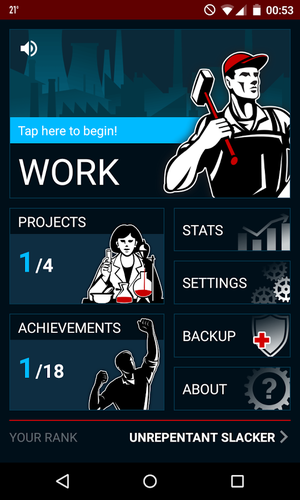 The Pomodoro Technique is one of the most popular and effective productivity methods out there. The idea is to work in short uninterrupted bursts of 25 minutes followed by five minute breaks to refresh and refocus your brain.
Pomodoro timer apps abound, but Productivity Challenge Timer for Android offers some unique twists. Unlike a lot of similar apps, it doesn't have a pause button, urging you to diligently stick to your task even when your bladder is ready to burst.
Then there is the gamification: Every user starts as an "Unrepentant Slacker" and their rank rises or falls depending on their performance. Over time, this provides valuable insights into your work habits as the app tracks and analyzes your Pomodoro sessions, revealing your longest productivity streaks and most productive times of day.
Price: Free, with in-app purchases
Habitica
With its tagline "Motivate yourself to do anything," Habitica throws down the gauntlet. Literally, it seems; this app—available for iOS, Android, and on the web—incorporates all the trappings of fantasy role-playing games (monsters, armor, swords) into a battle for productivity.
You start by creating an avatar, then add three types of goals: habits (routines you want to adopt, like taking the stairs or eating less junk food), dailies (regularly repeated tasks), and to-do's. You gain points and experience by completing tasks, but your character's health takes a hit each time you fall short.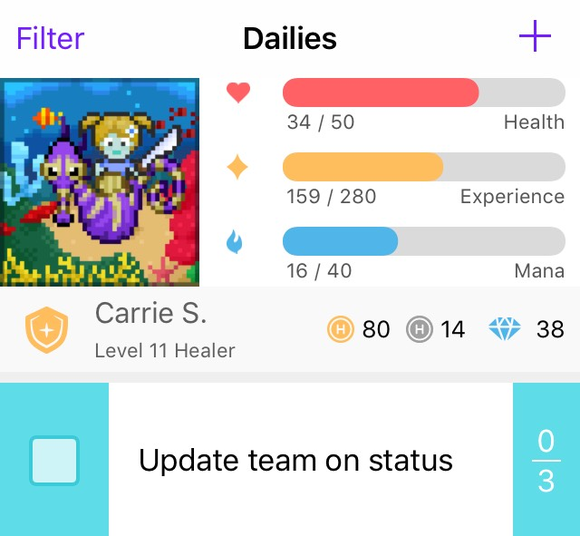 With your gold, you can upgrade your weapons and armor, which boosts your character's attribute. The RPG elements increase as you level up: You get to choose a character class; you're rewarded with special, more valuable items when you complete tasks; and you can even recruit friends into a guild to batter productivity monsters together.
Price: Free, with in-app purchases
Challenge Accepted
Like Habitica, Challenge Accepted takes its cue from the sword-and-sandal set to spur you to new productivity heights. You begin by choosing a suitable heroic name, character race, class, alignment, and skills. Then you start adding to-do's to your Quest Log. Each to-do is a "task," a group of tasks toward the same goal is a "quest," and a goal that requires multiple quests is designated an "Odyssey."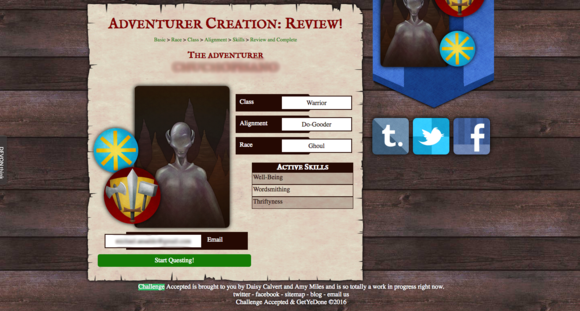 Each time you complete a task, you select the skill and attribute you used from their respective drop-down menus and assign the task a difficulty, which will determine how many experience points you get. Obviously, there is margin for fudging facts here. To dissuade you from giving yourself max EXP for every quest to catapult to the top of the tournament rankings, Challenge Accepted asks you to sign an oath of fealty to to its honor code.
Challenge Accepted is still in beta, and its gameplay is pretty intricate, but the site provides a Hero Handbook full of explanations, rules, and tips that's required reading.