Rumors of a mid-generation PlayStation 4 upgrade dubbed Neo have been circulating for almost a year now, making it maybe the worst-kept secret of the games industry. Today we can finally stop dancing around with codenames and slap a name on the machine—the PlayStation 4 Pro.
It looks like Dr. Frankenstein designed a console. When they whipped the curtain off at the end I laughed—they took the two-tier PS4 and glued a third tier on top of it. Absurd.
But that's outside. Inside, the key to the PS4 Pro is an upgraded graphics processor. Sony's Mark Cerny says the PS4 Pro relies on AMD's new Polaris GPU architecture, though he also touted features "from beyond that." What that entails specifically, I have no idea. Given the price-to-performance ratio of AMD's Polaris-based RX 400-series graphics cards, however, we should at least see a decent boost in the PS4's power. (The original PS4 had power equivalent to a mid-range Radeon 7850.)
PS4 Pro to take PS4 experience to new heights. GPU based on elements of AMD's Polaris tech, and some beyond #PS4Pro pic.twitter.com/BVhkcGHyMQ

— PlayStation (@PlayStation) September 7, 2016
//
On paper it certainly looks like a good bump. Sony's spec sheet lists the new PS4 Pro as having 4.2 TFLOPS of performance. For comparison, the Xbox One is rated at 1.31 TFLOPS while the original PS4 hits 1.84 TFLOPS. The specs would easily make the new PS4 Pro the most powerful console in town until Microsoft's Project Scorpio hits store shelves with its 6 TFLOPS GPU. Microsoft's updated Xbox though, won't be released until the end of next year. And yes, PC gamers, if you want to feel superior, the new Nvidia GeForce Titan X Pascal will hit 11 TFLOPS.
AMD graphics TFLOPS PS4: 1.84 RX 460: 2.2 PS4 Pro: 4.2 RX 470: 4.9 RX 480: 5.8 Xbox Scorpio (unknown AMD GPU, Vega?): 6

— Brad Chacos (@BradChacos) September 8, 2016
And there are a few more solid features to latch onto. Cerny talked at length about 4K and HDR—features that are familiar by now to most PC gamers. Unlike the original PS4 and the new PS4 Slim, the PS4 Pro has the ability to run at native 4K and use (or abuse) the super-saturated look of HDR, provided you have a compatible TV.
Whether developers will use those abilities? We'll see. Sony's basically leaving it up to developers to take advantage of the new hardware. Older PS4 games will need support for 4K and HDR patched in. Some upcoming lower-end games will probably run at 4K native. Others may use the PlayStation 4 Pro's extra oomph to hit higher frame rates at more standard resolutions.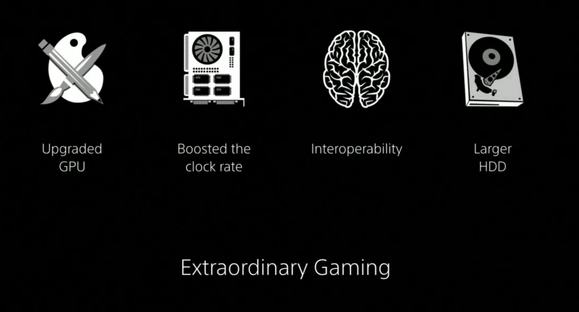 But you can expect tentpole titles like Call of Duty and Battlefield 1 and Whatever The Next Naughty Dog Game Is to probably run at 1080p, add in a bunch of graphical bells and whistles, and upscale to 4K on the Pro. Why? Because invariably a new console means a new step in the graphics arms race, and 4K on its own is just not as immediately impressive as a lot of other features that have hit the PC in the past few years—better ambient occlusion, anti-aliasing, and the like.
I expect to see more developers concentrating on those features, which are already baked into the PC port, than allowing the game to waste power trying to render at native 4K. Especially given that the current top-end Polaris GPU, the Radeon RX 480, is much better suited to no-compromises 1080p gameplay or even 1440p resolution than 4K anyway.

The Pro is maybe most important for the PlayStation VR headset, which releases this fall. PSVR games look pretty rough running on the original PS4 (though better than you'd maybe expect) and the Pro should help developers increase both the resolution and framerate for Sony's entry-level VR proposition. A VR-ready device at console prices? Not too bad.
And what is that price? Credit to Sony—or maybe AMD and its budget-friendly Polaris lineup—but the PS4 Pro is cheap too. It's slated to launch November 10 for $399, giving Sony a whole year's head start on Microsoft's Project Scorpio.
It's the definitive version (at least for the next three years) of the PlayStation 4, ever-so-slightly more future-proofed than the one that launched in 2013. And maybe you have no interest in the PS4, or in console gaming. That's fine—you're still going to benefit. Beefier consoles means better PC games. Get ready.